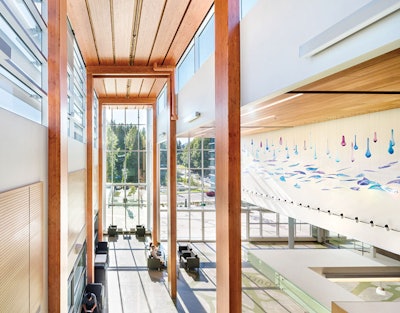 Many facilities seek to blur the lines between interior and exterior, and Delbrook Community Recreation Centre in North Vancouver, B.C., manages to accomplish the task despite its challenging site.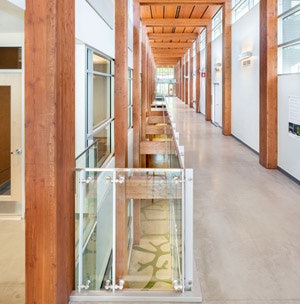 Built into a hillside, more than half of the building's interior spaces — including several primary activity destinations — are underground. As a result, designers from HDR in Vancouver made it a priority to bathe the facility's main circulation spine with natural light through a combination of clear and fritted glass, allowing dappled light to drop down into lower levels. Further homage to the building's forest surroundings takes the form of 18 towering glulam Douglas fir column-and-beam thresholds spaced along the interior circulation path from one end to the other. "The whole environment changes throughout the day," says architect Mark Hintze, HDR's vice president for recreation and culture. "It's not a static space, and it's because of the light that's coming in and hitting the glulam beams and playing off of this fritted glass. It's really the essence of the building — creating indoor-outdoor connectivity and emulating the forest environment."
---
This article originally appeared in the November | December 2018 issue of Athletic Business with the title "Center's circulation spine emulates forest surroundings." Athletic Business is a free magazine for professionals in the athletic, fitness and recreation industry. Click here to subscribe.