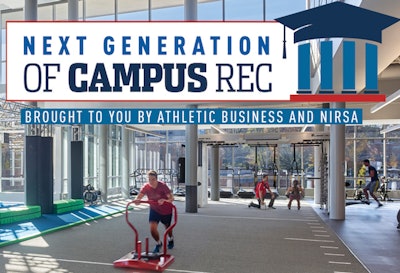 Athletic Business and NIRSA are committed to empowering the future generation of campus recreation professionals! To that end, we're looking for undergraduate students working in campus rec—with an anticipated graduation date between December 2020 and May 2021 — who plan to stay within the industry post-graduation. We want to hear these students' stories!
We believe that emerging students working in campus recreation have a fresh perspective on the industry, and we want to offer them a platform to share their insights and experiences. Eligible students are invited to submit an article before Friday, October 18 based on their experience working for their institution's rec department, the impacts of college recreation programming on the student body, or the future of college rec.
Next generation of campus rec contest details
Benefits for students
Eight students will be selected to have their articles published in a standard issue of Athletic Business, a highly-regarded industry publication, in 2020. In addition to receiving up to ten copies of the issue with their published article—which is a great addition to student portfolios—selected individuals will also receive a contributor fee of $200.
Additionally, published students will be granted an Instagram takeover of AB's account for a day during the month of their published article debut. This is a great opportunity for students to chronicle for the AB audience what a day-in-the-life of working in campus rec looks like, showcase some of their favorite spots around their facilities, or give an up-close look at some of their exciting programs.
First place winner
In addition to all the great exposure outlined above, one first place winner will also receive an all-expenses-paid trip to NIRSA 2020 (April 18–21 in Phoenix), including airfare, lodging, and conference registration. Additionally, the winner will get to participate in a meet and greet with AB staff and will feature in a one-on-one interview for the April 2020 issue.
Share this opportunity with your students
Directors and other professionals, graduate assistants, and graduating seniors working in recreation are encouraged to share this opportunity with their student-employee colleagues who anticipate graduating between December 2020 and May 2021 and who are looking to stay within the industry after graduating. Marketing resources are available on the Athletic Business website.
Additional opportunities to send students to NIRSA 2020
This is a fantastic opportunity to give your outstanding student employees a chance to shine on a national stage. It's also a great opportunity for one student to get to NIRSA 2020 in Phoenix. As always, additional opportunities for funding will be available for students and professionals through NIRSA Foundation scholarships and awards this fall.