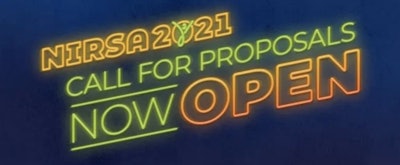 Proposals for NIRSA 2021 sessions are now being accepted. While we don't yet know if travel will be practical or if schools will be providing support for their staff's professional development, NIRSA is making plans to develop a program for the 2021 Annual Conference. We invite you to contribute your expertise to the 2021 NIRSA Annual Conference experience.
The Association is rooted in its commitment to providing a platform for leading professionals to present ideas and experiences that will help advance the profession. Don't miss your opportunity to make a difference and help lead the profession's path into a new normal.
Submit a proposal by June 24
General educational session, workshops, and panel presentation proposals will be accepted through Wednesday, June 24. NIRSA members are invited to share the innovative programs and practices they have implemented on campus to inspire colleagues across the country.
Our commitment to growing individual and community wellbeing is as strong and critical as ever before! This profession thrives on innovative practices and generous knowledge-sharing, so don't let this opportunity to help shape the future for our profession pass you by.
Why submit a proposal?
While there is still considerable uncertainty around the ability of organizations to host in-person learning and networking events, proposals will be considered for NIRSA 2021 and for virtual learning opportunities.
Here are some of the most common reasons for why campus rec professionals present at NIRSA:
Contribute to and learn about the most recent advances in campus rec
Demonstrate your ability to communicate and facilitate an impactful professional learning experience.
Showcase the accomplishments of your institution by sharing innovative programs and practices.
Inspire colleagues
Establish yourself as a leader in the campus recreation profession by sharing your knowledge and experience.
Connect with like-minded professionals by showing your engagement with the field.
Learn more about the topic areas that the NIRSA Annual Conference Program Committee is seeking for 2021 by visiting the presenter information page of the NIRSA 2021 website.
Click here for presenter information