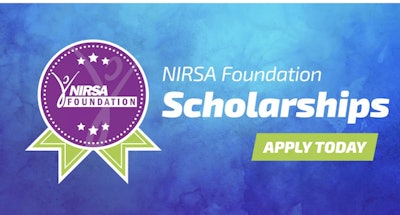 Members at all stages of their career benefit from the learning, innovation and networking experiences offered at NIRSA's premier educational events. The NIRSA Foundation is proud to support professional development opportunities for the NIRSA family and urges you to further your growth as a campus rec professional or aspiring professional by submitting an application for a NIRSA Foundation scholarship! Applications for the 2020 season are now open and close on Tuesday, Dec. 8 — submit one today!
Applicants fill out a common application for either student scholarships or professional scholarships. One application automatically puts members in the running for all scholarships for which they are eligible. Applicants wishing to apply for the Founders Scholarship or Frederick R. Braden Scholarship for Social Justice in Collegiate Recreation must complete an additional question on the application. In addition to the standard application, students must submit a résumé and statement of support signed by the director of their recreation department—so start your applications early, students!
Student scholarships cover registration fees for future campus rec leaders to attend the 2021 NIRSA Virtual Conference. By attending our association's premier educational event, students develop personally and professionally, network with current leaders in the field and establish their own connections with other student members from across the Association. Professional scholarships ensure our members can take advantage of NIRSA's amazing educational opportunities during this challenging time.
Make sure to apply before the December 8 deadline, and help spread the word about these fantastic scholarship opportunities to your network!