Nestled into a hillside facing the Grand River, and between two thoroughfares — Water Street and Colborne Street — separated by a 35-foot difference in elevation, the Laurier Brantford YMCA in Ontario presented designers with unique challenges, as did a budget that shrank by eight figures during the design process.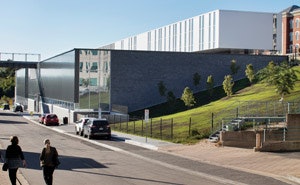 CannonDesign managed to preserve most of its original vision for one of the project's signature elements, a curtainwall facade cantilevered above a plaza along Colborne Street to the north (main photo). Patterns in the curtainwall harken to the property lines of row houses that once stood on the site, even as the glass reflects Grand River Hall on the campus of Wilfrid Laurier University across the street. Elevating what designers refer to as the bar building served two purposes, according to CannonDesign associate vice president James Lai, one of the project architects. "We didn't want the design of the facility to sit on Colborne Street and interfere with the vista — the view. We didn't want the building to cut the opportunity for that connection, because Water Street is 35 feet down from Colborne Street," Lai says, adding, "Colborne Street is not very wide — it's only two lanes — so we didn't want pedestrians who walk by the building to feel that it's overpowering. Lifting the building made sense. It made the building lighter and more inviting. When you're on Water Street (inset photo), it feels like the bar building is floating."
---
This article originally appeared in the July|August 2021 issue of Athletic Business with the title "Floating facade creates light, inviting street presence." Athletic Business is a free magazine for professionals in the athletic, fitness and recreation industry. Click here to subscribe.