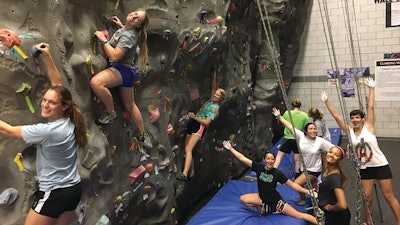 Like many other institutions today, campus recreation is at a crux. Through months of a pandemic, social unrest and trauma on a global scale, we have been forced to assess what it is we do and who we are as individuals as well as organizations. As I see it, campus recreation is faced with a choice to make: Will we continue on with business as usual, or will we adapt, adjust and endure through this pivotal time and come out better than we started? Despite the challenging times that we are in, I believe campus recreation has a bright future.
I began working in campus recreation at Lock Haven University as an undergrad. I discovered the climbing wall in the Student Recreation Center as a freshman and was instantly obsessed. I spent the next three years working as a wall supervisor, as well as a yoga instructor. The rec center was my second home throughout my undergrad years. The thing I missed the most after graduation was not having it for workouts, development opportunities and the community I'd fostered there. It was at the rec center that I learned the importance of connection and relationships in campus recreation. Each event we held was not just an activity with random people, but an opportunity to make new friends and share an experience together. Community in campus recreation cannot be understated; some of my best friends were people I met at climbing competitions or our weekly ladies climbing night.
Finding a school with an excellent recreation facility was important to me when I decided to pursue my master's degree. I am fortunate enough to attend State University of New York College at Cortland and am employed as a graduate assistant in the recreation sports department working for outdoor pursuits. Cortland's Student Life Center is the best facility in New York state.
Being a graduate assistant at Cortland has added an incredible amount of depth to my experience working in campus recreation. I am given the freedom to design and implement training and programs, manage a staff and have fun every day. I am able to learn with and from both student and professional staff members. I've learned to further value the importance of recreation on a college campus and in the world. I now see my role working in campus recreation as being a public servant, and I do my best to serve the community on campus. It's been an important lesson to see recreation as a piece of a larger puzzle and determine where it fits in with the health and wellness of individuals and the world population.
I'm incredibly grateful for my journey in campus recreation, and this last year has strengthened that appreciation. I've learned that passion and excitement for this field is more than just a preference — it's a necessity.
During the various stages of pandemic shutdown on campus I've struggled to find ways to provide programs and experiences for students that are safe, fun and interesting amid a time that is scary, overwhelming and stressful. I've learned that even if only three or four people participate in a virtual trivia night, or a socially distanced campus scavenger hunt, that it is worth it. If I'm excited about the program, and a couple attendees had fun or learned something, that makes it worth it. As a campus recreation provider, I've been trying to walk a careful line of providing something that is perhaps silly and stress-relieving, while also providing opportunities for real conversation and connection.
Choosing the path of adapting, adjusting and enduring is easy, but putting it in action proves more difficult. In my mind, it's better to muddle through these challenges together, making mistakes, learning and growing, rather than sticking stubbornly to the programs and offerings we are used to. I am hopeful that campus recreation will muddle through in the right direction.