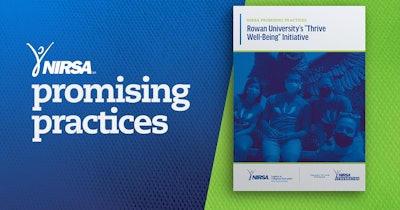 On behalf of NIRSA's Health & Wellbeing Task Force, the Association is proud to share its second Promising Practice: Rowan University. Promising Practices are collaborative or integrated wellbeing initiatives and campus-wide efforts that—driven and realized by the efforts of campus recreation staff and leaders—support the campus community.
Check out the two-minute video below to get a sense of how Rowan University's "Thrive Well-Being" initiative also made it the perfect choice to become NIRSA's follow-up Promising Practice.
Download the publication
"The Promising Practices concept is intended to be a three-part, multimodal learning experience that supports the pursuit of collaborative and integrated approaches towards holistic wellbeing," says Darcie Burde, Senior Associate Director for Fitness & Wellness at the University of Florida and co-chair of the Health & Wellbeing Task Force. "By providing an example of how one school built its framework and how their campus came together on their initiative, we're hoping to encourage other schools to lean-in to this work, because we believe it has the power to transform a campus community," adds Josh Downing, Director of Recreation & Wellness at Butler University and co-chair of the NIRSA Health & Wellbeing Task Force.
The Rowan University Promising Practices publication highlights the university's "Thrive Well-Being" initiative. In the summer of 2018, Rowan University began its journey towards a framework that eventually encompassed six dimensions of wellbeing, including physical, emotional, social, community, financial, and purpose. The initiative has strategically been woven into many aspects of the campus to support student and employee wellbeing. The publication portion of the Promising Practices resource describes their unique approach to this work and it's now available for download.
NIRSA offers this publication free to members at member institutional member schools because of the generous support of the NIRSA Foundation! Members at non-member schools can download the resource at the discounted rate of $25.
Join the March 9 roundtable discussion
Download and read NIRSA Promising Practices: Rowan University's "Thrive Well-Being" initiative, supported by the NIRSA Foundation, and then register for the March 9 live roundtable to discuss the initiative in-depth with members of the Rowan University team.
"The goal for Promising Practices is to bring both content and experts to the members. In doing so, we want members to watch the video and read the downloadable resource ahead of the roundtable. Much like preparing for a meeting or class, attendees come ready to interact with the experts and ask detailed questions to help leverage similar practices on their campus," says Darcie. Think of the opportunity like office hours for wellbeing!
The webinar is free for all NIRSA members and individual nonmembers at NIRSA member schools, again thanks to support from the NIRSA Foundation. The webinar is open to nonmembers for $25.