Richard "RJ" Aubert is currently a Recreation Specialist at Washington State University Tri-Cities where he oversees virtually all areas of campus recreation. He describes his first steps into the campus rec profession as being taken somewhat reluctantly: "At the time, I didn't want to work in campus recreation," says RJ. "But, a few years after graduating, I was working in retail while getting my master's in sport management from Lasell College, and—frankly—wasn't enjoying the retail experience."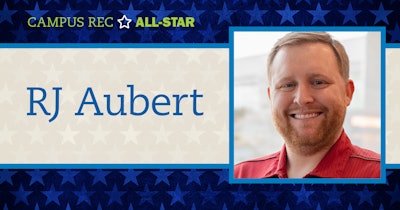 Like so many of his colleagues in the campus rec profession, RJ was invited and encouraged by mentors to consider opportunities in the field. "As an undergraduate student in health, wellness, and recreation at the University of Dubuque, I worked in campus recreation, where I was lucky enough to meet my mentor, hero, and all-around great person, Vic Popp," he says. Vic is the Director of Recreation at the University of Dubuque and when RJ stopped by his office one day to catch-up, Vic offered RJ an internship opportunity. "I took him up on his offer because I needed an internship somewhere," recalls RJ. And he's glad he did, because "that year, he took me to my first NIRSA Annual Conference in Nashville."
Hoping to continue the new career trajectory, RJ put feelers out across the country, applying for dozens of openings and interviewing anywhere that would give him an opportunity. His hard work paid off and he landed a full-time internship at Fort Lewis College in Colorado. In that role, he continued to hone his skills under the mentorship of the school's Assistant Director of Recreation Brandon DenHartog, and he again had the opportunity to attend another NIRSA Annual Conference in 2015. "After that experience, I couldn't see myself working in any other field," says RJ.
At the end of his year internship at Fort Lewis College, RJ again applied at every open campus rec job he could find, submitting applications across all the country: "the final tally was somewhere around 108," he says. And his dedication paid off; in August of 2015, RJ was hired at WSU Tri-Cities where he's been able to grow student opportunities to participate in intramural sports, club sports, outdoor recreation, and group fitness classes—although some of those offerings have been on pause because of COVID-19.
Washington State University Tri-Cities—located in Richland, Washington along the Columbia River—is home to roughly 1,700 students. Working on a smaller campus like WSU Tri-Cities has given RJ opportunities to grow and develop not just by his wearing of many hats, but also through committee service and special project assignments like Crimson Fest and a golf tournament fundraiser, among other initiatives. Additionally, RJ has continued to invest in his professional development through experiences gained by NIRSA volunteer service. RJ first volunteered with NIRSA at the Region VI Flag Football Tournament at Arizona State University in 2014. And when WSU Tri-Cities hosted the Region VI North Soccer Tournament in 2019, RJ volunteered to serve as the tournament director.
Beyond the experience he gains through volunteering, RJ continues to draw inspiration and support from his NIRSA colleagues: "I can't count the number of ideas and resources I have gotten from the member discussions on NIRSA Connect," RJ says. "I really value being able to connect with colleagues around the country," he adds.
Like many NIRSA members, RJ's favorite aspect of his job is working directly with students. "Being able to mentor student employees and club officers like Vic Popp did for me has been incredibly rewarding," says RJ. He also says that listening to students is a big part of his campus' successes around club sports, intramural offerings, and outdoor recreation programs. "Because Washington State University Tri-Cities is a commuter campus, we learned that students weren't as interested in season-long intramural sports," says RJ. So, he worked with his team to develop and offer WSU students a bevy of unique one-day offerings, like two-story tic-tac-toe, top frolf, trivia competitions, and a virtual escape room.
"I've had the opportunity to bring events and sport clubs to campus that are tailored to the needs of our students," says RJ. He also credits administrative support for the robust options that are available to WSU Tri-Cities students; intramural sports scheduled for the upcoming season include BruBag, Spikeball, dodgeball, beach volleyball, flag football, trivia, free throw contest, basketball, volleyball, handball, and ultimate frisbee.
"Our outdoor recreation program has also been a major success for us," RJ adds. "We started [our outdoor recreation program] with an 8'x4′ storage space. But we've grown it, and now we offer our students low-cost rentals of stand-up paddleboards, kayaks, and camping gear."
RJ doesn't just work in campus recreation. He also enjoys participating inside the gym and outdoors. "I enjoy both equally, but I am an above average golfer and a below average basketball player," says RJ, who's publishing credits include a contribution to The Hacker's Guide to Golf: Stories of golf and the people who play it…badly. Whether you catch him at the course or on the court, RJ brings the quintessential positive outlook and commitment to fun that are hallmarks of NIRSA's membership.