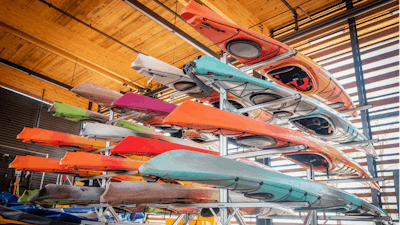 Before Weber State University opened its Outdoor Adventure & Welcome Center in February 2021, the campus outdoor recreation program occupied a converted 3,000-square-foot residential home on campus that was owned by the university. A front counter was installed in the living room, and all seasonal gear was stored in the basement. Staff members moved it up and down the stairs accordingly, depending on the time of year.
Similarly, Clemson University's outdoor campus recreation program operated out of a trailer and an old hog barn on campus until the spring 2020 opening of the Andy Quattlebaum Outdoor Education Center on land acquired from the local YMCA.
"In the past, many outdoor campus recreation programs were run out of storage or any spare space," says Chris Fiocchi, senior director of campus recreation at Clemson. "Outdoor programming traditionally consisted of students with experience in these types of activities. But now schools are finding resources and developing spaces to focus on adventure programs and other outdoor programming, making them more accessible to the general student."
New era of outdoor rec
Weber State and Clemson are among the colleges and universities ushering in a new era of outdoor campus recreation, and their facilities each received 2022 NIRSA Outstanding Facilities Awards, which recognize excellence in innovative design. And even though not all colleges and universities will have the means to construct new facilities to house expanded outdoor programming, campuses might still be able to focus on enhancing existing opportunities.
"The pandemic obviously shed a light on opportunities for campus recreation leaders to say, 'Hey, we can diversify,' " says Fred Wiechmann, vice president of marketing and products for GameTime, a NIRSA associate member and Diamond Partner. The Fort Payne, Ala.-based company manufactures accessible outdoor fitness and recreation solutions for playgrounds, parks and campuses. "The outdoors naturally became the one place where programming could occur — keeping students active and maximizing existing on-campus space without having to build buildings."
He says GameTime's Thrive® system, a series of multifunctional outdoor composite fitness structures with footprints as small as 250 square feet, work particularly well on landlocked urban campuses with space limitations. They are most successful when located near the campus recreation center, a pedestrian mall or other places where students interact with each other and would be engaged by the equipment. Other colleges and universities have opted for on-campus obstacle courses, which require larger footprints and include such challenges as sway steps, floating boards, a traverse wall and U-turn ramps.
Regardless of how institutions are able to expand outdoor opportunities and programming for students, Teri Bladen, director of campus recreation at Weber State, emphasizes that on-campus and off-campus partnerships can play an invaluable role.
"Over the years, our administration began to understand the beauty of what the outdoors can offer," Bladen says. "We as a department didn't have a lot of money, and on the micro level we could not meet the outdoor programming demands of our students. But on the macro level, we knew we could be a recruitment tool for the institution. So we started leveraging that, and 10 years later, we had the new facility."
Intentional design
Weber State is situated in the foothills of the Wasatch Mountains on the western flank of the Rocky Mountains in Ogden, Utah, and the university's 17,000-square-foot Outdoor Adventure & Welcome Center serves as a campus and community hub. Building highlights include an expanded outdoor equipment rental center, new equipment fleets, drive-through equipment storage, an adventure program trip staging area, a trip planning and resource area, 15-foot bouldering walls, and a technical training center with a classroom and a 55-foot climbing wall.
The training center is for students, first and foremost, but it also contains training elements used by city and county police and fire personnel. They include an indoor simulated bailout window wall, a confined-space rescue area, a rooftop rappelling and rigging area, and a three-story catwalk system for scenario rigging.
"We were very intentional about the design of the facility," Bladen says, giving significant credit for the building's vision to Daniel Turner, Weber State's associate director of outdoor campus recreation programming. "Another of our goals is to help the local ski resorts and bring their mechanics and technicians here, so that they can do some training at height in case they have to work on a chairlift."
Such community outreach generates revenue for the university, she adds. And because the university's admissions department relocated to the new facility, every campus tour begins at the building — where prospective students can witness a hive of activity.
Another programming partner is the university's Jerry & Vickie Moyes College of Education, which has created an outdoor community recreation education curriculum. "Building on what they learn in the classroom, students can take a Campus Rec Outdoor Program certification course to become a mountain guide, receive avalanche safety training or swiftwater rescue training, and they can step right into the industry after spending time with our program," Bladen says. "Campus recreation is really making a mark in this area."
'Students have been blown away'
The 16,000-square-foot Andy Quattlebaum Outdoor Education Center is part of Clemson's Snow Family Outdoor Fitness and Wellness Complex at Lake Hartwell — which is located on 35 acres and features beach access and room for future nature trails. The center is the second and largest development on the property, Fiocchi says, and is home to Clemson Outdoor Recreation and Education (CORE).
The building — made possible with construction bonds and donations — provides space to run the rental and instructional aspects of outdoor recreational services. Camping, biking and boating gear are on display for checkout by students, and facility operations include group trips, wellness seminars and classes, social events and training. Additionally, active learning classrooms are designed to be flexible in order to accommodate everything from yoga and rowing to standard academic courses.
One key partnership Clemson campus recreation officials forged for the center was with the university's Wood Utilization + Design Institute. A creative inquiry class was responsible for developing the idea of using southern yellow pine cross-laminated timber (CLT) in its design, Fiocchi says, and the center is the first building east of the Mississippi River to be constructed with southern yellow pine CLT.
"We now have a way to get individuals interested in architecture and engineering to come out and see the facility and maybe learn about campus recreation," he says. "At the same time, we can talk to our users and let them know, 'Hey, this building exists because of research efforts and the commitment to scholarly work at your university.' There have been a lot of good benefits for everyone."
"Students have been blown away by the facility and the opportunities provided by the outdoor program," says Robert Taylor II, director of campus recreation programs and assessment at Clemson. "We have seen a major increase in students visiting the property for water-based recreation, but also just to hang out, relax or study in a beautiful location close to our main campus. I really feel like this place contributes positively to our students' overall mental health and wellbeing."