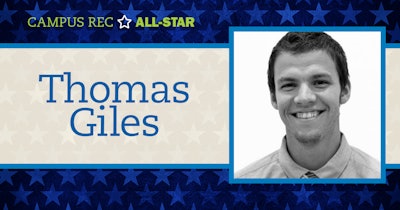 Tom Giles is currently a Sport Programs Coordinator at Florida International University, where he oversees intramural sports and sport clubs. Like many NIRSA members, participation in intramural opportunities on campus served as his gateway into a career in campus recreation: "I got my start in campus recreation while studying exercise science at Oakland University in Rochester, Michigan as an intramural sports participant," he explains.
Tom captained a couple of teams in his early tenure at Oakland University and capitalized on his pre-college experience officiating soccer—and encouragement from Dan Bettman, an early mentor at Oakland University—to take up a role of an intramural sports official on campus. The opportunity sparked a deeper interest in Tom: "What I thought was just going to be a job to fund my coffee and Chipotle cravings, turned into a passion," he says. Tom progressed as an official, eventually taking on the role of intramural sports supervisor.
See related: "Officiating skills become life skills"
While he didn't yet envision a long-term future in the campus recreation profession, Tom was loving his time working and playing at the Oakland Rec Center and he was getting involved in nearly every area of campus recreation. He describes the familial atmosphere of working with the team Oakland University as his "home away from home," and he points to a comment from one of his supervisors and mentors started to shift his perspective: "Tom, you know that campus recreation is a full-time career, right?" He recalls that comment as a lightbulb moment; "after that, I looked to do whatever it took to join the ranks of NIRSA professionals.
His decision to join the ranks of the campus recreation profession was solidified through his capstone undergraduate internship at the University of Michigan, where he credits mentors like Sarah Button with getting him out of his comfort zone and developing his skills as a professional. Sarah's dedication in pushing Tom—from résumé building to marketing programs—served as a model for the kind of professional he wanted to become.
Tom applied for graduate assistantships in campus recreation departments around the country and caught a break while at a NIRSA Region III Student Lead On event where he interviewed for a graduate assistantship at the University of Florida, which he was offered to his delight. Over the next two years, he would meet some dedicated peers—like Adam Richman and Alec Triggiano—and inspirational mentors, like Assistant Director of Competitive Sports Keegan Ashbee , former Assistant Director of Intramural Sports and now a Financial Advisor with Edward Jones Jonathan Broska, and Interim Associate Vice President and retired Senior Director for Recreation & Health Promotion David Bowles. Tom was inspired by the people-centric approach to David's leadership style, and he strives in his current role to create an environment where everyone is pulling towards shared goals.
In 2019, after completing his Master of Science in Sport Management degree at the University of Florida, Tom took up the Sport Programs Coordinator position at Florida International University, where he loves the diversity that the role provides him: "I never get the same day twice!" he says. Whether he's overseeing the day-to-day operation of sport programs; recruiting, training, or developing the 30-40 members of FIU's student staff; or providing administrative support to their clubs and esports programs, he finds value in the NIRSA network of professionals: "I always seem to leave NIRSA gatherings with more friends, knowledge, and ambitions than when I arrive."
And Tom has invested heavily in the success of NIRSA programs, especially through volunteer roles with the NIRSA Championship Series, where he's served as a tournament director for both flag football and basketball tournaments. He's served on tournament host committees and all-tournament committees for both sports, in addition to serving as a soccer tournament field marshal, and as an officials' clinician for flag football. He recently served as a member of the NIRSA Championship Series Assessment Work Team and a member of the NIRSA Foundation's Student Officials Development Fundraising Committee. "I would strongly encourage anyone in NIRSA (and not just the 'sports' people) to get involved with The Series. The time I have spent with the NIRSA Championship Series has provided some of the fondest memories in my professional career!" he shares.
Campus recreation professionals occupy privileged positions on campus. When reflecting on what makes his current role at FIU so special, Tom says "What I cherish most about my time at FIU is that the campus is truly international. My staff currently has students from 10 different countries and who all come from different walks of life. Their perspectives, stories, and travel recommendations are things I cherish. I am so glad that I get to work in an environment that can offer that kind of experience."
Diversity is also important to Tom's life outside of work: "I love being active, but I can't stick to any one thing. I enjoy playing soccer and roller blading. I try to enjoy all that South Florida can offer." Like so many NIRSA professionals, he continues to learn and grow; he's constantly asking colleagues for book recommendations. He's particularly interested in history—share your favorites with him, a campus recreation all star, on NIRSA Connect.