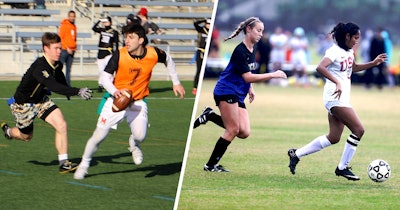 Nirsa.net
The fall is nearly here and that means sports are back! The NIRSA Championship Series is looking forward to a fun and competitive season which kicks off with our flag football and soccer regional tournaments starting in October. We'll make our way from College Park, Maryland all the way to San Luis Obispo, California with 16 total regionals occurring throughout the nation this fall!
The NIRSA Championship Series is about more than just competition. The Series is dedicated to providing experiential learning through sport. The unique blend of inclusive competition, emphasis on positive sporting behavior, and opportunities for professional development—from participants to fans to volunteers—supports communities of health and wellbeing, which is what NIRSA is all about.
Take it from our Flag Football Work Team Vice Chair Goodwin from the University of Wisconsin-Madison who says, "I'm thrilled to assist with the work team to help universities put on these amazing events for student officials and student athletes across the country. We recognize all of the hard work that goes on behind the scenes to make these tournaments run and aims to set all of our tournaments up for success."
After two years of ups and downs, the 2022 season is looking strong and the NIRSA Championship Series is excited to celebrate another year of sports. Whether you're a player, coach, official, spectator, or NIRSA member, we want you all to be involved in our tournaments!
"We encourage NIRSA members from various program areas to apply as tournament volunteers because regional and national events would not be possible without their help," says NIRSA Champ Series Soccer Co-Chair Max Miller, Assistant Athletic Director for Recreation, Wellness, & Physical Education at Swarthmore College.
For our flag football fans, regional play will run from October 7–December 4 with Nationals back in Round Rock, Texas from January 6–8, 2023! All teams are welcome at all our flag football tournaments, and we want to see as many student officials as we can. Our student officials are a vital part of our tournaments, as Lane states: "I was impressed with the quality of student's officials that showed up at regional tournaments last year, even with the long layoff. I'm excited to build on these successes and help develop these officials to compete for national bids and All-American selections, as well as to help new officials get acclimated to the NIRSA tournament experience!"
For our soccer lovers, regional tournaments are taking place the last two weekends in October where teams will compete to qualify for a spot at the National Tournament taking place November 17–19, 2022, where, as Max put it, "I'm excited to be heading back to Round Rock, Texas for the 2022 NIRSA Championship Series National Soccer Tournament."
See what's taking place in your region, check out the NIRSA Championship Series webpage for more details, and become part of the NIRSA Championship Series family by competing, volunteering, or officiating at a tournament.
Nicole Jackson is the assistant director of National Sport Programs at NIRSA