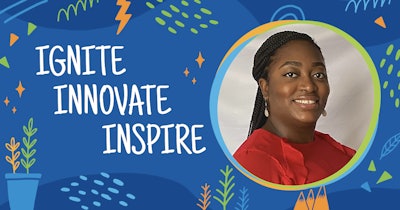 On Thursday, September 8, NIRSA President Mila Padgett, director of Campus Recreation and Wellness at the University of South Carolina Aiken will be speaking with current NIRSA board of directors member and assistant director of Club and Intramural Sports at the University of Arkansas, Katherine "Katie" Geter live on the @NIRSAPresident Instagram profile.
Join NIRSA President Mila Padgett and her "nine minutes with NIRSA" guest this month Katie Geter to be inspired, spur innovation on your campus, and ignite your passion for the profession.
In addition to her volunteer role on the NIRSA Board of Directors, Katie is a committee member of the NIRSA Championship Series Standards Committee, and she also serves in leadership roles with the Women+ Caucus and Black Women of NIRSA affinity group.
"The pandemic exposed a gap in support for early-year professionals, as they transition into the campus recreation career field," says Katie. "Along with some other recreation professionals, we are working to build that support network and keep those professionals engaged within NIRSA," she says.
Katie has been an active contributor to the Association, lending her talents to two recent NIRSA article series: the "Pioneering the Way" series shined a spotlight on six pivotal Black leaders in NIRSA and "Women Making History" series chronicled the contributions of women leaders to the profession since the Association's founding in 1950. "My desire for a better future is my inspiration," says Katie. "I notice that we are constantly waiting for change to come, and I realized that I must be an active participant in the change that I desire to see. Being able to reflect and know that I had a significant impact in creating access for others that may come behind me, in whatever they desire to achieve, is my inspiration," she adds.