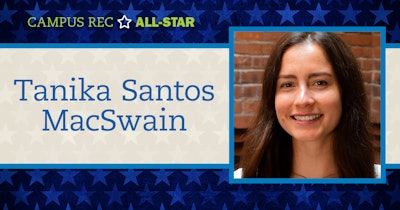 Tanika Santos MacSwain began her journey promoting wellness six years ago at Wingate University where she earned a bachelor's degree in Exercise Science. She joined the campus recreation department at Wingate as a group fitness instructor, teaching kickboxing classes before obtaining her personal trainer certification. Tanika is a NETA Certified Personal Trainer, an ACE Certified Group Exercise Instructor, an ACE Prep Course Instructor, and is Yoga Level One certified. She became a fitness program assistant and then a facility supervisor at Wingate's recreation facility, the McGee Center. Tanika earned her Master of Science in Kinesiology & Health Promotion at the University of Kentucky where she was the Graduate Assistant of Fitness and Wellness. She currently serves as the Fitness Coordinator at Virginia Commonwealth University.
"As the Fitness Coordinator at Virginia Commonwealth University, I oversee 50 staff and two program assistants," explains Tanika. "I build staff culture, recruit, teach, and train fitness floor attendants. I assist with the creation, implementation, and evaluation of fitness programming for the campus community. I also teach our ACE Prep Course, which is a two-credit academic course to help students become certified personal trainers." VCU offers a credential known as REAL (Relevant, Experiential, Applied Learning), and this classification for co-curricular learning activities allows their ACE Prep Course to be offered as an academic course.
"We have been able to nearly triple our registration for this course by obtaining this classification and reaching a greater pool of students," explains Tanika. "VCU RecWell has a vibrant community with a lot of opportunities for collaboration. I've been amazed by the diversity and depth of offerings that I have been able to assist with thanks to the support of my supervisor." These offerings include Latin Dance Nights and Dancing Across the Black Diaspora events in recognition of Latin Heritage Month and Black History Month. VCU also provides fitness classes for the Office of Multicultural Student Affairs, including a Pride Ride cycle class set to the soundtrack of the Emmy-winning television series POSE.
Tanika aids in hiring searches for leadership positions charged with DEI initiatives and Primeros Pasos programming. She utilizes Fusion and When2Work software at VCU to maintain participant registration, program scheduling, attendance, and memberships. And she collaborates with facilities staff to maintain risk management and see to general maintenance and policy enforcement.
Tanika has been an active leader in the campus recreation community since her days as a graduate student at the University of Kentucky when she presented at the NIRSA Region II Conference, the NIRSA Region III Student Lead On, and at the Kentucky State Conference. She served as the NIRSA Student Leader from 2020–2021 and currently serves on VCU's Diversity, Equity, & Inclusion Committee as well as the university's Hiring Committee as the chair. In addition, she is part of the Virginia Recreation Sports Association.
Tanika says, "I have volunteered at multiple conferences but truly my experience as the NIRSA Student Leader carried the greatest amounts of impactful work. Being able to take part in the mission of the Member Network was so rewarding because we always had varied perspectives that showed me new ways to think about our organization and how we can better serve our members. We did backbends to get over some virtual challenges and I am very proud of what we were able to accomplish. I look back fondly at the Student Leader Notes I was able to write because they echo the transformation I was experiencing. I am grateful to have shared that piece of myself for future student leaders to reflect on."

Tanika values being a NIRSA member because of the continued connections with passionate students and professionals—especially with conferences coming back. She says, "Those genuine interactions can't be beat!" She considers herself fortunate to be "surrounded by mentors." At Wingate University, "Jade Willey and Evan England gave me the most opportunities to see this career path and discover my strengths in recreation." Casey Gilvin, Fitness Director at the University of Kentucky, "taught me so much during my graduate assistant years, but I am most grateful for his advocacy to pursue the NIRSA Student Leader position and for his help with the sometimes-overwhelming process of applying for jobs."
NIRSA Director of Membership Sarah Leskovec was "a huge support from me during my time on the Student Leadership Team and into my collegiate recreation career." Allie Bogard, Assistant Director, Sport Clubs at Colorado State University-Fort Collins, "helped me to see a unique side of NIRSA by allowing me to join the Racial Equity Group where we had authentic conversations that gave me lots of new insight." And Jessica Norman, Assistant Director for Fitness at VCU, "has been an unbelievable supervisor, advocate, and friend. I would not be thriving without her. In the short time that I have spent at VCU, we have navigated so many obstacles and I can always look to her to lead with heart."
In her free time, Tanika enjoys exercising, dancing, and playing sports. "I've come back from a big injury to get back into playing soccer, volleyball, and trying some new sports like pickleball with my coworkers," she says. "I love to get out in nature by going on walks, runs, or hikes. And when it's too cold out, a good book and fuzzy blanket are my go-tos mixed in with some Disney movies and my favorite Peruvian hot chocolate."