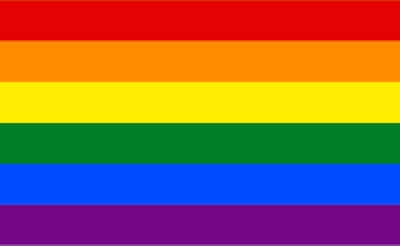 The town of Gypsum, Colo., is requesting that Mountain Recreation remove Pride flags that fly at its three Eagle County facilities.
Taylor Slaugh, Gypsum's communication and marketing director, told Vail Daily that the Mountain Recreation's decision to fly the flags was against the direction of the Gypsum Town Council when it was approached about the moved back in March.
Slaugh said Mountain Recreation is compelled to ask permission for from the town for any signage, as it doesn't own the facilities.
"The council's response was that because it was a government building, and it was paid for with taxpayer dollars, it should be devoid of any symbols of any religious or political of any kind so thank you, but no, we'd rather you not put it up," Slaugh said.
Eddie Campos, the rec district's marketing and communication manager, said the flags have been removed, noting that the a mistake was made in not getting the proper approval from the town of Gypsum.
Slaugh said there have complaints about the flags both to the Mountain Rec board and the council, saying symbols only created division "and this building is welcome to absolutely everybody and that's what we want it to continue to be."
Mountain Pride, a local LGBTQ advocacy and education nonprofit, released a statement on the matter on Facebook, saying it was "disheartened by the removal of the pride flag in the Mountain Recreation facility in Gypsum."
"As a facility that largely supports children and families, Mountain Recreation provides lifesaving visibility and support to the most vulnerable members of our community, LGBTQ+ youth," reads the statement. "By seeing the Pride flag in the Mountain Recreation facility and other places in our community, youth and adults alike are affirmed in their diverse and unique identities. This affirmation can truly save lives."
Madison Partridge, Mountain Pride's executive director, said this isn't the first time these types of conversations have been had with the town of Gypsum.
"When the conversations resurfaced again, Mountain Recreation leadership reached out to Mountain Pride right away to engage in dialogue. They made it a priority to reach out to the community members and community organizations that would be impacted by this decision," Partridge said.
Mountain Pride is hosting a "facilitated dialogue about ongoing support, visibility and advocacy for the LGBTQ+ community" at the Gypsum Rec Center on Wednesday, Nov. 2 at 5:30 p.m. The event will include dinner as well as Spanish interpretation. The organization is inviting all members of the LGBTQ+ community and allies to join in the discussion.
"Our hope is that positive, impactful and actionable change will come from this discussion. As well as letting our community know that they have support systems here," Partridge said.