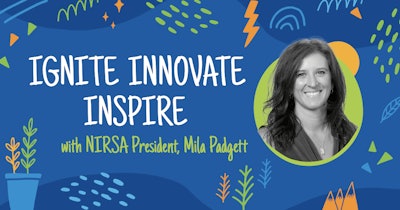 By NIRSA Communications
On Nov. 17, NIRSA President Mila Padgett, director of Campus Recreation and Wellness at the University of South Carolina Aiken, will be speaking with current NIRSA Foundation Board of Directors president and director of Campus Recreation & Wellness at Elon University, Larry Melinger live on the @NIRSAPresident Instagram profile.
Join NIRSA President Mila Padgett and her "nine minutes with NIRSA" guest Larry Melinger later this month to be inspired, spur innovation on your campus and ignite your passion for the profession.
In addition to his volunteer role on the NIRSA Foundation Board of Directors, Larry has previously served as a member of the NIRSA School's faculty and cites his cohort with being some of his closest professional influences: "Throughout my career, there have been so many who have helped to make me the professional I am today," Larry says about his inspiration to volunteer and support the NIRSA Foundation.
#GivingTuesday is just around the corner and the NIRSA Foundation has been participating in the global generosity movement for nearly a decade. Larry and Mila will discuss links between NIRSA strategic initiatives with NIRSA Foundation fundraising goals. "I continue to be inspired by the impact we can have as collegiate recreation professionals," says Larry.
Larry is a first-generation college student, and he says that he "had no idea of what I had gotten myself into when I stepped onto Ohio University's campus as a first-year student. But I found community through pick-up basketball games in the rec center, which led to a job, which led to a career, and here we are."
Carve out some time on Thursday, November 17 to join Mila and Larry for their Instagram Live conversation. Join them at 1:30pm Eastern/10:30am Pacific on the @NIRSAPresident Instagram channel and plan to be inspired, ignite your passion, and learn how to innovate on your campus and in your community.