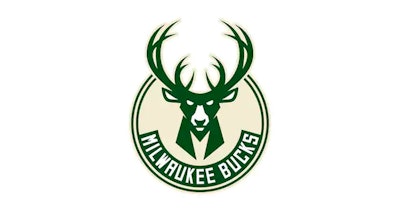 Nearly two dozen basketball courts at parks in Milwaukee County have been restored as part of an effort involving the Milwaukee Bucks, Colectivo Coffee and other partners.
The Milwaukee Journal Sentinel reported Monday that a group of funders, which includes the Milwaukee Bucks Foundation, announced Monday that the first phase of the restoration project has been completed, and the second phase is scheduled to begin in 2023.
To help fund the projects, the Bucks and Colectivo partnered to create the Bucks in 6 Blend Coffee. The Bucks Foundation received a donation of $1 per bag sold, which amounted to $26,000. Former Milwaukee County Executive Chris Abele and his wife Jennifer matched the donation, bringing the total over $50,000.
The project — which included so far 22 basketball courts in 11 Milwaukee County Parks — is the largest basketball court restoration project in Milwaukee County in at least two decades, a parks department spokesperson told the newspaper.
The courts were chose based on maintenance needs, along with courts that ranked higher on Milwaukee County's racial equity index "to ensure the greatest equity impact possible," according to a news release.
The parks department's racial equity index is part of an annual report presented to the Milwaukee County Board of Supervisors by the executive director of Milwaukee County Parks. It ranks the county's parks using a number of factors, including data on income, at-risk population, demographics, access to health care and crime.
As part of the project, the group also replaced the bleachers at the Dr. King Community Center in King Park. The parks and number of courts repainted at each park include:
King Park – two full courts
Kosciuszko Park – one half court
Madison Park – two full courts
Atkinson Triangle Park – two full courts
Carver Park – two full courts
Zablocki Park – one full court
Berrien Park – two half courts
Mitchell Park – four half courts
Doyne Park – one full court, two half courts
Holler Park – one full court
Popuch Park – two half courts
The group repainted the courts, added new nets and painted a "Bucks in 6" image on the court.