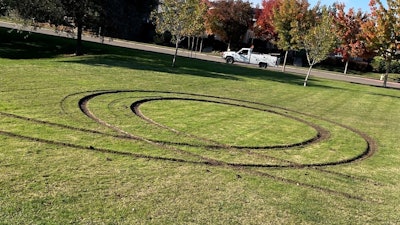 Courtesy of Oakdale PD
The fields at some parks in Oakdale, Calif., have sustained damage recently by vandals.
The Oakdale Police Department asked the community to help in an investigation into the tire tracks left on fields at Medlen Park, Shire Park, Gilbert Park and Kerr Park.
"Community, we need your help following a series of vandalism incidents in our city parks," the police department wrote on its Facebook page. "Someone drove through Medlen Park leaving behind tire tracks and making a mess of the grass. In recent weeks, there have been similar incidents of vehicles doing donuts and destroying the fields at Shire Park, Gilbert Park, and Kerr Park."
Police included two images of tire track damage, and urged anyone who witnessed the vandalism, has information, or home surveillance video that might help the investigation to contact the Oakdale Police Department.