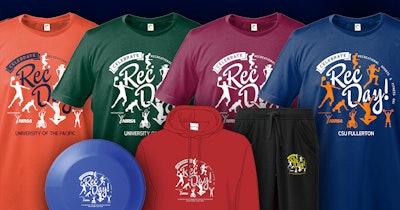 Courtesy of NIRSA.net
NIRSA and NIRSA associate member Club Colorshave teamed up again to offer campuses the opportunity to purchase customized Rec Day 2023 T-shirts and other swag like water bottles, cinch bags, and even hoodies! Make sure to place your order before Feb. 4 to ensure your shirts arrive in time for this year's Rec Day.
Download the order form
Pledge your support for Rec Day
Are you planning to celebrate NIRSA's 73rd birthday and take part in the 2023 National Recreational Sports & Fitness Day? On (or around) Feb. 22 every year, campus recreation departments across North America remember the vision set in motion by Dr. William Wasson and his esteemed colleagues at the first NIRSA Conference: To celebrate health, activity, competition, and inclusive participation. Will your school be celebrating this year?
After you take the pledge, share photos and videos of your Rec Day celebration at #RecDay and @NIRSAlive will help spread the word.
Learn more
NIRSA was founded by Dr. William Wasson on Feb. 22, 1950, when he brought 20 intramural directors from 11 Historically Black Colleges and Universities together to share his research on collegiate recreation. NIRSA members all over the world now celebrate this founding date as Rec Day. You can learn more about this special event, download official logos, and even see how members celebrated Rec Day in 2022 by visiting the Rec Day page of the NIRSA website.