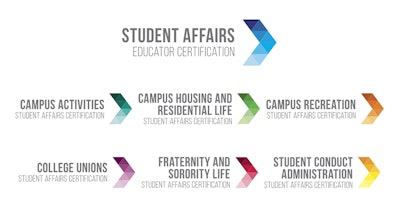 NIRSA enthusiastically joins the Higher Education Consortium for Student Affairs Certification in celebrating the official launch of Student Affairs Educator Certification.
The launch of this new professional certification marks the culmination of a multi-year development process led by the Higher Education Consortium for Student Affairs Certification–a new organization collaboratively established by ACUHO-I, ACUI, AFA, ASCA, NACA, NASPA, and NIRSA.
Certification development has involved hundreds of practitioners and graduate faculty subject matter experts in student affairs and student services across multiple professional associations. NIRSA is grateful to the many association members who volunteered their time and talent to support the certification's creation!
About certification
Certification includes a core student affairs educator credential (CSAEd) and specialty credentials in the functional areas of campus activities, campus housing and residential life, campus recreation, college unions, fraternity and sorority life, and student conduct administration.
Each certification was specifically developed to benefit eligible mid-level professionals by formally recognizing their knowledge gained through several years of student affairs or student services work experience and through their ongoing professional development. Certification was intentionally designed to complement and build upon the critical foundation provided by graduate education programs while also acknowledging pathways into, and throughout, student affairs for the many educators whose highest degree earned is a bachelor's or an associate's.
Through certification, mid-level educators can formally demonstrate their learning through work experiences and gain a tool to advocate for professional advancement into senior-level positions and transitions across student affairs and student services functional areas.
"The CSAEd and campus recreation specialty credential build on NIRSA's long standing commitment to professional credentials as a vehicle for demonstrating continuous learning, competencies, and knowledge," says NIRSA Executive Director Pam Watts. "Developing a campus recreation certification with NASPA and our partner associations in the consortium enhances recognition for the credential across student affairs and student services, which will in turn support transitions between functional areas and contribute to a certified individual's advancement into senior level leadership positions," she adds.
A pilot program of the Student Affairs Educator Certification successfully occurred in fall 2022. NIRSA and the Consortium plan to recognize the first group of Certified Student Affairs Educators during professional development events in this new year!
The Student Affairs Educator Certification supplants NIRSA's Registered Collegiate Recreational Sports Professional (RCRSP) certification; RCRSP renewals were sunset in the spring of 2022.
Application period opens next week
Applications for the spring certification window will open on Feb. 13, 2023. The NASPA Foundation is currently offering access scholarships for eligible student affairs educators to apply toward the full amount of the Core certification. The deadline to apply for these Access Scholarships is March 6.
To learn more about applying for certification, register for the free Student Affairs Educator Certification Spring Info Session, happening on Feb. 13. Join your colleagues from across student affairs and student services to learn about applying for, obtaining, and maintaining certification. This free virtual session is intended for student affairs educators interested in applying for certification. It will be recorded and shared with registrants afterward