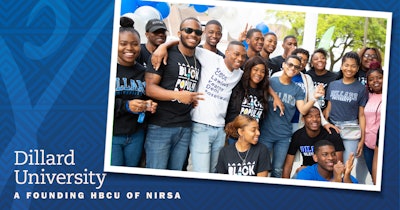 Photo by Sabree Hill, courtesy of Dillard University via NIRSA
Louisiana's oldest historically Black university, Dillard University is a private four-year liberal arts faith-based university. Located in New Orleans, Dillard offers 22 bachelor's degrees and two certificates in the disciplines of Business, Health and Wellness, the Humanities, Nursing, STEM and Social Sciences. Its diverse student body of more than 1,200 students includes individuals from 33 states and 12 countries.
About recreation, health and wellness
The Recreation, Health, and Wellness team within the Division of Student Success works in the Center for Student Engagement & Leadership and offers intramural sports, club sports, outdoor adventures, fitness programs, movie nights, bowling, and more.
The Dillard University Recreation, Health and Wellness Center Fitness Facility hosts fitness courses like step aerobics, spin cycling, yoga, martial arts, and zumba. Walking Wednesdays are a fun opportunity for students, faculty, and staff.
Celebrating NIRSA's founders
From the time two state schools in the Midwest devoted spaces and resources to campus recreation, a century of ever-growing commitment to programming, participation, inclusion, and outside-of-the-classroom learning has prevailed for students and faculty in higher education.
As more and more campuses began to offer recreational sports, these programs caught the attention of scholars who were interested in their positive effects on campus culture and students' quality of life.
Dr. William Wasson was one such scholar, who discovered the value of intramurals studying Physical Education under Elmer Mitchell at the University of Michigan in 1946. He went on to develop his own intramural program at Dillard University, and in 1948 commenced a study, with funding from the Carnegie Foundation, titled "A Comparative Study of Intramural Programs in Negro Colleges."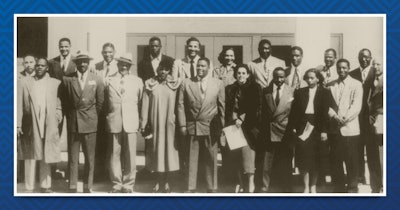 The results of his study were shared with the institutions that participated in his research. The discussion culminated in an Intramural Summit at Dillard on February 22, 1950, where the 20 intramural directors gathered there, representing 11 Historically Black Colleges & Universities, formed the National Intramural Association. The NIA was the first organization of its kind, bringing intramural program leaders to share skills and wisdom to advance the good work of their profession. Dillard University—through Dr. William Wasson, Armstead A. Pierro, and Annette H. Akins—was one of the 11 schools represented at NIRSA's founding.
Before he passed away on July 31, 1991, Dr. Wasson had in recent years returned to active engagement in the organization–thanks to outreach efforts of members like Juliette Moore–after more than two decades of teaching kinesiology, anatomy, physiology, and the physiology of exercise.
At the NIA's inaugural gathering in 1950, the attendees selected the name National Intramural Association and appointed executive officers, which included Annette Akins as vice president.
Morehouse College All-American football star Armstead "Bull" Pierro coached Dillard's football team for multiple years, leading the 1957 Bleu Devils to the Gulf Coast Athletic Conference (GCAC) championship in its initial season, with an 8-1 record.
Most NIRSA members know that this association owes much to the HBCUs that have been part of the Association since its inception. But many may not know that NIRSA has a dedicated HBCU Coalition committed to providing resources and avenues for networking for today's crop of HBCU leaders in collegiate recreation.