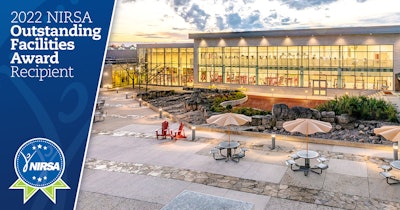 Each year, NIRSA recognizes exceptional campus recreation facilities with Outstanding Facilities Awards. These awards honor facilities which have been newly constructed or recently renovated and demonstrate excellence in architectural design, functionality, and the service they provide for the community.
In 2022, ten facilities throughout the US and Canada received Outstanding Facilities Awards. One of those facilities was The Zone Fitness Centre at Brock University in St. Catharines, Ontario. Located in the Niagara region of Canada, Brock is currently home to more than 19,000 students; "The Zone" plays an important role in their health and wellbeing, providing a variety of opportunities for students to focus on wellness in an aesthetically pleasing and thoughtfully designed setting.
"Being awarded a NIRSA Outstanding Facilities Award highlighted the excellent facility improvements that were made with the tripling in the size of our Zone Fitness Centre at Brock University. This has allowed us to better serve the needs of students, staff, faculty, and the community with the additional space, equipment and programming that's now available. The NIRSA award brought attention to the new space just as we were began to reopen activity spaces after the COVID pandemic shutdown, providing a 'rejuvenation' to sport and recreation opportunities at Brock University," says Karen McAllister-Kenny, Director of Recreation Services at Brock University.
About The Zone Fitness Centre
Renovations to The Zone were completed in 2020 to meet the needs of a growing campus community. The original facility, constructed in 2002, was no longer able to accommodate the student population, whose size had doubled in that time. The $8.4 million dollar renovation tripled the size of the fitness facility from 5,000 square feet to more than 15,500 square feet and increased its capacity from 95 people to more than 250.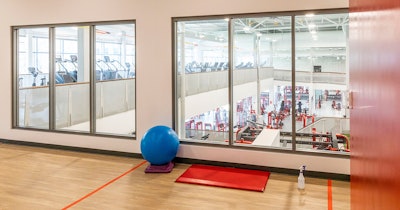 The Zone features a variety of equipment and activities including:
An outdoor fitness area
A spin studio and other cardio machines
Strength training equipment including multi-use strength stations, weight benches, and squat racks
Group fitness programs
A private yoga and fitness studio
Areas for floor work and stretching
As part of the Walker Sports Complex, The Zone also provides nearby access to the indoor track, showers, and locker rooms, allowing students to meet all their wellness needs in one convenient location.
Innovation
Throughout the renovation process, the desire to provide inclusive opportunities and a number of unique design challenges necessitated some innovative solutions.
The facility was located in the center of a courtyard surrounded by buildings, making access for construction equipment difficult. An existing hallway connecting the facility to other structures was removed to allow for material transport, and a pond had to be drained and filled in to provide a staging site.
"The Zone was designed as an addition and renovation within an enclosed courtyard, with four level changes within the two-story addition. Working with the construction team from the beginning, we embraced our creativity, as we explored all of the logistics for how and when to best construct in this constrained space," says Drew Hauser, Director of Design & Business Development at mcCallumSather. "Accessibility for students was paramount. The way we used ramps, organized the circulation, and addressed the challenges raised by all the level changes, led to a solution that was simple and integrated. The process helped us protect programming for offices and student clubs that may have otherwise been cut due to budgetary limitations. The final result means everything feels purposeful and efficient, and nothing feels like an afterthought," Drew adds.
Innovative design elements were included to allow the facility to meet the diverse needs of the facility's users. A variety of finishes—including mats, artificial turf, high impact resistant walls, and high-performance sports flooring—were incorporated into the design. Private group fitness areas for spin and yoga classes are separated from the busier sections of the facility and contain elements such as louvered walls and acoustic panels for absorbing sound waves.
The Zone also contains many pieces of equipment that are designed to support multiple activities and are accessible to users with different needs, including those who use wheelchairs.
"My favorite feature of The Zone design is how—on a sharp budget and in the face of all the challenges COVID presented—we were able to deliver a space that thoughtfully and unapologetically celebrates student health, wellness, and athletics," says Drew Hauser. "Brock University is well known for fostering internationally recognized athletes and their achievements are front and center in the design. This courtyard is truly the heart of the campus. Everything revolves around this space, and it feels really good to have accomplished that," says Drew who adds that it's a full circle moment for him, because his son is a student on the campus and can often be found at The Zone.
About the Architect
The architectural firm which designed The Zone was mcCallum Sather. Based out of Ontario, mcCallum Sather provides a wide range of services including architecture, interior design, and mechanical engineering. Their integrated team is committed to sustainable building practices, with the firm designing the first LEED Gold Certified Project under the Canada Green Building Council (CAGBC) as well as the first building in Canada to achieve Zero Building Standard Certification for both design and performance.
In addition to NIRSA's Outstanding Facilities Award, mcCallum Sather has received numerous design awards, including most recently:
Rethinking the Future Award for the Endress+Hauser Customer Experience Centre
CAGBC's Green Building Pioneer Award
Sustainable Leadership in Hamilton's Overall Sustainable Leadership Award
The firm has also been involved in numerous projects that help to strengthen local communities, such as libraries, community pools, hospitals, and schools.
About NIRSA's Outstanding Facilities Awards
The annual NIRSA Outstanding Facilities Awards recognize the innovative designs of new, renovated, or expanded collegiate recreational facilities of NIRSA member institutions. Winning facilities are considered a standard by which other campus recreation facilities should be measured, and from which others can benefit.
VIDEO
Applications for the 2024 class of NIRSA Outstanding Facilities Award recipients will open in the fall of 2023. Eligibility guidelines, selection criteria, and entry fee details can be found on the NIRSA website.