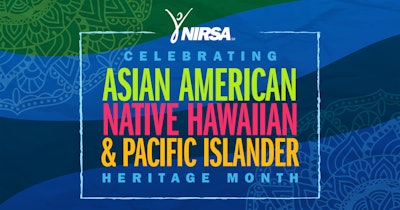 By Maria Lauron-Ramos, NIRSA Asian Caucus Leaders
Did you know that May is Asian American Native Hawaiian and Pacific (AANHPI) Heritage Month? It is an "annual celebration that recognizes the historical and cultural contributions of individuals and groups of Asian and Pacific Islander descent to the United States. The AAPI umbrella term includes cultures from the entire Asian continent—including East, Southeast and South Asia—and the Pacific Islands of Melanesia, Micronesia, and Polynesia."
According to the 2019 Census Bureau population estimate, there are 18.9 million Asian Americans, alone, living in the United States, accounting for 5.7 percent of the nation's population. Asian Americans invest in higher education, with nearly 56% of us earning at least a bachelor's degree.
About the NIRSA Asian Community Caucus
The Asian Community Caucus is a part of NIRSA's commitment to engage in conversations related to social and political justice, to embrace all levels of experiences, and to unite NIRSA members who identify as Asian. This caucus is intended as a space for the Asian community to come together for discussion, recreation, and representation.
The caucus is built on three principal values: 1) Community Building, 2) Outreach & Activism, and 3) Professional Development.
Caucus Leadership Team
Maria Lauron-Ramos, Princeton University
Kevin George, Rowan University
Nathan Ha, The University of Texas at Arlington
Reginald Ungos, University of Nevada, Las Vegas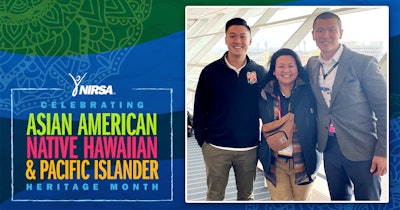 2022-2023 Year-in-Review
Our monthly meetings are designed to be in alignment with our values. The following topics and themes were explored during this past leadership year:
October 2022: Filipino American History Month
November 2022: Bystander Intervention Workshop facilitated by Kevin George & Maria Lauron-Ramos
January 2023: Lunar New Year + "What's the BEST thing that CAN happen?"
February 2023: Rec Day + celebrating different identities (ex. Black History Month, Heart Health Month, Women's History Month, Pride Month, etc.)
March 2023: In-person Meeting at Pittsburgh!
April 2023: Stress Awareness Month + #CommunityCare
Moving Forward in 2023 and into 2024
As a leadership team, we are looking to synergize with the other NIRSA Caucuses to provide opportunities for NIRSA members to learn that our identities are intersectional.
Join the Asian Community Caucus – Asian Professionals in Higher Ed Panel on Tuesday, May 16th at 1:00pm Eastern/10:00am Pacific.
Want to know more about what it is like to navigate working in higher education as someone who identifies as Asian? Listen to the stories of various leaders in athletics, academics, and student affairs professionals, who will share their career journey. Panelists will share their successes and some of the challenges they've faced in their personal and professional lives through the intersectionality of their various identities.
The online event will be facilitated by NIRSA Asian Caucus Leaders: Kevin George & Maria Lauron-Ramos.
Maria Lauron-Ramos is the coordinator of Campus Recreation, Marketing/Staff Development at Princeton University; you can email her at mlauronramos@princeton.edu.