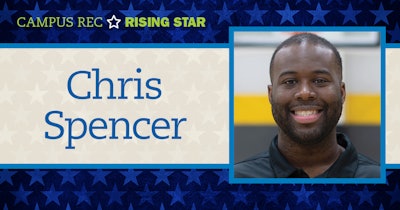 Chris Spencer is an emerging campus recreation professional who is making waves in the field with his work at the University of Colorado Colorado Springs and his commitment to the NIRSA Championship Series. His journey in recreation began in 2013 when he started working as an intramural official at Oklahoma State University.
Spencer started his time at Oklahoma State as an architecture student but, "long story short," says Spencer, "my grades weren't cutting it and I hated it overall, so I made the decision to go undeclared during the second half of my sophomore year." It was around that time that he ended up asking Jason Linsenmeyer, Assistant Director of Wellness at OSU, what it would take to get a job like his. "We then sat down and discussed campus recreation, getting a GA position, Bluefishjobs, and a number of other things," explains Spencer. That conversation had a massive impact; Spencer says, "I was excited after that conversation because I realized what I wanted to do with my life. From then on, I worked towards gaining as much experience as possible."
Following his graduation from Oklahoma State, Spencer obtained a graduate assistant position at the University of Louisiana at Lafayette."I truly cherished my time there and the experience I received," says Spencer. He draws a direct line between his time there and his current position: "That GA position led me to my role as the Sport Programs Coordinator for the University of Iowa, which in turn prepared me for my current role at the University of Colorado Colorado Springs."
A new home at UCCS
In his new role, Spencer manages the University of Colorado Colorado Springs (UCCS) Sport and Youth Program. "I directly oversee the Sports and Youth Program at UCCS. In this position, I get to practice leadership, strategic planning, fiscal management, facility and equipment management, risk management, and assessment of the delivery of the department's comprehensive intramural sports program," says Spencer. With over 40 program activities, 15-20 club sports, it's no small task. "I also oversee our RecKids program which includes youth summer camps, birthday parties, and our Kids Night Out events," adds Spencer.
One aspect of his work with the University of Colorardo Colorado that Spencer is especially proud of is UCCS's commitment to NIRSA events and opportunities it gives staff to be involved in them. "I have always enjoyed serving in different NIRSA roles and I was particularly excited about the opportunity to get this department more involved in NIRSA. Our Director of Campus Recreation, Dave Fehring really sold me on the potential growth of this department and how I could fit in to assist with that. I was also impressed with the student involvement at UCCS. I had the privilege of speaking with two students from UCCS who will be incoming Graduate Assistants at Ohio State University. They both seemed so passionate about their work. I am glad I have found a new home at UCCS!"
A true blue NIRSA volunteer
Spencer is a committed NIRSA member who has served on many NIRSA Championship Series committees over the years. He has been a member of several student officials development committees and all-tournament committees. He has also served on the Esports Task Force as the Rules/Eligibility Chair. "In that role, I was proud to be a part of such a great tournament. Even though it was virtual there were a lot of moving parts and hard work that made it a great event." He served as the Co-Director of Officials for the 2023 regional NIRSA Championship Series basketball tournament that place at the University of Missouri in February of this year.
"I love all of the connections that I have made over the years," says Spencer. "I feel that I have made lifelong friends while being in this field and I think that is really cool. I also have a passion for developing students. It's something that I truly enjoy so having that as a focus in my job has made it easy to work hard every day." Spencer first signed up for the NIRSA Mentorship Match Program in 2018. "I was matched with Eric Vaughn who has been a great mentor and a better friend through the years. I was so grateful for that program that I signed up to be a mentor and was recently matched with a new mentee!"
In his free time, Spencer enjoys playing sports — mostly pick-up basketball—and going on hikes. He likes spending time outdoors! NIRSA: Leaders in Collegiate Recreation is excited to have an emerging star like Spencer among its membership — the future of campus recreation is bright because of dedicated individuals like him.