By Natasha Fischer, Member Engagement Manager for NIRSA
Earlier this year, Texas A&M University was recognized with a NIRSA Outstanding Facilities Award for its newly constructed Southside Rec Center.
NIRSA's Outstanding Facilities Awards recognize the innovative designs of collegiate recreation facilities which have recently been constructed or renovated at NIRSA Institutional Member facilities. Applications for an Outstanding Facilities Award are rigorously evaluated by a team of reviewers on numerous criteria, including impact to the institution's recreation program, unique aesthetics, and sustainable features. Receiving an Outstanding Facilities Award truly demonstrates the institution's and architect's commitment to providing students with an environment that positively supports their health and wellbeing.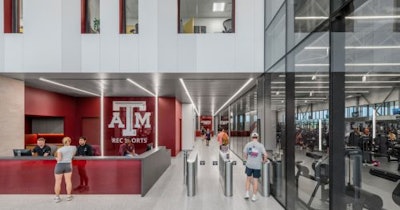 With more than 77,000 students, Texas A&M boasts the largest student body in the country. The Southside Rec Center was created to fill the demand for recreational sports and fitness opportunities which had outgrown the capacity of the existing facilities. Since its opening in Fall 2022, the Southside Rec Center has welcomed more than 14,000 visitors a week in a location chosen to ensure that most students now have access to a recreation center within just a five to ten-minute walk.
Evaluators voted unanimously to bestow an Outstanding Facilities Award on the Southside Rec Center, with one reviewer noting that the Southside Rec Center "met a large student need with a unique and beautiful design."
About the Southside Rec Center
The design of the 64,000 square foot Southside Rec Center is simple and functional, celebrating the surrounding natural elements while providing protection from the Texas heat.
An entry plaza flanked by live oaks serves as a convenient connection to the adjacent student housing. Inside the facility, visitors are routed to the member services desk where they're greeted by staff who monitor the facility and assist with questions.
The building's interior is designed to maximize efficiency and accessibility with functional areas that are visibly connected and easy to move between. Large glass windows allow for natural daylight to enter and connect visitors to the outdoors through their panoramic views.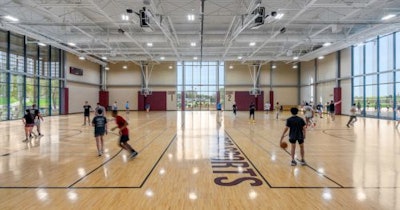 Indoor elements of the Southside Rec Center include:
A bouldering wall containing a variety of problems ranging from easy to advanced
A fitness studio/multipurpose room
Two multi-sport courts which can accommodate basketball, volleyball, badminton, and pickleball
A 23,000 square foot strength and conditioning zone with free weights, strength training machines, cardio equipment, and an indoor turf area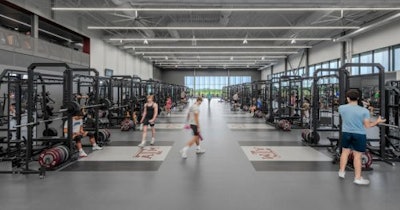 The facility also has several outdoor elements: a lawn area used for recreation activities, two sand volleyball courts, and a large outdoor turf area that is covered for protection from the weather.
"The addition of the beautiful Southside Recreation Center has really been a great addition to our campus," says Jeff Huskey, Executive Director of RecSports. "Being adjacent to an area of residence halls has really increased the participation from the undergraduate students who live in that area. In fact, a recent study of our participation shows that 90% of the students living in those adjacent residence halls have accessed the facility this year. As our enrollment continues to climb, providing access to our underclass students living on campus is a priority and this facility is both welcoming and functional."
Indoor-to-Outdoor connection
A specific element of the Southside Rec Center was praised by reviewers: the connection between the interior and exterior spaces. One evaluator stated, "The thought given to connecting dynamic outdoor spaces to the indoor spaces is fantastic."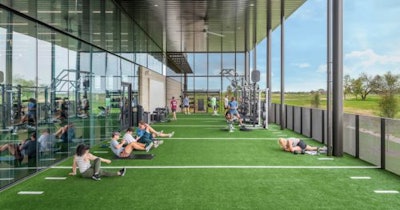 Exposure to nature has been proven to have positive impacts on both physical and emotional wellness. Students at the Southside Rec Center have access to nature whether they're choosing to utilize the outdoor or indoor spaces.
Large windows allow natural light to enter all the way through to the center of the building while providing views of the outdoors, including mature live oaks which planners were determined to preserve. The Texas heat is mitigated through the use of window glazing, overhangs, a large canopy, glass shading fins, and the orientation of the building relative to the shade trees. These features allow users to be comfortable using the space while still enjoying the abundant benefits that come with access to the outdoors.
About the Architect
Founded in 1853, SmithGroup has more than 13,000 employees working out of 20 offices across the US and in Shanghai. Their team has worked on a variety of notable projects over the past century and a half, including the Michigan Pavilion for the Chicago World's Fair, Henry Ford's Piquette Avenue Plant which led to mass production of the automobile, NASA's Lunar Receiving Laboratory, and the Philip Merrill Environmental Center which became the first LEED Platinum certified building in the world.
SmithGroup has created designs for a wide variety of markets, including government, senior living, waterfront, health, and cultural facilities. Within the field of higher education, SmithGroup has worked with more 700 clients including San Diego State University, whose Aztec Recreation Center was another 2023 NIRSA Outstanding Facilities Award recipient. SmithGroup has also received numerous awards from other prestigious organizations such as the American Society of Landscape Architects, the American Institute of Architects, and the International Interior Design Association.
SmithGroup's values of equity, passion, curiosity, community, integrity, and sustainability shine through in the projects they design. Their commitment to sustainability was especially prominent during the process of designing and constructing the Southside Rec Center. A conscious decision was made to preserve several mature live oaks and incorporate their beauty and shade-producing properties into the facility's design. Flooding is prevented by utilizing bioswales and native plantings to control rainwater runoff. Additionally, plantings and other landscaping materials including limestone were sourced locally within a 100-mile radius.
"The innovation of the Southside Recreation Center at Texas A&M University lies in the simplicity of the spatial planning," explains SmithGroup. "The plan efficiently organizes a central two-story support bar between the two big boxes, consisting of strength/conditioning and the two-court gym. This saved both space and costs, allowing us to supplement the facility with the outdoor spaces and the careful curation of the daylight and views."
"It is such an honor for this project to be awarded an Outstanding Facility Award by NIRSA," adds SmithGroup. "The team at Texas A&M Rec Sports was a dream to work alongside and we are proud for that collaboration to result in one of the highest honors in our industry. Thank you, Texas A&M! And thank you, NIRSA!"
About NIRSA's Outstanding Facilities Awards
The annual NIRSA Outstanding Facilities Awards, sponsored by Mondo, recognize the innovative designs of new, renovated, or expanded collegiate recreational facilities of NIRSA member institutions. Facilities receiving this award are a standard by which other campus recreation facilities should be measured, and from which others can benefit.
Applications for the 2024 NIRSA Outstanding Facilities Award recipients are open through Nov. 15, 2023. Eligibility guidelines, selection criteria, and entry fee details can be found on the NIRSA website.