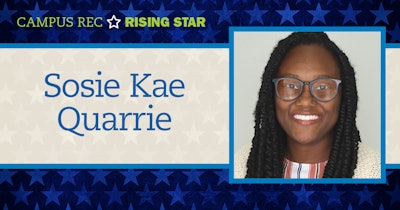 Sosie Kae Quarrie is now assistant director for admissions events in undergraduate admissions at Florida Atlantic University; until recently, she was making a big impact in the field of campus recreation with her work as a special events coordinator at the University of South Florida.
Her journey into a rising career in student affairs started when she was hired to work as a student staff member at Florida State University Campus Recreation in the spring of 2016.
"Those early event planning experiences taught me how to create event permits, organize student volunteers, and contract outside vendors," she says. And from there, she "developed a love for student programming, events, and student development while working for FSU Campus Recreation," which she credits with inspiring her to pursue a master's degree and a career in student affairs. Education has been a constant part of her growth throughout her career—she's earned a B.S. in environmental studies; a BA in environmental sciences and policy with a minor in urban and regional planning; a B.S. in recreation tourism, and events; a Master of Education; and most recently, she's pursuing a Ph.D. in Higher Education Administration.
The dedicated program of study and real-world experiences she's gained working in campus recreation are sure to pay off in her new role at FAU. As the special events coordinator at USF, Quarrie oversaw the department's scheduling of facilities for RecWell programming, and reservations for events organized by USF student organizations, university entities, and non-university groups. She was responsible for supervising event and reservation operations scheduling of the 28,000 square feet Campus Recreation Center building and its outdoor venues—including 13 football and soccer fields, two softball fields, 16 tennis courts, a 1.2-mile shaded running trail, and Riverfront Park. In her new role at FAU, she's responsible for planning and executing major campus recruitment events, which attract over 15,000 participants every year. She also leads collaborative efforts with the campus community involved in undergraduate admissions.
"I've loved working in the campus recreation field because it has the power to create and strengthen a student's sense of belonging on campus through its programs, experiences that can start with the student staff. Throughout my experiences with campus programming, I find that university programs foster friendship, family, a sense of self," Quarrie says.
Finding connection and value in NIRSA
Quarrie has been volunteering as a session monitor and at event registration check-in for Region II and NIRSA Annual Conferences since 2017. She's also active in the NIRSA Connect discussion forum, citing the value she finds in the "ability to stay connected with a vast number of professionals outside of going to the NIRSA conferences."
She highlights the influence of David Peters, Senior Associate Director, Campus Recreation at Florida State University, as one of her professional colleagues who helped connect her to the NIRSA network, but she's quick to note, "Honestly, every person I meet at NIRSA conferences inspires me to serve. We make true connections, learn from each other, and find ways to better serve our institution."
Outside of work, Quarrie loves things that get her moving, "whether it's kayaking or hiking, I just love doing things that makes me feel good and gets my body moving." She also enjoys taking in the occasional hockey and baseball games.
NIRSA is proud to have such a talented and dedicated professional among its membership ranks—the future of campus recreation is bright because of dedicated individuals like her! Her involvement in NIRSA has not only provided her with opportunities for personal and professional growth, but it has also allowed her to make meaningful connections with others who share her passion for student development and wellbeing.