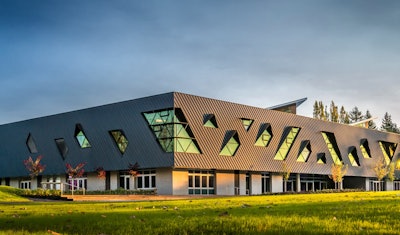 Construction Cost: $42 million
Area / Square Feet: 76,000
Occupancy Date: May 2020
The Clayton Community Centre combines three aspects of community services in Surrey, B.C. — recreation, library and arts — in a seamlessly integrated facility. Shaped by extensive community engagement, the facility is a catalyst for active living, creativity and learning. The building is designed to be inclusive and high-performance, with the ability to respond to future climate conditions.
The facility is sited between two closely spaced secondary schools. The social fabric of the surrounding context led to a design that focuses on meeting the needs of youths, while offering gathering spaces that connect all generations.
The facility is further situated as an extension of the onsite forest. The roof and building envelope mimic the tree canopy to unify the three civic services underneath, with a leaf-like heavy timber structure that spans across the interior. The interlocking members of its pinwheel components metaphorically and structurally gain strength by all components being interconnected. The wood structure is emphasized through a series of triangular openings in the roof, with clerestory windows that create dappled light, provide natural ventilation and mimic the shadows of a forest. Beneath the canopy is a space that can physically respond and evolve with changing activities. It is a space for unexpected discovery and learning at the forefront of social inclusivity, offering fully universal washrooms and change rooms for Surrey's diverse and rapidly changing demographic. 
The Clayton Community Centre is the first facility of its kind to achieve Passive House certification in North America, and is Canada's largest Passive House facility to date.
ARCHITECT OF RECORD
Vancouver, B.C. 
PROJECT VENDORS
Building Systems - Pre-Engineered Structures - Western Archrib
Fitness Center - Cardiovascular Equipment - Precor, Octane, TechnoGym, Life Fitness, SportsArt, Matrix
Fitness Center - Entertainment Systems - Houle Electric
Fitness Center - Flooring, Aerobics- Robbins supplied by Centaur Products
Fitness Center - Flooring, Fitness Center
Dinoflex SportsMat Flooring supplied by Atmosphere Interiors
Fitness Center - Free-Weight Equipment - Owner supplied
Fitness Center - Strength Equipment - Owner supplied
Gymnasium/Field House/Arena - Basketball Backboards/Supports - Forum Athletic Products supplied by Centaur Products
Gymnasium/Field House/Arena - Divider Curtains - Qued supplied by Centaur Products
Gymnasium/Field House/Arena - Floor Covers - Team Skyline
Gymnasium/Field House/Arena - Lighting - CDM2 supplied by Houle Electric
Gymnasium/Field House/Arena - Sound Systems - Houle Electric
Gymnasium/Field House/Arena - Volleyball Nets and Standards
Centaur ProductsIndoor Sports Surfaces - Basketball - Robbins supplied by Centaur Products
Indoor Sports Surfaces - Multipurpose - Robbins supplied by Centaur Products
Indoor Sports Surfaces - Volleyball - Robbins supplied by Centaur Products
Laundry - Dryers - Whirlpool
Laundry - Washers - Whirlpool
Locker/Shower - Flooring - Daltile supplied by Atmosphere Interiors
Locker/Shower - Lockers - Bradley Corp
Locker/Shower - Shower/Toilet Partitions - Bobrick Washroom Equipment