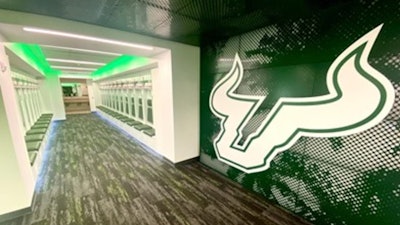 The University of South Florida recently unveiled a $3.3 million upgrade to its football facilities in Lee Roy Selmon Athletics Center, including a sparkling new locker room.
The new locker room includes 120 lockers, a state of the art digital, multicolor lighting and surround sound system, two 86-inch big-screen TVs, four video game consoles, pool table, ping-pong table, a nutrition fueling station, new LED graphics, 55-inch monitors throughout and new furnishings. There are also renovated coaches offices and staff rooms with new furniture, graphics and carpeting.
The renovations at Lee Roy Selmon Athletics Center, which hasn't had any major updates since it was built in 2004, also included a football operations entry area on the second floor.
More than 500 donors contributed to the project. The expected fall groundbreaking for USF's $22 million Indoor Performance Facility, scheduled to open prior to the 2022 season. – GoUSFbulls.com
Schools in Fort Smith, Ark., will open new sports arenas this fall.
Thanks to a millage increase, both Northside and Southside high schools will be getting new modern facilities for basketball, volleyball and other activities.
The new arenas were funded through a property tax increase in May 2018 that was used for a $121 million investment in schools within the district.
The majority of the money from the millage increase went to Northside and Southside, as both added arenas and also increased cafeteria space, built two storm shelters at each high school, added new administration offices, and new construction of ninth-grade centers, making the high schools now for grades 9 through 12.
Both facilities will have approximately 2,350 seats, which is more than the minimum seating requirements by the Arkansas Activities Association to host state basketball tournaments in Class 6A.
Though the two arenas will have the same amount of chairback seating, locker rooms, concessions, and bathrooms, they are totally different in design.
From the outside, Northside's arena has the look of an old-school fieldhouse from the 1940s and 1950s. In fact, its exterior design attempts to match the architecture of the main campus, which was built in 1928.
Southside, on the other hand, has a more modern look on the outside, as well as the inside. The new Mavericks arena will also have a state-of-the-art video scoreboard like the FedEx Forum, home of the Memphis Grizzlies.
Northside's arena accounted for $14.5 million of the $37.8 million dedicated for projects at the school while Southside's arena cost $14.1 million of the $45.1 million for the school. – ArkansasOnline.com
The City of Charleston recently opened the new Daniel Island Recreation Center. ​​SeamonWhiteside was commissioned by the city to provide master planning and landscape architecture for the new active/passive recreational park.
Features include athletic fields for baseball, softball, and soccer, bike paths, walking trails, a playground, and other engaging recreation activities for the Charleston community.
Recreation staff will be available to assist with membership registrations, and the community can enjoy a range of activities including a bounce castle, yoga and pickleball.
The 42 acre park facility, located within the planned community of Daniel Island, features a 9-acre multipurpose lawn that will accommodate four full sized soccer fields, as well as provide open space for public events and festivals.
The master plan also includes 2,000 LF of multipurpose pervious trail, a 10-foot-wide pedestrian bridge, lighted baseball and softball fields, press box, multipurpose rec building, picnic areas, dog park and fishing pier.
The new facility is located at 160 Fairbanks Drive. ​​– WCBD-TV, SeamonWhiteside
NEW project: Daniel Island Community Recreation Center in South Carolina featuring Trespa Meteon Pure White and Hesbania.
Thanks to the teams at SeamonWhiteside RushDixonArchitects
HillConstruction O.L.ThompsonConstruction

FREE samples available at https://t.co/oJOokozyPs pic.twitter.com/u3N6Y97daS

— Quick Ship Panels (quickshippanels) April 19, 2021