The new women's professional soccer league has a TV contract and the world's best players, but time will tell whether it can develop facilities-and a following.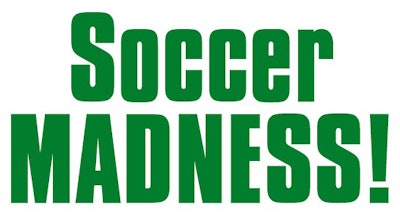 The creation and marketing of women's professional team sports has an ignominious history, with women athletes appearing primarily as stand-ins for men (women's pro baseball, circa 1950) or as sex objects (beach volleyball, circa 1990). Even the WNBA, the women's sports success story of the late-'90s, struggles with the perception that it is a mere side show for "real" basketball-less sport than low-priced product for greedy NBA arena owners.
The Women's United Soccer Association, though, truly breaks the mold. The WUSA, which begins play in eight cities next April, features a handful of wellknown and carefully marketed superstars who captured the nation's imagination as Team USA romped through the 1999 Women's World Cup. (They might have captured the nation's imagination three years earlier, when the team struck Olympic gold, but NBC lacked the imagination to actually put them on the air.)
The new league will showcase a sport played by millions of young women at the high school and college levels, as well as a sport (in this country at least) not currently dominated by men. Major League Soccer, the five-year-old men's league, is considered a second-tier sport American sports fans and a secondtier league by the world's soccer aficionados; the U.S. men's team is in a tier all by itself, having finished 32nd in the 32-team 1998 World Cup.
When the women take the field in 2001, the WUSA will feature virtually the entire U.S. national team, both the one that captured the Cup in 1999 and the one that won silver at the 2000 Olympics in Sydney. It will also include most of the foreign stars who briefly showed up on American radar in '99-Brazil's Sissi, China's Sun Wen, Canada's Charmaine Hooper-as well as the top American collegiate players. It will have a profitenhancing single-entity structure (like MLS) and a national television contract most startup leagues would kill for.
What it won't have is appropriate, state-of-the-art facilities to match its athletes' best-in-the-world status. And what it might not have, its many detractors insist, is a diehard following to fill the bleachers, if and when the league builds them. Look at MLS, bray the naysayers-flat to falling attendance, nonexistent television ratings and 50,000 empty seats in a stadium meant for football. Real football-American football. The WUSA isn't MLS, however. So says Joe Cummings, general manager of the WUSA's Boston franchise.
"When in the history of sports has a league launched and instantly been the best in the world?" Cummings asks. "Never until now. That's not one we're going to argue very long. It's a fact. If the foreign players we are currently negotiating with agree to play in this league, we'll have the top two players from every country, the best of the best-what other league can say that? Credibility on the playing field and on television gives us instant recognition. So the glass isn't half-full or half-empty-it's filled to the brim, and we're ready to show people that next spring."
It's hard to say at what moment women's pro soccer suddenly seemed a viable enterprise. Perhaps it was when America first glimpsed Mia Hamm talking trash with Michael Jordan in a Gatorade commercial. Or perhaps, stealing a page from the women-athletes-as-sex-objects playbook, it was when Brandi Chastain made her World Cup-winning shootout kick and-well, you know what else.
John Hendricks, founder and chairman of Discovery Communications, has for years been telling anyone who will listen that women's soccer is a gold mine. In 1995, his bid to launch a women's league was denied by the U.S. Soccer Federation, which felt the time wasn't right. (The USSF may have had good reason to suspect the league wouldn't then succeed, without the galvanizing Women's World Cup; it may also have feared that a women's league would draw fans from the men's league startup.) Hendricks, though, was persistent-plus, he had the foresight to count as his close friends a number of other communicationscorporation magnates, representing Time Warner, Comcast Corporation, Continental Cablevision and Cox Enterprises.
Hendricks was helping to foment a women's soccer revolution, and he was going to make certain that the revolution would be televised.
He knew, also, that the WUSA wouldn't fly without the active participation, both as players and as ambassadors, of the Women's World Cup winners. This turned out to be easier than he could have imagined. Soon after Chastain's kick sank China, Hendricks brought the women his business plan, spelled out the league's particulars and asked them to sign letters of intent. They did. Then their coach, Tony DiCicco, signed on as league commissioner.
Major League Soccer watched the WUSA swiftly come together with something approaching envy. By all accounts, MLS officials grew a little miffed by all the attention the U.S. women were getting, in particular the lack of credit being given MLS for working the soil that Hendricks and his fellow investors planned to seed. Ultimately, last fall's hastily issued announcement-that MLS might start a women's league of its own-was met with a stern rebuke by the players, who reiterated their intention to play only for the WUSA.
Any chance that pro soccer was going down the fractious path taken by pro basketball (the hastily constructed WNBA destroyed the American Basketball League in just two years) was removed last spring when MLS and WUSA announced that the two would become partners in the women's venture.
"There was some concern, obviously," says Mark Abbott, the chief operating officer of MLS, about the possibility that a women's league could compete with MLS for a limited number of soccer fans. "However, we think that the way we have decided to work together will create a situation that's good for everybody.
The media companies that are behind the WUSA are also going to be promoting MLS as part of the agreement, which we view as very valuable for us, a way for us to gain additional exposure. We're also looking at what kind of cross-marketing opportunities might exist at the local level. So I think we are going to see the pie grow overall instead of us sniping away at each other."
It remains to be seen whether the former will occur. After all, the American cultural landscape is strewn with the remains of startup soccer leagues attempted as far back as 30 years ago. If Major League Soccer is used as the yardstick for measuring how far soccer has come over that time, the results are mixed. On the one hand, attendance this year was a respectable 13,710 per game.
On the other hand:
Attendance for the 2000 season, although gaining steam later in the year, finished down 4 percent from 1999 and 21 percent from its first-year peak of 17,406. Dan Courtemanche, the MLS director of communications, says these numbers must be taken in context. "There was a lot of pent-up demand for soccer that first year; we've averaged about 14,500 in the years since, so it's a little more consistent," he says. "Also, we've recently instituted a fan development division at the league office, something we'd never done before. I think we're going to see the impact down the road here."
Seven of 12 MLS markets saw attendance decreases this year, including three markets that the eight-team WUSA is entering. Some of the numbers are frightening: Attendance in San Jose, where there has been talk of featuring MLS-WUSA doubleheaders, was down 16.7 percent from 1999. Attendance in central Florida, where the WUSA will place a team (Orlando), is hurting: Tampa Bay, which finished in first place in the Central Division, experienced a 27.9 percent drop. It doesn't exactly inspire confidence to hear Courtemanche say attendance in Columbus was "down a little bit"-the final figures showed a 12.7 percent drop for the only MLS team to play in a state-of-the-art, soccer-only facility (it cost $28 million to build).
Network telecasts of MLS scored a 0.8 rating this season, down 11 percent from 1999. Cable telecasts haven't fared much better.
WUSA officials, though, continually return to the two leagues' talent gap to suggest that MLS doesn't make for a worthy comparison. Not that the quality of soccer in the men's league is shabby; the difference is that whereas Europe has the world's top men's leagues, the U.S. will be the best league available for the world's top female players. Says DiCicco, "It's not like they're going to get rich coming here. But they want to come here, because they'll be respected as top athletes here. Women's soccer is way down the priority list overseas, but in this country, women's soccer has a following and a respect. They saw that last summer, and they want to play where the game is respected, just like our men's national team members want to play in Europe."
"Respect" means that if the two leagues ever do schedule doubleheaders together, the women and men will likely alternate in the prime-time slot. Playing "j.v." may ruffle some feathers among the male players, but so be it, say WUSA officials. "Respect," they say, also means that the women-who, again, are far more accomplished than the men in international competition-will fight any attempt to view them as secondclass citizens.
DiCicco says any competition between the two leagues would be energy misspent. "We need to partner with the men, and they need to partner with us," he says. "Soccer in America has a long, long way to go. This is a unique opportunity to grow the sport jointly, and we need to utilize each other's skills and resources to make it happen. I don't think we'll be looked at as MLS's little sister. Maybe if we were WMLS, we might. We'll be able to stand on our own."
The WUSA's greatest asset is its women's national team members. Unfortunately, they thrilled the nation with their competitive spirit and cohesiveness as a unit, not scattered among eight far-flung cities. With Mia Hamm taking the field for the Washington, D.C., team, Brandi Chastain in San Francisco, Julie Foudy in San Diego and Kristine Lilly in Boston, it may be a tougher sell.
"That's one of our challenges," DiCicco concedes, "but the fact is that we're now adding 140 more players to our sales force. What America fell in love with last year-the wholesomeness, the way these women play the game-is what this league will showcase, and there are great players and role models out there waiting to be discovered."
"The only thing we're able to counter with," adds Cummings, "is that if you watched a Women's World Cup game in 1999, you saw 11 USA players on the field at one time. If you come to a WUSA game, you're going to see six-elevenths at one time, three on my team and three on the other team. So you're only missing seeing a few players."
Another challenge for the league is to try to re-create the big-time atmosphere surrounding the World Cup. That may be hard to accomplish in expanded college facilities or converted high school fields-not to mention in pro football stadiums, where the cheers of a respectable crowd of 9,000 people will echo among empty grandstands.
MLS faced this very problem when it began play in 1996, and to date the league's facilities plan has moved somewhat slowly. League founders' stated goal was cozy, 20,000-seat soccer-only stadiums in all its cities, but to date MLS can claim only one true jewel in its crown (Columbus). Only one other team (Los Angeles) has a stadium plan in the works, and while San Jose and Miami play in soccer- only facilities, both feature temporary stands and small-college atmospheres.
The WUSA's investors were required, as part of their involvement in the league, to fork over $3 million per team toward a facilities fund-which, of course, would only buy the league one truly grand stadium. The league also is looking to its corporate sponsors to participate in lucrative naming-rights agreements. Di-Cicco describes the WUSA's prototype facility as "12,000 seats for $12 million," something closer to MLS's converted high school field in south Florida than to its signature stadium in Columbus.
"There's a vision to create stadiums that are small to medium-size, 8,000 to 15,000 seats, that are intimate, have soccer dimensions, and are fan-friendly and festive, much like these minorleague ballparks that have popped up," says DiCicco. "They would be expandable to 20,000 or 25,000, as needed. That's a vision. What we're doing now is looking for temporary sites for years one and two."
The WUSA team with the clearest shot at building a Columbus-style stadium is Hendricks' team in Washington. Initially set to play at the home of MLS's D.C. United, RFK Stadium-a big facility but with good sight lines for soccer-Hendricks' team has a lot going for it. He has the world's biggest superstar in Hamm, he's in a hotbed of soccer that year after year supports MLS, and he's the league's founder. In August, it was reported that the D.C. Sports Commission, which operates RFK Stadium, is putting together plans to construct a soccer-only facility on the grounds of RFK to serve the WUSA and MLS franchises, a Virginia minor league soccer team and a lacrosse team.
In Boston, the WUSA team faces an intriguing choice between Foxboro Stadium, home of MLS's New England Revolution, and one of two college campuses-College of the Holy Cross in Worcester, and Tufts University in Medford. Foxboro (and its 2002 replacement, CMGI Stadium) would give the team a big-time atmosphere and a ready link with MLS, but might be too large a venue for the WUSA, which expects the average per-game crowd, league-wide, to be about 6,500. A college setting (suitably expanded) would lend an air of intimacy but might give it a lower-tier veneer that the WUSA is anxious to avoid.
"We all have the buy-and-build mentality, but we want to do it within a business plan that's pretty sound," Cummings says. "The Columbus Crew did not go out and do this in year one. They lived with a situation at Ohio State that wasn't acceptable to them, and finally were able to say, 'This is what we think a professional soccer stadium should look like.' And each of the WUSA teams wants to be the first to say the same thing."
Talking about college facilities, Cummings-who has been a venue manager in Birmingham, Ala., for the World Cup regional games, a college soccer coach at Holy Cross and an assistant GM for several minor-league soccer teams-gives the impression of favoring the Foxboro plan.
"When I go to Foxboro I don't park the cars, I don't flip the hamburgers, I don't tear the tickets and I don't sing the national anthem," he says. "If I go to a college campus, my brother-in-law is parking cars, my wife is tearing tickets and I'm asking you to help out with programs if you show up early."
Then again, he notes, if things break right for his team and a soccer-specific facility is built, he may well end up tearing tickets, among other tasks. "If you build a 10,000-seat stadium, you've got to be in the event-management business," Cummings says. "You've got to fill it with Peter, Paul & Mary reunion tours. That's why a partnership, rather than going it alone, works very well. We've had extensive conversations with the Massachusetts Youth Soccer Association, which is in the midst of planning a field complex, about putting a signature stadium in the middle of their 15-field complex."
MLS is hoping that it can be the primary partner in the shared markets, as it views the WUSA as an eager tenant in an MLS-constructed stadium-even though Hendricks might beat them to the punch in Washington. Says Abbott, "Stadium finance is driven by stadium usage, because all the revenue streams-whether from the public sector or corporate sponsorships, naming rights and suite sales-flow off usage. So while I haven't looked at it on a market-by-market basis, we believe the presence of an additional league that can serve as a tenant will enhance our ability to finance and construct facilities."
Whether or not monies ever materialize to fund soccer-specific facilities, Tony DiCicco, who held the reins of the women's national team for 10 years, doesn't see a women's pro league as a tough sell to fans.
"Our business model is for 6,500 average," DiCicco says. "We're hoping to do better than that, but we're trying to be conservative and realistic. But I'm excited with what we're offering. The members of the U.S. national team really bought into the idea that they were missionaries for the sport. It wasn't a labor for them; they wanted to be role models, to tie in with their fans. I think that's the phenomenon that happened last summer. It wasn't just sport, there was a connection between the fans and players. Our job is to recreate that connection, not just with one team, but a league of players."
As Cummings talks about the explosion of interest in soccer over the past decade-every one of his front-office hires has played soccer their whole lives, at every level-he sounds an awful lot like an optimist. Yet, he describes himself as a realist.
"I think of this as an opportunity," Cummings says. "The time is right, but there a lot of choices for people as far as their entertainment dollar is concerned. We must give them good reasons to come and watch women's professional soccer. The product on the field is going to be judged by very discerning soccer consumers. I think we're spot-on in how we want to present the game, and the women have bought into this and understand they are the ambassadors of this league. All the pieces are there." Cummings hesitates.
"You know, we're doing it all. It's a startup from square one. But the great thing is, there'll be a schedule, it'll be posted, and the games will be played come next April. I could be pounding nails into bleachers at 10 o'clock the night before, but it's going to happen. That's just downright exciting."