Key Facility Elements to Meet the Growing Demands on Multipurpose Arenas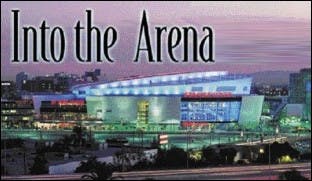 While an unprecedented number of major professional, college and civic arenas sprouted during the 1990s, the terms most often used to define those facilities - "state-of-the-art" and "next-generation" - underwent continual redefining. They had to - the marketplace, driven by the dynamic explosion in the sports and entertainment industries, demanded it. No fewer than seven major multipurpose arenas opened late last year. And each of those facilities upped the ante by establishing new standards for versatility of operations and accommodations.
In recent years, major colleges - the University of Maryland, Ohio State University and the University of Wisconsin, among them - have gotten into the arena game by changing their traditionally held beliefs about college facilities and building what one could call "prollegiate" facilities - college venues that take on many elements of professional facilities (see "Corporate Clout," p. 46).
It wasn't too long ago - a decade, at best - when arena design had settled into a simple and standard formula. Seating was featured in three distinct groups: general seating, club seats and private suites. Each seating level had its own particular design criteria for addressing toilet fixture ratios, concessions points of sale, level of finish, parking and appropriate placement of sponsor logos. Looking at the corridor-like concourses in these facilities, with toilet-toilet-concessions placement, it would be easy to conclude that the sports and entertainment experience at one time was limited to finding a seat, using a rest room and buying refreshments. That experience, while perhaps pleasant, could still be rather bland and repetitive.
At the dawn of a new century, it's imperative that the design of future sports facilities focus on diversity of experience at all levels - whether the spectators are families, fanatics, students or business groups. To do so, six essential elements must be incorporated into the design of functionally and financially successful 21st century arenas, regardless of size: event-level planning flexibility, building systems/technology integration, structural design capacity, premium seating package design, building design features and revenue enhancements .
While some of the more lofty components of these elements may be cost-prohibitive for smaller colleges and communities, if the desire to maximize the number of events at any given facility is there, the possibilities are almost endless. And as the number of events increase, so too do the profits and the prestige.
Event-Level Planning Flexibility True multipurpose arenas can accommodate and adapt to different events quickly and efficiently. Among the primary areas that must be flexible is the event level, the stage for games and performances. Optimum design of the event and back-of-house areas dramatically improves day-to-day operations. Critical to a successful event level is the organization of spaces utilized by operations people, players or performers before, during and after events.
The movement and storage of furniture, fixtures and equipment that support sports and entertainment events must be carefully planned. Ideally, the facility operator is selected and on board early to take ownership in the design of the new building. Different operators adhere to different styles and philosophies for managing and running arenas. Their input must be incorporated into the back-of-house planning, which is their domain. T he day the building opens, the operator should be inherently familiar with the layout, because familiarity breeds efficiency.
Each building presents a unique set of circumstance and challenges. The new Staples Center, for example, opened in October and houses an unprecedented four major professional tenants: the NBA's Los Angeles Lakers and Los Angeles Clippers; the NHL's Los Angeles Kings and the Arena Football League's expansion Los Angeles Avengers. Because these prime tenants collectively will account for approximately 125 events per year, a daunting task awaits this facility's operations staff in converting the building between hockey, basketball and arena football configurations.
Complicating matters is the fact that the Lakers and Clippers each have their own floors, basket standards, courtside seating sequences, advertising panels and press-table arrangements. A crew of up to 50 people are trained to accomplish each changeover in less than three hours.
All told, Staples Center officials estimate that 250 to 300 events per year will be held in the facility. Imagine the logistics, equipment and spatial requirements needed to pull off this feat night after night. That's why effectively planning and designing the event level is crucial.
Building Systems/Technology Integration Modern sporting events and entertainment performances have become increasingly spectacular in scale and scope. Consequently, today's multipurpose arenas must be complex packages of technology. In addition to mechanical, electrical, plumbing and fire-protection systems, contemporary events also need equipment for special-effects lighting and lasers, power distribution, high-level ventilation, audio/visual, security, telecommunications and computers.
Television production is a major element in this technology integration, especially as more broadcast signals originate from studios located inside arenas. Many new facilities, including Conseco Fieldhouse in Indianapolis and the Staples Center, are wired for high-definition television (HDTV). Meanwhile, Philips Arena in Atlanta takes its name from Philips Electronics, and the NBA's Hawks and NHL's Thrashers, which occupy the building, are owned by media mogul Ted Turner. Rest assured, this facility, which opened in September, is loaded with state-of-the-art technology.
Structural Design Capacity The long-span roof structure is arguably the architectural element that contributes most to a multipurpose arena's flexibility. Not only are these trusses, which can span up to 400 feet, designed to enclose the building, they also provide the platform for supporting a variety of equipment and systems integral to hosting many activities and events.
Suspended and woven through these mammoth trusses are catwalks for service, television and event-production lighting systems, spotlight platforms, acoustical clouds, mechanical ductwork, speaker clusters, scoreboards and rigging grids for optional stage locations and loading capacities. Today, pointloading requirements for rigging contemporary shows and concerts have reached 120,000 pounds.
Premium Seating Package Design No one can argue that premium seating is the engine that drives an arena's financial success. As a result, that engine needs to run at peak performance all the time. Architects and marketing executives are continually looking for ways to enhance and expand the luxury-seat market.
Concepts are being advanced in many different areas, including the creative manipulation of the seating bowl, allowing multiple suite locations and a variety of vantage and price points. Conseco Fieldhouse positions 28 suites - each seating 12 people - 22 rows off the floor. An additional 41 private suites - accessible only though a private level - are situated 16 rows behind the lower suites.
Meanwhile, the recent development of the super-suite concept allows arena operators to maintain price points while offering potential buyers a luxury seating package that features more options and greater flexibility to purchase in smaller, more affordable quantities. Good examples of this concept can be seen in Philadelphia in the First Union Center's 14 "club boxes," which seat 80 to 150 people, and in the eight 64-seat "co-op suites" at the National Car Rental Center in Sunrise, Fla. Both facilities (which opened in 1996 and 1998, respectively) provide a semi-private suite setting, a private bar/bartender and exclusive concourse access. The seats can be purchased individually or in small groups. This approach appeals greatly to the small-business market interested in entertaining clients and networking with others.
While Miami's new American Airlines Arena also provides five super suites for groups of 36 to 54 people, the facility offers an extremely creative and diverse premium-seating package that serves a dynamic marketplace, too. When it opened on New Year's Eve, American Airlines Arena introduced a new standard in luxury arena seating by unveiling only 20 private suites - making them extra special. Equally as unconventional was the common corridor separating the private suite area from the suite's viewing seats. This allows each suite to have a private balcony with a view of Biscayne Bay. Complementing the suites located at center court are 52 loge boxes, which accommodate four to six people in an open "box seat" arrangement. For the arena's wealthiest patrons, six "star boxes" are available for $500,000 per year. These packages include a private suite under the arena with private access to four seats on the floor. A private parking space within the building is a bonus.
Another inventive seating concept proving popular with fans and financially successful for operators is the party suite. These suites typically are for sale on an event-by-event basis at an affordable price. At the Rose Garden in Portland, Ore., home of the NBA's Portland Trailblazers, arena officials initially had a tough time selling the last rows of seats in the back of the upper bowl until they converted them to "Blazer Boxes." While not the best seats in the house, the enclosed suites are inexpensive to rent on a per-game basis and are consistently filled, bringing Rose Garden operators more revenue than they originally received from those seats. Each suite features 14 seats, a private bar, catered food and closed-circuit TV monitors, providing a great atmosphere for enjoying an event in a unique, intimate environment with family, friends and business associates.
Even general seating areas are gaining new perceived value through creative design and marketing. Designated "clubs" or "neighborhoods" of seats can become legendary in association and agenda. The seats in the "Shoot Twice End" of the National Car Rental Center, designed on a steep grade above the net to push hockey fans into the faces of opposing players as they try to score, are "premium seats" by virtue of the badge of courage fans assume by sitting in that section.
Conversely, the retractable end-zone bleacher seats in Conseco Fieldhouse offer old-fashioned, foot-stomping camaraderie, thanks to their resemblance to old Midwestern high school gym bleachers. The bleachers also can be stowed away, effectively turning the floor of that section of the arena into a party zone.
Building Design Features With enhanced multipurpose arena interiors has come a new appreciation for the physical impact and visual message sent by such facilities. These immense buildings, prominent on the urban landscape and frequently subjected to international media exposure, are designed to be aesthetically pleasing and capable of creating a unique and identifiable TV image. The monolithic box or drum configurations of past generations have given way to energetic and exciting designs.
Modern-day arenas are symbols of pride for teams, colleges, universities and cities. And as substantial private/ public investments, they must be entertainment destinations that attract and delight millions of visitors each year.
Conseco Fieldhouse has already become synonymous with Indiana Pacer basketball, thanks to a design that celebrates the history and nostalgia of Indiana basketball by recalling the style and character of old field houses around the state. The traditional design theme will be a huge asset in marketing the building and the team to a broad age group.
Philips Arena also has built-in marketing aids and an unmistakable identity, both inside and out. Outside, 60-foot-high front entry columns spell "ATLANTA," while inside, four levels of private suites stacked under the press box on one side present a powerful TV image that distinguishes this facility's seating bowl from any other.
Meanwhile, the Staples Center is a bold, sleek metal-and-glass collection of building forms that evoke comparisons to a sports car - an appropriate image, considering the arena's proximity to the Los Angeles freeway system. The Staples Center's main design feature, its roof structure, is an exposed super truss shaped like a surfboard and the building sponsor's logo. It's bound to become the ideal blimp shot for television networks.
Sports facility designers realize that exterior design is inextricably linked to the design of the interior. Through the design process, ideas are explored and options graphically studied that resolve interior functional arrangements and in turn drive the exterior architectural expression. Key interior elements include entry lobbies, where visitors receive their initial impressions of the facility; stairs, which must accommodate large numbers of people between periods and before and after games; circulation concourses, which must be wide enough to support constant movement and long lines at concessions stands; the roof structure, which has become increasingly radical with arcs and points; and placement of windows, which must be creative enough to invite outsiders and strategic enough to provide distinct views to visitors.
Revenue Enhancements Perhaps the most compelling change that has occurred in arena design over the past 10 years is the addition of revenue-enhancement components. These can be thought of as options that upgrade the standard arena model into a luxury one. In some cities, it's even become difficult to determine whether the event or the facility is the main attraction. This is a good thing, because what professional, collegiate and civic arenas must provide is a total entertainment experience that shouts, "Wow!"
Revenue-enhancement elements can be split into several categories that make attending an event a treat for the senses - including food and beverage areas, merchandising outlets, interactive games and other amenities (see "In the Bonus," p. 48).
Many arenas offer visitors a vast array of creature comforts and leisure attractions. But the MCI Center in Washington, D.C. - home of the NBA's Washington Wizards and the University of Georgetown Hoyas - strives to take that concept a step further with amenities available to people every day of the year. Among the attractions are The Capital Club, a 350-seat tiered restaurant featuring a bar, a wood-burning stove, an outdoor patio and a view of the event floor; a 2,500-square-foot Modell's Sporting Goods team store; the 1,700-seat, three-level Velocity Grille sports and entertainment theme restaurant; a three-level Discovery Channel Store, a 25,000 square-foot destination store that mixes merchandise and interactive exhibits; the MCI National Sports Gallery, another 25,000-square-foot attraction that showcases sports history through memorabilia and interactive exhibits; 17 MCI interactive kiosks featuring touch-screen monitors, printers, audio and E-mail connections; and the Gallery Place-Chinatown Metro Train Station.
While the inclusion of such amenities may not directly guarantee financial return for franchise owners, because such operations are usually developed and run by other parties and interests, there is an indirect benefit. The overall ambience they lend a venue helps make the facility an urban destination for families, fans and corporations.
Rivaling premium seating as the primary source of revenue for multipurpose arenas are sponsorships and advertising. Intensely creative packages are developed nowadays to incorporate sponsorships into a facility's business plan, challenging architects to integrate those ideas into exciting design schemes.
Conseco Fieldhouse's concourses were designed as promenades connecting five oval-shaped food courts called "sponsor pavilions." Five local companies purchased the exclusive advertising rights to these areas, where thousands of fans congregate during every event.The Indianapolis Motor Speedway, for example, sponsors one of three pavilions on the main concourse. It features photographs from the speedway's archives to tell the racetrack's story on 232 linear feet of display space in the form of 29 8-by-8-foot panes that wrap around the oval-shaped space. The pavilion also includes interactive driving simulators and a life-sized Indy car suspended from the ceiling.
At Denver's new Pepsi Center, home of the NBA's Nuggets and the NHL's Colorado Avalanche, fans who park their cars on the west side of the arena walk along a mountain path - sprinkled with Aspen groves, natural boulder formations and mountain streams - until they reach the arena's main entrance. Sponsored by the Denver Post and called the Denver Post Fanway, the path gives way to 200-seat Coors Meadow amphitheater, which will frequently feature live musical performances. Another path branching from the Meadow leads to the Coors Tap Room inside the arena.
This is an excellent example of a facility's operators blending sponsorship opportunities to make the usually mundane journey from car to arena a highly memorable experience.
There's no denying that sports and entertainment have converged into a single element and have become - right or wrong - a major focus of contemporary life. The average fan has high expectations from today's arenas, and he or she has become quite savvy. Sports and entertainment is a multibillion-dollar business driven by profit motive and competition .
All of which makes financing, developing and designing sports facilities these days extremely complicated and highly specialized. As the new multipurpose arenas that opened in 1999 demonstrate, no rigid formula exists for designing these buildings. On the contrary, new thinking abounds, as multipurpose arenas have evolved into buildings designed to generate as much excitement as the events they feature.