Advances in Design and Technology Are Making More Stadium and Arena Seats Feel Like the Best Ones in the House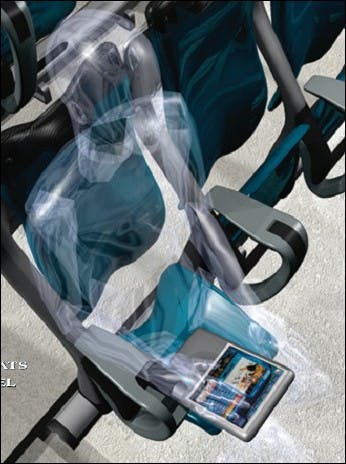 Once upon a time, sports fans were content to simply sit in their seats and watch the games they paid to see. Occasionally, they would sip from their beverage of choice and then replace the cup in the specially designed holder in their armrest or attached to the rear of the seat in front of them. But the concept of an interactive seat - through which spectators could access statistics, scouting reports, instant replays, scores, news headlines, e-commerce functions and even play bingo - was a foreign one until about five years ago. In fact, for the most part, it still is in this country.
Witness the brief rise and fall of ChoiceSeat, which since its founding in 1997 had been the industry's only U.S. provider of venue-based interactive entertainment systems. Shortly after inking a groundbreaking five-year deal in February with the National Football League to provide stadiums with interactive "smart seats," ChoiceSeat filed for Chapter 11 bankruptcy protection. (At press time, there were indications that another company or an offshoot of ChoiceSeat would continue the technology.)
ChoiceSeat's unfortunate saga didn't make headlines in most major metropolitan newspapers when it was completed in May, but the message the company's fate sent to the industry was clear: While the technology for interactive sports seating is readily accessible (if not always economically feasible), sports fans and facility operators may not want to take advantage of it. "I think a lot of people still go to the ballgame to get away from computers, e-mails, faxes and other technology," says John Higgins, senior vice president of administration and general counsel for Major League Baseball's Tampa Bay Devil Rays.
Tropicana Field, home of the Devil Rays, was the first of only three facilities to install the ChoiceSeat technology before the company's demise - and also the first of those three to have it removed. Tropicana's smart seats, each featuring a swing-arm touch-screen, were installed in 1998 prior to the Devil Rays' inaugural home opener. Located in 100 of the domed stadium's most expensive seats, directly behind home plate, the technology received mixed reviews, Higgins says, and some fans opted simply not to use them once the novelty wore off. After the three-year contract with the Devil Rays expired prior to the 2001 season, ChoiceSeat opted out of its option year, according to Higgins, pulling the touch-screens from the stadium to upgrade the technology for installation by Opening Day 2002. Less than three months later, ChoiceSeat was history.
While operators of some new stadiums and arenas mull their technology options - including the installation of conduit so spectators can power laptop computers and personal digital assistants from their seats - many still aren't sure how far they should take that technology. "It's absolutely discussed in every project we're involved with," Jim Walters, senior principal of HOK Sports Facilities Group in Kansas City, Mo., says about interactive facilities. "But it's important to make sure the design enhances the actual event rather than intrudes on it."
That was the concern of San Francisco Giants officials, who held focus groups and polled their fans about whether Pacific Bell Park - an HOK-designed project that opened in 2000 - should install smart seats. Many premium season-ticket holders who would have had access to the smart seats are employed in Silicon Valley, however, and replied they would prefer to leave high technology at the office, according to Sandy Eeds, vice president and project manager for HOK.
That said, most spectators still want at least some seating amenities - namely ones that enhance their comfort and thus their overall experience of an event. After all, they're paying more money than ever for the right to sit in those seats. Likewise, facility operators seek seating configurations that will not only please fans but also make buildings conducive to many different events. Even the athletes themselves want a piece of the seat action, and at least one National Basketball Association team owner has granted their wishes with customized player seating along the sideline.
It's all part of a cooperative effort to create a signature look, a distinct vibe that sets a particular facility (and the teams that call that facility home) apart from those of other franchises.
The premium-seating phenomenon - luxury boxes debuted at the Houston Astrodome in 1965 and club seats premiered at what was then known as Joe Robbie Stadium in Miami in 1987 - has given way to a new breed of spectators and facilities alike. Rather than simply go to a game and watch the action, these seat holders can access the arena via exclusive entryways, enjoy waiter/waitress service and kick back in suites the size of small apartments - all of which increases the likelihood that a sports spectator may not necessarily be a sports fan. As one seating manufacturer puts it, "People dress up to go to games these days. They don't want to be sitting on crappy seats wearing their $500 suits."
As a result, facilities have "literally ripped seats out and put luxury boxes in," David M. Carter, founder of The Sports Business Group strategic marketing services firm told The Arizona Republic in June. And as more facilities and their franchises come to rely on premium seating as a major revenue source, the venues offering little in the way of seating amenities get left behind. The Miami Arena, for example, opened in 1988 and was abandoned 10 years later for separate basketball and hockey arenas; the Metrodome in Minneapolis is now deemed inadequate by MLB's Twins and the NFL's Vikings; and Pittsburgh's Three Rivers Stadium, built to last until 2010, was imploded earlier this year to make way for PNC Park, which opened in April, and Heinz Field, which opened last month.
Other franchises opted to renovate their aging stadiums or arenas, incorporating a variety of new seating innovations. One of those was a heated seat system developed by American Seating that adapts to the spectator's body temperature. There are already 6,800 Solaria seats in the club level of Buffalo's Ralph Wilson Stadium, installed in 1999 as part of that facility's $63 million renovation, back when it was known as Rich Stadium.
To develop the patented heated seats, which the Bills requested, American Seating officials fitted a standard sports chair with electric heaters and then applied an electronic heating element used to de-ice aircraft surfaces and heat circuit boards in satellites. The lower lumbar area of the seat and the seat bottom are heated with a thermostatically controlled, weather-resistant mechanism. In the case of Ralph Wilson Stadium, facility officials have programmed the heat mechanism to turn off automatically once it reaches a set temperature. Then, as the temperature begins to fall again, the mechanism switches back on. Each seat also has its own manual switch, which allows patrons to forgo the heating option altogether.
The Philadelphia Eagles, Green Bay Packers and a handful of major colleges are among the other cold-weather teams that have expressed interest in Solaria seats, says Jennifer Patten, public relations manager for American Seating. Obviously, the market for such a seat is a niche one, and as Patten says, "It's not inexpensive to heat each seat." Prices vary per application, but the costs must be in line with what some franchises are willing to pay, as American Seating has already received requests from baseball teams in warmer climes to similarly develop a cooled stadium seat.
With so many seating concepts becoming reality in recent years - innovations include the introduction of blow-molded ergonomic seats that provide enhanced lumbar support, wider seats and seats sporting team colors and logos molded into the backs - chairs that combat indigenous climate conditions appear to be part of the next wave of progress.
At last month's International Association of Assembly Managers conference and trade show in Los Angeles, Specialized Seating debuted a patented weather-resistant pad for outdoor seats and bleachers. Citing a void in the marketplace, the Evanston, Ill.-based manufacturer is working with fixed-seat makers to obtain mold patterns for their chairs and bleachers, which can then be retrofit or built standard with the 1-inch-thick pads that company owner Al Hergott likens to a Dr. Scholl's footpad. "You can definitely tell the difference," Hergott says, adding that the pad offers both user comfort and seat protection from all kinds of weather.
Some facilities are interested in experimenting with the product on a trial basis in their box seats, Hergott says, although no firm price points have been developed yet. The pads also can be customized with specific colors and logos, and Specialized Seating is considering developing a pad for chair backs, too.
Some seating advancements prevalent at the professional and college levels have filtered down to the high school ranks - namely, colored seats etched with team logos. Most haven't taken root yet at the municipal level, although community officials in Vernon, B.C., recently discovered a way to apply seating configurations developed at the professional sports level to an 82,000-square-foot civic ice center. The strategy gave a once-failed referendum project new life, and now the facility, slated to open next month, will host a junior hockey team and many community events.
By installing 500 retractable seats on one side of the 3,000-seat Vernon District Multiuse Facility, officials can expand the NHL-size rink to an Olympic-size rink, adding 15 feet to its width. The only event the facility plans to host that requires an Olympic-size ice sheet is curling, but the extra space allows more room for other athletic competitions, concerts and trade shows - events not hosted by other area facilities and ones that better appeal to community members who have little interest in an ice arena alone.
"The main reason for the retractable seating is to create extra floor space," says Chris Nelson, parks and recreation director for the North Okanagan Regional District, which encompasses about 45,000 residents in the Vernon area. "Our goal was to pitch something that was unique. That's why our motto was, 'Rethink the Rink.' It's not an arena. It's not a skating rink. It's something different. This will benefit our community, because now we'll have people who will actually want to come here."
That wasn't the case with the first referendum, which called for 4,000 immovable seats at a taxpayer-supported cost of $16 million. The second referendum offered 1,000 fewer seats but with more creative design options, for $15 million.
Seven rows of the theater-style seats retract into a 9-foot-high space underneath concrete risers, which support six additional rows of seats. A 4-foot-wide tunnel behind the seats allows maintenance crews easy access to the telescopic seats and aids in the storage process, while the facility's concourses were built extra wide to accommodate any necessary additional rows.
Officials in Roanoke, Va., recently faced a similar seating challenge: to either renovate or rebuild dilapidated 59-year-old Victory Stadium, a facility owned by both the city and the school district. After years of debate, the Roanoke City Council in May voted to build a new $18 million football stadium and amphitheater complex. The facility will likely feature telescoping bleachers pulled out to seat 7,000 to 8,000 fans during sporting events. They then will be retracted and replaced with portable chairs or benches to seat up to 20,000 people for concerts and other events.
During the debate, neither side argued that the 26,000-seat stadium didn't need a facelift of some sort. But city officials are now convinced an unusual seating pattern will set the new facility apart from other venues. "We must look at Victory Stadium in a broader context," Roanoke City Manager Darlene Burcham told the Roanoke Times & World News. "The issue of competition is one we must clearly address. I'm not sure we market what we have as well as we should or could."
Perhaps no seating configuration strategy is as complex or grand as that at the new American Airlines Center in Dallas - trumpeted as the most expensive arena ever built, at an estimated cost of $410 million. Among the facility's goals is to switch seating and flooring configurations for hockey, basketball and special events within a two-hour timeframe, says Bob Jordan, the arena's director of operations. To that end, the facility uses state-of-the-art telescoping platforms at either end to hydraulically raise the seats at the push of a button. The seats then retract or expand, and reconfigure automatically for the desired effect. For hockey games, that means the first row is located just 18 inches off the ice.
Each of the six sections using this technology can be adjusted in 2 minutes, 40 seconds, Jordan says. Thus, 3,500 seats can be reconfigured in less than 15 minutes. Such speed is necessary, as American Airlines Center was poised to host 60 events in 70 days, beginning in late July with a concert by The Eagles.
Each seat in the bowl is fixed and designed in the same style, regardless of its location, and seats in the arena's 142 luxury suites are equipped with a style of foam developed by NASA for extra comfort.
Fans won't be the only ones taking advantage of modern seating advances inside the American Airlines Center, though. Mark Cuban, owner of the NBA's Dallas Mavericks, asked his in-house staff to design special chairs for players and coaches on the sidelines. Each seat, made from patented anti-fatigue foam, adjusts individually to the user's size and shape, according to Hergott, whose firm is marketing the chairs to other teams around the country. The Mavericks also travel with 3-inch pads that players place on top of their visiting-team chairs, giving them more leg room.
Stadium and arena seating remains in a state of flux, as the market continues to determine how far to advance the technology. The sporting world envisioned by future-thinking architects, one in which every seat in the not-so-distant future will feature a small video screen attached to it, has yet to evolve.
Still, strides are being made. Australia-based Camatic Seating, in conjunction with Stadia Technology Concepts, recently installed 1,000 Quantum smart seats in Melbourne's Docklands Colonial Stadium. The ergonomically designed chair integrates game, sports and news technology that allows users to take advantage of benefits similar to the ones offered by ChoiceSeat. Plans to integrate a credit card reader on each seat, which would have enabled users access to the Internet, food or merchandise, gambling and other e-commerce options, were nixed because of budget overruns, says Richard Davern, who's in charge of stadium seating for Camatic. The firm is working with manufacturers of even more compact video units for application in future Quantum seat applications.
In the States, Camatic plans to install 3,000 interactive club and suite seats in the new home of the NFL's Seattle Seahawks, slated to open next summer.
Meanwhile, ChoiceSeat clients at the time of the firm's bankruptcy seem determined to keep technology at the forefront of their seating amenities. For example, officials at Boston's FleetCenter - where 140 15-inch flat-panel monitors were installed last October in premium suites, restaurants and the main concourse - say the instant replay option using various camera angles was among the technology's most popular features for both spectators and employees. "Because ChoiceSeat's future is unclear, we are currently in a wait-and-see mode regarding the product and its future at the FleetCenter," says Jim Delaney, the facility's director of marketing and public relations. "But the FleetCenter is still committed to the concept of enhancing the fan's experience through technology, and we're willing to take a risk if it means continuing to stay on the cutting edge of technology."