Miller Park's Field of Dreams for Young Ballplayers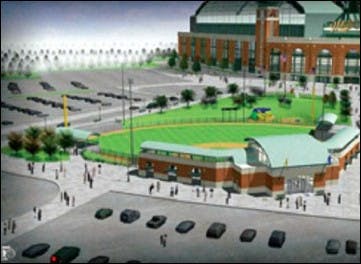 When the Milwaukee Brewers moved into the covered confines of Miller Park last year, Chris Barlow, manager of the team's group and season ticket sales, was sure that his days of worrying about the weather were over. Then he got handed the task of overseeing Helfaer Field, a $3.1 million, 722-seat youth baseball park slated to open this spring on the site of old Milwaukee County Stadium. It will join the Texas Rangers' 1,700-seat Dr. Pepper Youth Ballpark at The Ballpark in Arlington as the nation's only two youth fields affiliated with Major League teams.
"Right now there are a lot of unknowns," Barlow says about Helfaer Field. "We don't have a roof over the field, so the weather is one of them."
Yet not even Wisconsin weather is discouraging area organizations from wanting to use the field for tournaments, single games and other activities. Barlow reports high interest not only from youth sports groups, but also from businesses hoping to host company softball tournaments and other outings. Birthday parties, wedding receptions and similar non-sporting events also might be held at the field. "Ultimately, this will be a youth facility," Barlow says, adding that because Helfaer Field is an island within Miller Park's parking lot, most events will likely take place on days when the Brewers are out of town. "All we're trying to do is break even. Nobody's going to make money off the kids."
Designed by Eppstein-Uhen Architects of Milwaukee, Helfaer Field is being built by Brookfield, Wis.-based Hunzinger Construction, the same company that built the original County Stadium in 1953 and was part of Miller Park's construction team. Sections of County Stadium's foul poles will be installed at Helfaer Field, and the area where home plate existed in the old stadium will be memorialized. The field's elevation and southeast orientation also are the same as County Stadium's, and Miller Park's maintenance and grounds crew will maintain the field, which will have lights and use the same turf mix and clay infield as Miller Park. Plans also call for a concessions stand, an all-purpose room and a children's play area.
All of this was made possible by a $2 million donation to the Brewers and the Miller Park Stadium Board by the Evan and Marion Helfaer Foundation, a 28-year-old organization dedicated to charitable, religious and educational causes in Wisconsin. (Evan Helfaer was an original investor in the Brewers.) An additional $1.1 million for the new field came from Miller Park's infrastructure budget. "Our monument to County Stadium is a youth baseball facility," Mike Duckett, the stadium district's executive director, told the Milwaukee Journal Sentinel last year, a few months before workers broke ground on Helfaer Field.
That's commendable, and a sentiment more professional teams should express as they replace old stadiums with new ones. Although, if you think about it, since $310 million of Miller Park's $400 million tab was picked up by taxpayers, it also seems the least the Brewers could do.