Technological advancements have made it easier to sell space on scoreboards and video screens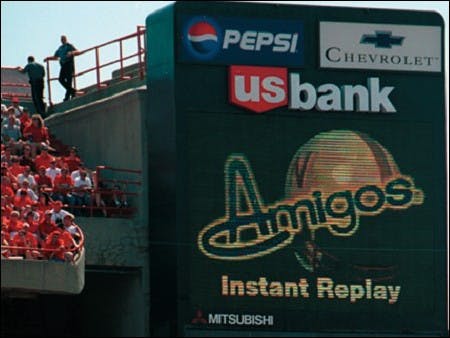 The referee's whistle halts play during a University of Nebraska football game, but the action off the field doesn't stop. The four-yard run for a Husker first down appears a second time on two 17-by-23-foot video screens located in opposite corners of Memorial Stadium, and the vast majority of 77,800 fans in attendance turn their heads to watch. The only thing separating real time from replay is a brief mention that what fans are about to witness (again) is brought to them electronically by Amigos restaurants. Future plays will be repackaged with the corporate logos of State Farm Insurance, Pepsi and Chevrolet.
In truth, everything seen on the stadium's video screens is brought to fans by HuskerVision, Nebraska's in-house production studio. In 1994, the university became the nation's first to install such technology in a college-owned facility, but there have been plenty of digital disciples. "We were on the plane coming back from Nebraska, and we were saying, 'You know, that game was televised today, and you didn't even notice it, because they entertained you during all the down times in between plays," says Jamie Pollard, chief financial officer for University of Wisconsin athletics, who along with other UW representatives made a site visit to Lincoln last season. "Nebraska used the video board for sponsor recognition, but by subtly working it into the game. We picked up on that, and I think ultimately that's the direction we'll try to go. It keeps the fans involved."
Next to the playing surface itself, scoreboards and their corresponding - often adjacent - video screens are without question the primary focal points in any given athletic venue. At Coveleski Stadium, home of the minor-league South Bend (Ind.) Silver Hawks of the Midwest League, fans look at the scoreboard an average of 127 times per game. At least that's what franchise officials tell prospective sponsors. And why doubt it. Coveleski's scoreboard features a full-color animation screen flanked by illuminated three-sided sponsor panels that rotate every 90 seconds.
Certainly, the number of options for incorporating sponsorship recognition into the stadium experience is at an all-time high, thanks to the continued evolution of messaging media - everything from static panels and rotational signage to full-color matrix boards and rear-projection video screens. The variety of technologies - and their decreasing cost over time - has allowed even high schools to enter the scoreboard sponsorship game. As some end users have discovered, though, the game is regulated by rules both written and unwritten regarding what's appropriate for a particular athletic setting.
The evolution of scoreboards from game information centers to marketing vehicles began, for the most part, outdoors in professional baseball parks. "Miller High Life" appeared in cutout letters atop the first scoreboard at Milwaukee County Stadium in 1953, 47 years before full-color LED (light-emitting diode) technology would power the 48-by-27-foot video board in that city's Miller Park. At roughly the midpoint of that particular progression, in 1980, state of the art took the form of 40,000 40-watt light bulbs projecting statistics and animation on an image area measuring 40 by 30 feet. In use until County Stadium's demolition in 2000, that monochromatic board exhibited remarkable durability (imagine using a 20-year-old home computer). But it was for all practical purposes obsolete a year removed from its installation. As one respondent to a Milwaukee Journal-Sentinel survey put it, "The resolution on that thing is so bad that the only way to see some videos clearly is to have about six beers."
"Technology-wise, it was far ahead of what the other boards could do," says Liz Burke Brown, assistant director of scoreboard operations for the Brewers at the time. "But it didn't have color, so nobody cared."
Today, LED technology, with its sharp images in billions of color shades, has emerged as the popular video display choice for outdoor sports venues. It also has gained a stronghold in arena settings, where its light weight relative to cathode-ray tube technology has made it more suitable for center-hung scoreboards. Likewise, rear-projection video screens are often seen as an attractive choice in weight-conscious arenas, such as the wooden-trussed Huntsman Center at the University of Utah, which will open the basketball season next month with a new rear-projection system.
Like its video display cousins, rear-projection technology has grown up a great deal. In 2000, New York's Madison Square Garden became the first arena anywhere to install rear-projection video equipment capable of reproducing high-definition broadcast signals on a scoreboard. After all, if sponsors wish to run TV commercials during live events, it only makes sense that the most state-of-the-art TV technology be used. The Garden's octagonal scoreboard features four 16-by-9-foot high-definition screens, as well as four matrix boards and two levels of rotational signage.
Perhaps no venue takes more widespread advantage of today's scoreboard technology than Miami's American Airlines Arena. In addition to four 14-by-9foot video screens, the board features a ring of eight rectangular matrix boards dotted in between by circular clocks, while rotational signage comprises a second, higher ring. But the show doesn't begin and end with what appears above center court. The arena also boasts four corner LED boards, balcony facade-mounted "ribbon" boards enveloping opposite ends of the court, matrix boards in each of two main concourses and seven matrix strips built into the building's circular exterior. Several of these auxiliary boards are dedicated to updating player statistics, recognizing groups of fans in attendance or promoting upcoming events, while others take full advantage of quarter breaks and halftime to display advertising.
Among the newest trends in arena animation, ribbon boards are roughly two feet tall, but may be engineered to ring the entire perimeter of a facility, and perhaps on more than one seating level, with dramatic effect. As the houselights are doused and players are introduced prior to the start of Miami Heat games, a bright red and yellow flame animation appears on the ribbon boards accompanied by a crackling sound effect. "It looks really cool, like the arena is burning up," says Ed Filomia, director of broadcasting for American Airlines Arena, adding that during the game, the versatile boards are used for announcements, group sales promotions and advertising.
Not surprisingly, the proliferation of auxiliary message boards and signage has found a home within the relatively spacious footprints of outdoor stadiums. Seattle's Safeco Field, for example, houses 11 electronic displays, including a main LED video screen and matrix board, play-by-play boards with running game summaries, boards that display pitch speed and boards that relay out-of-town scores. It should also come as little surprise that static advertising panels are strategically positioned in close proximity to these focal points.
Coordinating the various messages crowding professional sports venues can become a complex production, particularly when compared to the typical collegiate event. "I have a log that tells us what we're going to do for the night, which sponsors we're going to run and usually in what order. My log is two pages long - first half, second half," says Dan Schaerrer, the University of Utah's producer/director of scoreboard programming. "When I help produce a show down at the Delta Center for the Utah Jazz, that log can be more than 10 pages long. They sell every square inch of that show, and truly script every portion of the game. It's a big rolling commercial."
Though often less aggressive in their approach, many colleges are cashing in on scoreboard advertising. At Michigan State University, where corporate logos are relegated to the corner of replays shown on video boards in the Spartans' football, basketball and hockey venues, annual sponsorship revenue has increased from around $400,000 five years ago (pre-video) to more than $3 million today, according to Mark Hollis, associate athletic director for external operations. "You can attribute a pretty significant chunk of that to our scoreboard programming," says Hollis, who emphasizes that scoreboard exposure merely serves as one "cornerstone" component of larger sponsorship packages - and no two packages are alike.
While putting sponsors' names in lights can be a lucrative enterprise for colleges and even high schools, these institutions need to pay close attention to what the signage or animated spots are actually saying. If they don't, the Internal Revenue Service will.
Any sponsorship message that carries an obvious inducement to action for those who see it becomes subject to unrelated business income tax. In other words, the exposure is seen not as mere recognition of a sponsor who is supporting the overall mission of the institution, which includes athletics, but rather as overt pitching of a product. Flashing an adidas logo before running a replay, for example, is regarded as an acceptable method of recognizing a sponsor. But including the price of a pair of adidas shoes or phone numbers of local adidas retailers is interpreted as an inducement to act.
Earlier this year, the IRS clarified its stance on the sponsorship recognition principle, taking new aim at such revenue streams as exclusive pouring rights, which are now interpreted as an inducement to purchase by means of limiting competition. "You can't just say, 'It's all recognition,' in sponsorship contracts now," says Pollard. "The IRS really makes you go back and identify what the true taxable value is to the university." A growing number of Division I universities now hand off those responsibilities to an independent sponsorship rights holder, which guarantees the university an annual fixed return on multimedia sponsorship sales. This royalty not only helps the athletic department budget in advance, it is also not classified as taxable income.
But even if an institution accepts the tax implications and decides to broadcast 30-second spots for corporate sponsors on its video board, it may still have to contend with backlash from its fan base. Professional baseball franchises were the first to discover the fallout caused by subjecting ticket buyers to made-for-TV commercials shortly after the advent of scoreboard video. "The fans found it kind of offensive to see the same thing when they came to the ballpark that they saw from their couch at home," says Burke Brown, a founding member (in 1983) and current executive director of the Information and Display Entertainment Association. "What you show on broadcast TV doesn't always work in an entertainment facility."
Last year, North Carolina State University officials heard complaints from students and other ticket holders that the audio portion of scoreboard advertising loops was too loud, often drowning out the band and cheerleaders during game breaks. By the time the N.C. State student senate voted 28-13 (with seven abstentions) to pass a resolution condemning the advertising audio in November, the athletic department had already decided to reduce by more than half the number of commercials presented during games, according to Charlie Cobb, associate athletic director for external operations. The move required some sponsorships to be repackaged, exchanging the animated exposure for marketing alternatives such as stadium signage, spots on N.C. State's radio network or individual promotions during games. Pepsi, for instance, lost its two 30-second in-game commercials but gained replay sponsorships - sans audio. "It's a little bit more subtle spot that gives sponsors more opportunities during the game, yet takes away the 30-second TV commercials blasting at you," Cobb says. "A lot of people who have the video boards now, whether they're professional teams or colleges, are using the boards more as a way of telling the story."
In addition, it's now common for sponsorships to be packaged around scoreboard-generated subplots. The University of Utah, which runs 30-second spots for three longtime sponsors a full 15 minutes before tip-off at basketball games, will use the scoreboard to conduct bagel races during timeouts. In Milwaukee, between-inning sausage races have become nearly as popular a Miller Park attraction as the Brewers. As for the ubiquitous sports trivia quiz, that may never go away, and for good reason. "The crowd gets to interact with it," says Schaerrer.
High schools have also recognized the revenue-generating potential of scoreboards, and the process of securing sponsorships at this level carries its own considerations. Consider the case of Sherando High School in Stephens City, Va.
This is the second full academic year that SHS has used a $55,000 football/soccer scoreboard purchased solely through sponsorship dollars. The board is three times the size of the one it replaced, providing ample room for a pair of 3-by-8-foot static sign panels, which recognize two $12,000 lifetime sponsors, as well as eight 2-by-4-foot sponsor panels leased for five years at an up-front fee of $5,000 each.
According to Joe Collette, president of the Warrior Club, the booster organization that controls the scoreboard's finances, the club cleared nearly $10,000 just by installing the board. But that was only the beginning of its revenue-generating potential, he says. "The scoreboard has the potential to represent at least 50 to 60 percent of the money taken in by the Warrior Club every year," says Collette, who points out that the club, which funds college scholarships for graduating student-athletes in addition to supporting the Sherando athletic department, previously relied exclusively on membership fees, donations, concessions sales, auctions and raffles for its income.
However, Collette feared those methods could be compromised if a fourth high school is built, as planned, in Frederick County. "You're starting to squeeze the turnip, because then you've got four schools going after the same monies," he says. "When we heard about a fourth school, we said, 'You know, we can have all the fund-raisers we want, but what it boils down to is this: We're all going to be fighting for that same dollar, and our kitty's just going to get smaller. What can we do to ensure that there's going to be money for these kids - not just today, but tomorrow, next year, the year after that, 10 years down the road?"
Sherando's revenue stream is widened further with the help of a 3-by-16-foot matrix board situated between the scoreboard's lifetime sponsor panels. The matrix board is critical to selling game sponsorships, through which a corporate name such as WalMart is attached to an entire night's proceedings. For a $300 investment, the sponsor's name and slogan appear on the matrix board four times during the course of the game, accompanied each time by a public-address announcement. Sponsor representatives toss the coin during a pregame ceremony at midfield, receive gifts such as seat cushions, and sit in a specially designated area of the stands. Given the number of football and boys' and girls' soccer games played on this field, game sponsorships are believed to account for an extra $3,000 a year in Warrior Club revenue.
In addition, the matrix board is used to recognize the 300 or so advertisers who appear in game programs, with the advertisers' names listed on the board periodically in groups of 15.
Without question, the scoreboard has been a revenue-generating success, but not without considerable investment, according to Jason Barbe, Sherando's athletic director. "It's been very beneficial to us, but it's not something that any school would want to take on unless it has a lot of people willing to invest a lot of time. We've made a tremendous amount of money. At the same time, if you start to break down the dollars per hour invested in this thing, it probably hasn't been that much money."
From the time Collette began shopping for a new scoreboard in March 2000 to the time it actually functioned during a game (the football season finale in November of that year), sponsors had to be secured, building permits obtained, and inspections and wind tests conducted. Due to the sheer size of the scoreboard, the process wasn't as simple as detaching one scoreboard cabinet and attaching another. "I don't think this is something for which I, as athletic director, could have just said, 'I'm going to go out and get sponsors and hang a scoreboard.' It never could have happened that way," Barbe says. Adds Collette, "It took us seven or eight months because we didn't have money to just go out and start paying all these people to do this work for us. People donated their time, effort and equipment, so we were pretty much at their mercy."
In drafting separate contracts with the input of each sponsor and the final review of an attorney, Collette was careful to protect the interests of both parties. As a result, each contract contains language on exclusivity, ensuring that a sponsor's competitors will not appear on the scoreboard during the term of the contract. Meanwhile, the contracts also state that if a sponsor's actions somehow sully the image of Sherando High School or the Warrior Club, the sponsor's signage will be removed from the scoreboard without refund - a clause that has already been exercised in one case.
One thing Collette wishes he had done differently relates to the sizing of the signage. "When you first get them, 3-by-8-foot ad panels look very big," he says. "But when you set them up on top of a scoreboard that size, they look minuscule. We vowed to the advertisers that we are going to increase their panel size over a period of years."
Encouraged by prospective sponsor interest, Collette is currently researching fair-market value for exposure on louvered signage panels he hopes to purchase and attach to opposite sides of the existing scoreboard. He's also looking into possible alterations to the contracts involving the smaller static signs, whose leases will expire in the coming years. In the meantime, the enterprising booster has already taken a page from the collegiate marketing playbook by securing LED boards for Sherando's gymnasium with the intent of packaging sponsorship contracts around both venues.
When asked if all this attention to commercialism has drawn negative feedback, Collette says not yet. "I imagine somebody will make that kind of comment," he adds. "The only thing I can say to them at that point is, 'If you want to give me some of your money to provide athletic scholarships, fine, I'll take the ads down. Until then, you don't have a right to say anything.' "
Fans of live sporting events at all levels are not only getting used to scoreboard sponsorships and advertising, they're coming to expect it. "Our fans are becoming more sophisticated all the time," says Schaerrer. "They expect a video board. They expect a good replay. They expect animation and interactive elements during the game that get their attention - just as they expect a mascot and a cheerleading squad and a drill team and a band. We're just one aspect of in-game entertainment."
"I think that's more of a generational thing, quite frankly," says Burke Brown. "Fans who grew up on MTV just expect a lot of visual input. If there isn't something up there on the board, it's like, 'What's wrong?' It would be interesting to see what the reaction would be if a screen just faded to black. The entire arena would go, 'What? Do we have to leave now?' "