"Options for equipping the areas immediately outside playing fields and courts are seemingly boundless."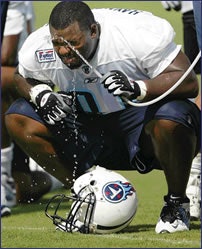 True sports fans don't attend games to watch the sidelines. But they might not know what they're missing.
Between the 25-yard lines of a typical college football home team's sideline, for example, are dozens of equipment managers, athletic trainers, assistant coaches and game officials - and a hundred or so uniformed players who, at any given time, aren't actually in the game. Coaches coach, officials officiate and players wait patiently for their chance to play. But the rest are there for specific reasons, too: to ensure the comfort and safety of players, the communications capabilities of coaches and the overall smooth operation of the game itself.
Easily overlooked amid all the humanity is the actual sideline equipment required to stage the event. By design, the presence of blaze-orange down indicators, yard markers and end-zone pylons is easily known. But as Dale Strauf, athletic equipment manager at Cornell University and president of the Athletic Equipment Managers Association, puts it, "There are a lot of things on the sideline that a fan might not recognize or even notice."
Know what a CoreControl looks like? A staple on some professional and collegiate football sidelines during recent seasons, the device lowers a player's core body temperature through the palm via a liquid-cooled metal surface. The player puts one hand into what appears to be a clear plastic boxing glove, but is actually a vacuum-sealed chamber designed to facilitate heat transfer by dilating blood vessels in the hand. First featured in Athletic Business in March 2003, the CoreControl has since been found to aid in muscle recovery, too. "That really surprised us," Charlie Miller, Stanford University's head football trainer, told Sports Illustrated in November. "You rarely see cramps just go away."
A more common - and far more conspicuous - hot-weather fixture on football sidelines is the misting fan. These units (typically six per sideline; three each for offense and defense) employ evaporative cooling to lower temperatures in the immediate area by as much as 30 degrees. Multiple nozzles spray filtered water in front of large rotating fan blades, at pressures ranging from 40 to 1,200 pounds per square inch (depending on the mister model and the source water's pressure availability). As the airborne water evaporates, it pulls heat out of the air and keeps players cool, usually while they are seated on the bench. Separate nozzle rings on some units allow for different mist settings, with heavier mist applied to offensive linemen, for example. When something called flash evaporation is used, the mist evaporates so quickly that it's not even visible. Players can sit within a foot of the unit without getting the least bit damp.
Team benches - which most often take the form of portable, chair-backed, aluminum-plank seating - represent the most basic means by which to cater to players' sideline comfort. But the bench, too, has evolved technologically. Benches made of mostly enclosed fiberglass (save for openings for the lower legs and feet) and heated with natural-gas or propane are now the norm in cold-weather climes. Manufacturers boast that a bench-area temperature of 70 degrees can be maintained, even when temperatures on the field dip well below freezing. The latest units even provide vertically extended arms along the backrest on which players can place their helmets to keep them warm and dry, thanks to a steady flow of heated air that ensures the pliability of padding without compromising the helmet shell. These heaters also work well on the type of hand warmers worn around the waists of quarterbacks, receivers and punters.
When football players aren't sitting, they're standing. Or pacing. Or running in place. And when a hundred or more adrenaline-laden college football players weighing anywhere from 200 to 400 pounds are corralled within a space measuring roughly 250 square yards, the phrase "heavy traffic area" takes on new meaning. That's why teams that play on natural grass are increasingly turning to bench tarps to help spare their turf from substantial game-day damage, particularly in inclement weather. Typically made of durable polyester geotextiles in a variety of colors and with or without anchoring grommets, most sideline tarps are designed to allow air and water to pass through the fabric, further protecting the viability of the grass plants beneath.
Ultimately, scores of players will have to take the field, subjecting their shoes to the kind of muddy field conditions that only sideline tarps can mitigate. Thus, another sideline staple is the cleat cleaner - usually a 1- or 2-square-foot tile featuring a series of plastic spikes on which players can scrape the soles of their shoes.
For those players milling about the sideline, their destination is often hydration - in the form of water or sports drinks served by the cupful at tabletop 10-gallon coolers or 18 at a time out of trays carried to the players as they come off the field. Even with several on hand, coolers will likely need to be refilled with fluids and ice during the course of a game. Ideally, a water source exists on the sideline, but hundreds of pounds of ice must be brought in before each game. Ice is stored in multiple ice chests or combined with water and rolled towels in coolers for quick distribution to overheated athletes.
Water also can be made available for consumption via portable drinking fountains that utilize battery-powered pumps to pull water from coolers affixed to hand trucks, or those that include a copper coil within the cooler, allowing the unit to chill water supplied by a hose. In addition, a dozen or more water bottles are needed for sideline fill-ups before they are rushed to players on the field during timeouts.
In the end, the chosen mode by which fluids are dispensed to players may come down to a contractual agreement. Though hundreds of 12-ounce cups leave sidelines susceptible to excessive litter, the cups may carry the logo of a sponsoring sports drink manufacturer.
Maintaining adequate hydration is one way to ensure peak player performance. Practice is another. No football sideline would be complete today without the portable nets and ball holders that allow placekickers and punters to work on their form prior to taking the field in critical situations.
Perhaps merely staying loose is the players' goal. An increasing number of football teams are outfitting their sidelines with one or more stationary bikes as a means for running backs, kick returners and other skill-position players to maintain a sweat and keep their hamstrings warm. Many teams will even pack a bike when they travel. (Of course, too much sweat isn't desirable. Hence the presence of between three and five dozen towels on most football sidelines.)
Less-strenuous fitness equipment is finding a place on the sidelines, as well. Major League Baseball's Atlanta Braves represent one of a growing number of professional teams that include a stretching apparatus near the field of play (in the Braves' case, right in the home dugout) for athletes seeking another means of preparing themselves for game action.
However, as well prepared as an athlete might be, there is always the risk of equipment breakdown, or worse, personal injury - particularly on a football field. Equipment managers are likely to have stored in wheeled carts extra helmets and shoulder pads (as well as spare parts for each), along with extra jerseys and leg pads. "If a snap or a clip breaks we have it all there at our fingertips to do whatever we need to do," says Joanne Catanese, head equipment manager at Stony Brook University.
Athletic trainers, meanwhile, will likely wheel their own trunk onto the field, and with it spare parts for knee braces and specialized pads that protect existing injuries, such as contusions and separated shoulders. Other training items found on board - in addition to the typical bandages, tape, gauze and medicines that may also be carried in trainers' fanny packs - include an automated external defibrillator, vacuum splints and biohazard bags and boxes for the disposal of bloodstained materials. "It's a war chest," says Brian Lund, assistant athletic trainer for Indiana University football. "There's basically some of everything in there."
IU trainers keep a separate, hardcover case of emergency tools in the event of a serious player injury. This kit includes a cordless screwdriver and an extractor capable of cutting through any face mask fastener. If a fallen player needs to be removed from the field, a motorized cart and fully equipped ambulance are parked in the periphery at field level during all games at Memorial Stadium, as is the case at most stadiums.
Individuals who literally toe the sideline during games - namely game officials and coaches - have sideline equipment needs, too. Down indicators come in several models, including those with numbers that are manually flipped, those with numbers that appear after a series of horizontal slats are manually shifted, and those with numbers that scroll via battery-powered, push-button control. The sideline crew also includes officials in charge of repositioning bull's-eye-topped first-down indicators and blaze-orange field ribbons. Larger crews include an official holding a bull's-eye-topped marker indicating where the current offensive drive started. (Customized tops for each pole can be manufactured to promote special games and sponsors.)
Meanwhile, as many as 10 individuals comprise the typical collegiate football coaching staff, but not all of them are on the sidelines during games. Several, perhaps even the offensive and defensive coordinators, spend game day in the press box overlooking the action. For them to be able to communicate observations or call plays, a network of headsets must be in place connecting the sideline to the press box. Often, it is a facility manager's duty to make sure the system is in place and operational well in advance of kickoff, and on both the home and visitor sides of the field (that said, most teams travel with their own communications equipment). At small colleges, however, it's often up to equipment managers to set up the communications system.
In either case, a minimum of five and sometimes more than a dozen headsets (depending on the level of play) will be required for one coaching staff to communicate effectively during the game. Separate phones may also be specified for the sideline, allowing quarterbacks and other players to speak directly to coaches stationed upstairs. Headset systems come in the increasingly popular wireless form (sparing individuals the duty of traversing the sideline in the shadow of coaches with loops of cable slack), and in single-frequency, push-to-talk or dual-frequency, two-way communications systems. Moreover, systems can be specified with separate channels for offensive and defensive communication.
By contrast, no such systems are required along a basketball bench, where head coaches remain in close proximity to the ears of players, officials and assistant coaches throughout an entire game. And unlike football sidelines - which are aided by windowed press boxes high above - basketball sidelines serve as the very nerve center of game operations, with scoring and timekeeping functions located right there on the floor. In fact, some print media representatives, broadcasters, statisticians and members of sports information staffs are stationed along or near the sidelines, too.
Behind a basketball bench are the water bottles, towels and ice packs needed to keep players comfortable. A basketball team may even go through more towels during a game than a football team nearly 10 times the size.
The bench itself is likely to consist of individual or linked folding chairs with seats padded with 1- to 2-inch-thick foam. The seats and padded chair backs are often imprinted with the team logo, or fitted with vinyl slipcovers featuring the logo of a special event (a conference tournament, for example). During timeouts, the bench takes a backseat to collapsible stools set on the court by team managers for the head coach and the five players who happen to be in the game at the time.
Still, the focus of the basketball sideline is the scorer's table. Located at center court, the scorer's table not only separates the home and visiting benches, it is where coaches exchange pre- and post-game pleasantries and where players physically check into games. It is also increasingly being treated as a vital message center for athletic departments and corporate sponsors, with facades featuring backlit static or rotational signage, or programmable LED boards.
Models of scorer's tables exist for virtually any basketball application, even for the smallest gyms. Tables are available that fit onto the first row of bleachers, freeing up floor space to accommodate the actual game court. Others can be wheeled to a destination point on the hardwood using non-marking casters. Many include a built-in power strip and padding for players' protection. One must-have accessory to the scorer's table is the possession indicator, which in most cases is manually controlled by the official scorer. These indicators vary in sophistication from printed cards to electric boxes with backlit arrows to clear-faced indicators that afford the scorer a less-obstructed view of the court.
Finally, unlike football sidelines, basketball sidelines only need to be reestablished from game to game in facilities that double as hockey venues. Even when a facility is shared by a basketball team and a volleyball team, the benches and scorer's table can remain in position all season. Football fields, particularly the high-maintenance natural kind, need to be cleared after every home game and restocked for the next one - a process that at Indiana University begins four hours before kickoff. Says Lund of his lengthy laundry list of equipment, "We have it all typed up, and we check it off as we put it out."
"It's a lot of hard work with little recognition," adds Stony Brook's Cantanese, whose love of sports helps compensate for the 10-hour game days. "People sometimes take for granted what we do. They think this stuff just appears."