Administrators continue to struggle with decisions regarding the sale of alcohol at sporting events.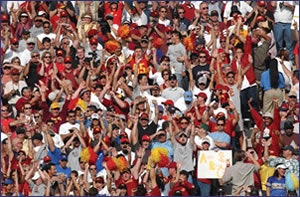 Los Angeles Memorial Coliseum officials estimated in September that concessions revenues generated during University of Southern California home football games could suffer a $1.8 million setback this season. The reason? USC's decision to ban alcohol sales during the games.
Meanwhile, the Aloha Stadium Authority was, as of late December, still debating a proposed ban on alcohol consumption in the stadium's 8,000-stall parking lot before University of Hawaii home football games. The proposal is not without controversy, since concessionaire Centerplate is contracted through 2011 to sell alcohol inside the stadium during Rainbow games. Breaking that contract in the interest of total game-day prohibition would cost the state in excess of $1 million, according to some estimates.
And tight budgets at the University of Minnesota have put selling beer and wine within the club room at Gopher basketball and hockey games on the table for discussion. Not that the room is currently dry; it's just that the alcohol now flows free of charge.
No doubt, economics plays a substantial role in the decisions of collegiate athletics administrators to sell (or not to sell) alcohol at games. "It's foolish to deny that there's money to be earned by the stadium, the concessionaire and the school from the sale of alcohol, just like there is money to be earned from the sale of hamburgers, hot dogs, T-shirts and hats," says Jill Pepper, executive director of TEAM Coalition, a nonprofit organization that provides alcohol management strategies to professional and collegiate sports entities. "But alcohol abuse can go on outside the stadium without the kind of control that's present inside the stadium. From an alcohol management security perspective, our belief is that you should choose only to permit consumption inside, because that's where it can be controlled and monitored."
Whether alcohol management security measures are in place and effective is a matter of ongoing concern (see "Drinking Games," Sept. 2004).
Though only eight universities have sought TEAM Coalition training since the organization's founding 20 years ago, alcohol is currently sold within one or more playing venues at 54 schools among the 119 that comprise the NCAA's Division I-A, according to USA Today survey results published in November. Unpublished figures supplied to Athletic Business by the paper further break down those 54 schools in terms of venue location (34 sell alcohol only in on-campus facilities, 12 sell only in off-campus facilities, and eight sell in both) and purchaser profile (27 make alcohol available to the general public, while another 27 serve only to individuals with access to premium seats or club rooms).
The NCAA's own figures, most recently compiled in 2003, are somewhat sketchier. Of the 77 Division I-A schools that responded to the NCAA survey question, "Does your institution allow alcoholic beverages to be sold at athletic events?" 20 said yes, and 57 said no.
Until this season, USC represented the only school in the Pac-10 Conference that sold alcohol in its home football venue, a distinction that university president Steven Sample was eager to erase. In a letter to Trojan fans last summer, Sample wrote, "All across the country, universities are promoting a clean, safe and family-friendly environment in which sports fans can enjoy their teams' games. I hope that you will support these new rules and join me in modeling civility and good sportsmanship whenever you attend our home football games." Results proved so positive, in fact, that USC officials decided in December to ban beer at Trojan basketball games, too.
However, as University of Colorado administrators have discovered, banning in-stadium alcohol sales in no way guarantees civility and good sportsmanship over the long haul.
CU became the last school among its Big 12 Conference peers to say no to beer sales to the general public at football games in 1996, and the impact was immediate. Comparing the 1995 season (when beer was last sold at Folsom Field) to 1996, the total number of game-day arrests fell from 20 to 11, and the total number of CU students referred to the Office of Judicial Affairs for alcohol-related reasons plummeted from 58 to 11. Summarizing such statistical evidence, as well as ticket-holder survey results indicating tolerance of or mere indifference to the beer ban, CU researchers summarized their findings in the September 2001 Journal of American College Health by stating, "The study illustrates what can be achieved when alcohol is eliminated from a setting that frequently fosters disorderly and aggressive behaviors."
But despite the ban becoming permanent in 1998 (though beer and wine are currently available in private suites and a communal club area), the bad behaviors returned and are now back to pre-prohibition levels or worse. This season, total game-day arrests rose to 45, Office of Judicial Affairs referrals topped out at 48, and CU police ejected 248 patrons from the stadium, more than double the number in 1995.
University Police Department Lt. Tim McGraw says the numbers are up for two reasons: students are raised in a more drinking-tolerant culture these days and police are doing "a much better job of nipping the problem at the gates." A 32-year veteran of the CUPD, McGraw disagrees with Pepper that allowing alcohol sales within the stadium helps control disorderly conduct. Tailgating with alcohol is legal in parking lots scattered around Folsom Field, and once inside, "people would just get more drunk," McGraw says.
University of Hawaii officials have been pressured by Lt. Gov. James Aiona to implement all-out prohibition during football Saturdays, but the long-term contract with Centerplate has complicated the matter significantly. Not only do alcohol sales inside Aloha Stadium generate between $700,000 and $800,000 annually, according to Aloha Stadium Authority chairman Kevin Chong Kee, but several vendors agreed to bankroll substantial stadium infrastructure improvements in anticipation of a satisfactory 10-year return on their investment.
The security alternative under consideration as of this writing (a public hearing was scheduled for Dec. 21) in many ways mirrors Pepper's TEAM Coalition approach. "The stadium does stop serving alcohol after halftime," Chong Kee says. "The problem that we have in the parking lot is that tailgating goes on three to four hours prior to the beginning of the game. Fans are coming in pretty drunk already."
Though Hawaii is not on TEAM Coalition's shortlist of partner schools, Centerplate does provide Aloha Stadium personnel with alcohol management training, according to Chong Kee, who has personally implored beer companies to ramp up public service announcements encouraging responsible behavior in time for next season's slate of home games. "Can we encourage people who see other people drinking and causing problems to report them by giving them a number they can call?" he asks. "We'll try to be more proactive with everything, because of the fact that we are still serving within the stadium."
A ban on alcohol outside the stadium, if enacted, may prove even harder to deal with. "It's going to be a tough thing to try to enforce in the parking lot," Chong Kee says of the pending ban. "But the way we look at it is perhaps 50 percent of people will obey it, and then we're going to just try to work up from there year after year. We're going to work toward 100 percent compliance by not kicking people out, but by just asking them to stop, to put it away. I think that will be the best way."
While her stance may appear to favor the economic benefits of in-stadium alcohol sales, Pepper - whose coalition includes such brewing industry giants as Anheuser Busch, Miller and Coors - doesn't encourage schools that don't sell alcohol at their venues to start doing so in the interest of security. "We're advocating responsible consumption of alcohol in whatever way, shape or form schools feel they can handle that," she says. "One of the biggest concerns that we have is when an organization says, 'We don't sell alcohol, therefore we don't have a problem.' Regardless of whether or not you sell alcohol, you may still have a problem. I feel like we have to do a better job of communicating that to schools. If you have tailgating challenges, if you have pre- and post-game rioting, field entry or ejections from the stadium because people are intoxicated, then you have alcohol management challenges."