Repairing damaged sports floors requires a delicate - and professional - touch.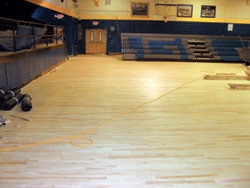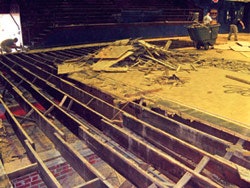 Crews removed multiple layers of damaged wood flooring at Goodlettsville (Tenn.) Middle School this fall.
Over the years, John Prater has seen a lot of warped sports floors - "some with humps so high you could drive a car underneath them," he says, with more than a hint of hyperbole. But he'd never seen anything quite like the gymnasium at Goodlettsville (Tenn.) Middle School. Built in the 1920s above a boiler room, the original floor had been overtaken by dry rot, termites and steam leaks so many times that it was on its third layer, Prater says. Originally 1 1/2 inches, the floor increased to 4 inches thick, according to Prater, and required the gym's basketball goals to be regularly adjusted.
"The answer to a rotting floor 50 years ago was to deck it with plywood and put another floor over the top. When that started rotting, they just decked it again and glued parquet over it," says Prater, president of Chattanooga, Tenn.-based Praters Inc., a full-service athletic flooring company that was in the process of ripping out the entire surface at Goodlettsville Middle School, down to the slab, and installing a new one. "This floor should have been replaced a lot sooner, and they tried to do it. But schools are so strapped for money that they always have to take the low bid or a Band-Aid approach. And sooner or later, it catches up with them."
Moisture is the most frequent culprit in cases of damaged wood or synthetic sports floors - whether from roof and pipe leaks, underground seepage, damaged fire sprinkler heads or natural flooding. And seriously waterlogged floors are more common than many facility operators care to consider. In September, for example, 600 elementary students, teachers and staff at School 15 in Jersey City, N.J., were reassigned when the building closed because mold was discovered growing beneath the gymnasium floor. Earlier in the year, rest-room vandals caused a weekend-long flood that sent water flowing over the gym surface, according to the Jersey Journal, buckling the wood. As a stopgap measure, school district officials covered the floor with half-inch plywood, but the summer heat created a Petri-dish environment underneath, and mold was discovered once classes resumed. The school remains closed indefinitely.
"There are very few gyms that don't have leaks," Prater says. "That's just the nature of the beast. New facilities are obviously less apt to leak, but if you get into a facility that's 30 or 40 years old, you know it's had some water issues."
Cupping is an unfortunate result of excessive moisture in wood floors. The moisture imbalance causes individual boards to expand upward at the edges, which can lead to excessive gaps when the surface dries out. Crowning, the opposite of cupping, occurs when a cupped floor is sanded before the moisture content has returned to normal. Sanding, therefore, is the worst treatment for a moisture-rich floor, Prater and other experts say, since it results in the loss of material on the edges of each board that will leave voids after the strips return to their original, flat condition.
That's why repairing a wood sports floor - or any sports floor, for that matter - is best left to professionals. When the damage is confined to less than 50 percent of a floor, it often proves more cost-effective to repair rather than replace. But if the damaged area exceeds that, full replacement is usually best - at least according to flooring specialists.
Insurance companies may have a different idea, especially when water damage is involved. Their typical recommendation is to simply let the floor dry. "When you have a catastrophic incident in a facility and you choose to dry out a floor instead of replace it, there's a propensity for that floor to degrade more quickly over time," Prater says, suggesting that facility operators uncomfortable with an insurance adjustor's initial recommendation obtain opinions from multiple contractors regarding a floor's repair and replacement options.
If repair is the verdict, the key to its effectiveness is ensuring that each floor's subfloor is matched to maintain its original resiliency throughout, according to A&H Athletic Floor Services Inc. in Indianapolis. Additionally, the hardwood itself must be matched with the proper thickness and width to remain visually consistent, and the flooring contractor must properly lace in each board (like a puzzle) so that the replaced boards seamlessly fit among and look like the originals.
After the repair has been made, the affected area should be sanded and finished to minimize the appearance of the patch. Better yet, the entire floor should be sanded and finished to completely hide the repair.
Fixes to synthetic sports surfaces aren't always quite so cut and dried. With poured floors, repair crews can remove the damaged section, prime the slab and pour new urethane, but that can lead to coloration differences. One alternative is to make the fix and then pour a new top layer over the entire floor, but that substantially increases the cost.
Sheet-good surface repairs are equally dicey, largely because hues differ among production runs, and some designs are no longer manufactured - making perfect color matches all but impossible without complete replacement.
Regardless of the type of repair, Prater says contractors should preserve the floor's integrity by removing not only the damaged parts but the healthy parts surrounding the damage. With wood, that means locating the plywood breaks and replacing the entire area. "Anybody can come in, cut a square piece of wood out and nail it in. But the object is to make it look like it did originally," he adds. "It's a real art."