Manufacturers have gone beyond codes in attempts to enhance bleacher safety.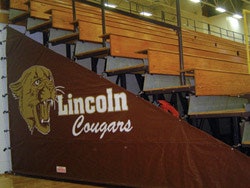 This bleacher system sports the latest in enclosure technology, but its side and back rails appear dangerously out of date.
The subject of bleacher safety last gained a national audience in 1999, when the death of a six-year-old boy sparked the rapid passage of groundbreaking legislation in Minnesota and hastened the replacement of hundreds of antiquated seating systems throughout the state (see "After the Fall," May 2002). Other states have since tried and failed to enact such laws, and federal legislation has met a similar fate. Meanwhile, bleacher-related injuries continue to stack up. According to U.S. Consumer Product Safety Commission estimates, an average of 18,815 injuries have occurred in the United States each year since 1999, which saw a record high of 22,063.
Clearly, the shoring up of international building codes relating to bleacher design and installation has kept that figure from climbing higher. Standards now exist for such bleacher details as the height of side and back rails (42 inches from the adjacent seat board), aisle widths (48 inches), and the gaps between hard-to-climb rail "pickets" and between floor and seat boards (narrower than would allow passage of a 4-inch-diameter ball, roughly the size of an infant's head).
But suppliers of bleachers and other gymnasium components have taken safety a step further, going beyond the code language to help mitigate injury risk with specialized bleacher accessories and innovations. The bleacher enclosure, for one, has gained increasing popularity among athletic directors within the past five years. "I deal with ADs all the time, and that was one of their needs - to have a product that could close off bleachers to keep kids out from underneath for liability and vandalism reasons, yet not be a pain for the custodians to put up and take down after every game," says Patrick Conlon, president of wall pad manufacturer SportsGraphics Inc., which markets customizable enclosures. "I've had numerous people tell me kids get under there and step on the brakes and bend them, and then the bleachers go in cockeyed and it's a big mess."
Bleacher enclosures are available either as heavy-gauge nylon curtains or collapsible wood walls with lockable access doors. In either form, they attach to the bleacher system and move in and out with its telescoping motion.
"Vinyl is a great deterrent, I'm all for it, and we sell it and install it for our customers where requested," says Terry O'Hagan, vice president of operations for BR Bleachers. "The upside to it is it's cost-effective. The solid panels are more costly, but they are going to provide greater safety insofar as there's less possibility of somebody getting under there."
Not everyone is as open to the enclosure concept, however, according to H & H Enterprises vice president of sales Tim Philippart, who sees "serious interest" in enclosures among "only 3 to 5 percent" of his company's clients. "They're concerned about people going behind those curtains," Philippart says. "People can slip behind them with a little bit of effort, and then they can't be seen underneath when the bleachers are being closed. There's a thought that it might actually be a greater hazard than not having them there at all."
Reg Tharp, national sales manager for Irwin Telescopic Seating, sees benefits to having a barrier (his company, like H & H, offers them), but only if due diligence is exercised during bleacher operation. "It's a good feature, but it also brings in another element of surprise," Tharp says. "If there is a chair, a ball, a child under there, you have a potential situation." Checking underneath bleachers for obstructions prior to closing is critical, adds Tharp, who says the task can sometimes equate to "trying to find a black cat in a coal mine."
Other products now exist to keep telescopic bleachers safe once they are in the closed position. Bleacher aisles tend to form a ladder-like face when stacked vertically, which may tempt children to scale that part of the bleacher system to retrieve an errant ball lodged on the top row or simply for the challenge of it. Vinyl covers attached to stacked bleachers help mitigate that risk. In addition, top-row bleacher covers help remove climbing incentive by repelling balls back to court level.
Aisles may also feature a handrail that folds with the system, yet protrudes from the stack to form a potential hazard. "Most schools push the bleachers in and practice side to side on two courts, in which case players are running right at the bleacher with those big iron handrails sticking out," says SportsGraphics' Conlon. "We make a pad that slips over those. It covers the width of the aisle, so it's 4 feet wide and 6 feet high, and acts like a wall pad."
Aisle handrails have also seen great safety strides. Long required by code, handrails on many existing bleacher models must be removed and stored or laid on the bleacher decking before a bleacher system can be closed. The heavy, cumbersome rails often lend themselves to safety shortcuts. "Our own local high school had 16 rows of bleachers with the rails in the closet, and they would never bring them out," says Kevin Hemler, national sales manager for bleacher manufacturer Interkal. "A lot of schools still do that."
Beginning five years ago, rail designs that fold with the bleachers and reemerge in their ready position have eliminated excess labor and ensured that the rails are in place during all events. "They're always there, ready for the patron to use," says Irwin's Tharp. "That's been one of the most significant safety features developed in some time."
Sometimes bleacher safety awareness is heightened in unexpected ways. Six-year-old Jarod Bennett was killed in 2003 when a cafeteria table fell on him during an after-school program, resulting in legislation enacted last year that mandates annual K-12 school safety inspections throughout Ohio. "That has probably been the most significant safety-related issue in the past five years," says Philippart, whose company conducts bleacher inspections. "And I really anticipate that other states are going to follow suit in having laws enacted that are similar to Jarod's Law."
Bleacher design has come a long way in the past decade, but schools and states take safety for granted at their own peril. "We just expect bleachers to work, and don't think much about them," says O'Hagan. "But there are more problems out there than people realize."