Athletic departments struggle to accommodate student demand for stadium seating.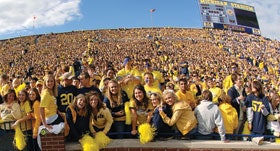 Marty Bodnar found himself in an unusual spot this summer. The University of Michigan's ticketing director couldn't be sure enough room existed in Michigan Stadium to accommodate all the students on the Ann Arbor campus, as well as satellite campuses in Dearborn and Flint, who wished to see the Wolverines play in their first season under head coach Rich Rodriguez.
"Our commitment for a long, long time has been to get a ticket to every student who wants one and applies on time," Bodnar says. "And we've pretty well done that for the past 10 years."
But the Big House, which boasted a 2007 seating capacity of 107,501, just got a bit smaller - the result of an Americans with Disabilities Act settlement earlier this year that required university officials to make the stadium more accessible to wheelchair users by sacrificing some 1,000 general-public seats. A second round of renovations, in 2010, will convert nearly as many seats into additional wheelchair slots. Bodnar can usually count on an annual general-public attrition rate of 2 percent, but with student ticket demand varying widely year to year - from as low as 16,000 to more than 23,000 - he can't predict what the future might bring.
For this season, at least, Ann Arbor students enjoyed unprecedented ticketing priority, getting first crack during an 11-day purchasing period in March, followed by a five-day window shared by their satellite counterparts in April, and the Dearborn and Flint students weren't cheering the change. Bodnar received dozens of e-mail complaints, and public reaction has exposed a perceived entitlement gap among the campuses.
"This is the most illogical thing I've ever heard of," begins one online response to an April 8 Flint Journal article on the priority shift. "UM-F and UM-D students are just as much a Michigan student as those at Ann Arbor. Give the students the respect they deserve." "Policy makes sense to me," starts another. "If I go to UM-Ann Arbor, I think I deserve first priority to see MY team play. I'd hate to lose my seat to somebody from Flint who doesn't pay the same tuition as me."
Stadium alterations aside, Michigan's predicament is not unique. Within the Wolverines' own Big Ten Conference, schools have tried to tweak their ticket-allocation approaches this season in efforts to make distribution among students as fair as possible.
Based on student input, Penn State added a four-day pre-registration period to its first-come, first-served process, which involves five separate sales dates for seniors, juniors, sophomores, freshmen and graduate students, as determined by total credit hours earned through the spring. The availability of 21,000 total student tickets is based on historical purchasing data for each class. The Daily Collegian student newspaper reported that approximately 8,200 students from PSU's largest-ever junior class had pre-registered to vie for some 5,880 tickets, all of which sold within 20 minutes.
The University of Wisconsin weighed advice from a student focus group and an e-mail survey before replacing its first-come, first-served approach with a weighted lottery system. Class standing as of June 1 determined the number of chances each student carried into the July drawing, with graduate students and seniors receiving four chances to a freshman's one. Each undergraduate class was guaranteed 2,000 lottery winners, with at least 500 tickets going to grad students. According to Madison's WISC-TV, roughly 19,000 students applied for 13,500 available tickets. In the end, 20 percent of interested seniors, some of whom had never missed a Badger game in their college careers, were left to navigate a secondary ticket market in which student vouchers were immediately posted online at nearly four times their face value. Alternative allocation methods are reportedly still on the table, including splitting season tickets to accommodate a greater number of students, something Michigan tried in 1997 to "lead balloon" reviews, according to Bodnar.
Student demand for tickets at the University of Oregon doesn't rival that found around the Big Ten or many other campuses in BCS conferences. In fact, there's no such thing as a student season ticket for Ducks football.
Instead, UO students must apply for tickets during the week of each home game, a first-come, first-served process that has drawn complaints - not so much from students, whose admission to Autzen Stadium is covered by a student activities fee, but from their professors.
Last year, students stood in line at the athletic department ticket window or at a campus box office on Mondays to secure hard tickets to that Saturday's game, often ditching class to do so. This season, Oregon is distributing electronic "tickets" on Sundays; students log on to www.goducks.com to request game-day admission, receive an e-mail confirmation if they're good to go, then produce their valid student ID at the gates on game day. The number of seats available to students on any given Saturday is determined in advance by the Student Senate, which uses the collective activity fund to purchase seating blocks from the athletic department based on preseason demand estimates (maxing out this season at 5,700 seats for both the Washington and UCLA games), with the number of seats available to each class proportionate to enrollment. Students who have secured admission but are unable to attend that week's game are asked to notify the athletic department by Wednesday, so that their spots can be made available to others.
"We feel strongly that the students putting in the effort to try to get tickets should be the ones going to the game," says UO ticket manager Garrett Klassy. "There shouldn't be a secondary market for student tickets. That's the great thing about doing it week to week."
There are obvious advantages to going electronic, too. For one, athletic department staff is spared an entire workday during game week distributing hard tickets, says Klassy, who adds, "Another good thing is that we're going to be able to tell which students come to the game, and we'll know that students at the game are actual current University of Oregon students who have paid that activity fee."
Ticketed students who miss two football games forfeit their right to attend the next one, but those with perfect attendance will receive priority in securing admission to the Ducks' annual rivalry game against Oregon State, whether it's played in Eugene or Corvallis. "We feel like making these small changes will guarantee that students come to the games," Klassy says.
Bodnar wishes he could guarantee Michigan students - all Michigan students - a seat in Ann Arbor. The only times he can recall turning students away was when they had missed the application deadline, and still most late-comers have been accommodated with single seats outside Michigan Stadium's student sections. "We're happy to do it and have been able to do it. We're just telling everybody that it's getting harder to do. Demand is going up and supply is going down," says Bodnar, who as the father of two college-age daughters can empathize with the plight of incoming UM freshmen - even those fortunate enough to get a seat. "There's a lot of emotion and anxiety when you're transitioning in life and excited to be on campus. Then all of a sudden you're going to your first football game and you're sitting out in no-man's land next to somebody as old as your grandfather. That's not very welcoming to freshmen."
That, he adds, weighed into this year's priority policy, but by no means is that policy set in stone. Bodnar met with student representatives in April and July, and will this month gather a committee consisting of eight Ann Arbor students and two each from Dearborn and Flint in the hopes of ironing out an equitable solution. "When we get to a certain point, are we just going to cut it off - first come, first served? Are we going to split the ticket? What are we going to do?" Bodnar asks. "The first meeting I had with these students - they're no dummies - they asked, 'What happens if student demand hits 27,000?' Good question. We have to do something. That's why we're talking."