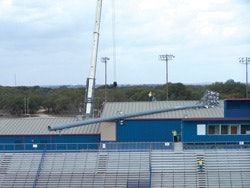 A March 9 girls' soccer game at Hays High School in Buda, Texas, began like any other. Then suddenly one of four 120-foot-tall, 12,500-pound steel light poles surrounding the stadium broke free of its foundation and crashed onto the roof of an adjacent gymnasium.
Light fixtures pierced the gym ceiling and falling ballasts pounded the hardwood court below. The game was immediately relocated and within hours the remaining three poles were removed. Replacements are expected to be in place this month, in time for the start of a new school year. In the interim, Hays administrators expressed relief that the accident caused only an estimated $700,000 in property damage. "We were exceptionally lucky," says Carter Scherff, deputy superintendent of the Hays Consolidated Independent School District. "There was no one in the gymnasium at the time and the pole fell away from the football field, so there were no injuries. What could have been an absolutely catastrophic event was not. If the wind had been blowing in the other direction. . . I won't even think about it."
The episode, added to a rash of others like it, should give athletics and recreation administrators plenty to think about. The Austin American-Statesman reported in late April that at least 13 poles designed by Whitco Co. LLP of Ft. Worth had failed since 2007. Another 80 poles had been removed or reinforced. Little Elm ISD removed 14 poles dotting its baseball complex this spring after inspectors detected cracks in poles there, as well as in a much larger pole serving the district's 4,000-seat football stadium. With tornado season looming, school officials felt they had little choice. "We decided to get the poles down quickly," says Little Elm ISD communications director Julie Zwahr, "before they were felled in a storm."
Expected to last decades upon purchase, affected poles either failed or showed signs of fatigue within only a few years. Whitco endured as a brand for 37 years before the company declared bankruptcy in 2006.
Greg Haskin, president of Makers Co. Inc., a Ft. Worth manufacturer that had fabricated poles to Whitco's specifications and sold some (including those at Little Elm) after Whitco went out of business, characterized failed poles that he had examined as "underdesigned" and "overloaded" - that thicker mast walls and base plates should have been specified. That opinion was echoed by engineers at CHM Industries in Saginaw after they performed stress tests on poles built to the same specifications used to manufacture the failed Hays High School pole, as well as one that collapsed last year at a community college in Mississippi.
The problem is not necessarily Whitco's alone. In July, a 100-foot stadium pole manufactured by Union Metal Corp. of Dayton, Ohio, crashed to the ground at Missouri State University, prompting MSU officials to remove three remaining poles - each loaded with 38 light fixtures.
According to Wesley Oliphant, a Texas-based engineer with 35 years of experience in pole design and manufacturing, the sports-lighting pole industry as a whole remains largely unregulated. Adherence to suitable codes, such as those established by the American Association of State Highway and Transportation Officials to include provisions for fatigue-resistant pole design, has been inconsistent. Contractors placing 18 fixtures on a pole designed to hold 12 is one issue, but potential inaccuracies in calculating the aerodynamics of fixtures based on their size (known as the effective projected area) is another. "There's a drag coefficient," says Oliphant, president of Reliapole Solutions Inc., which launched Reliapole Inspection Services in March. "A lot of wind-tunnel testing should go into determining, at various wind speeds, what the real pressure is on these fixtures. Who is the governing body that says everybody has to meet a certain standard when making that EPA calculation? That's left up mostly to the lighting fixture companies, not pole designers."
In the field, however, poles bear the stress and ultimately, in times of failure, the blame. A windstorm with gusts of up to 59 miles per hour toppled two poles last October at the Clark Swisher Activities Complex in Aberdeen, S.D., and two more poles were removed as a precaution. A pole designed to withstand 100-mph winds fell in gusts of only 40 mph at Uniontown (Pa.) Area High School in April, crushing empty stadium bleachers. Additional pole collapses have occurred recently in Kentucky and Massachusetts, according to Associated Press reports.
A common point of failure, Oliphant says, is the area of the pole shaft immediately above where it is welded to the base plate. "In every weld, you have what's called a heat-affected zone," he says. "The heat of the welding process causes metallurgical changes in the surrounding material, and it becomes more brittle. Special care by qualified technicians must be taken to ensure that any welding procedure does not adversely affect the design strength of the pole."
Sometimes fatigue-induced cracks are visible to the naked eye; oftentimes they are not. Regular visual inspections failed to detect cracks in the Missouri State pole. "Typically, you have to use non-destructive testing methods to see them," Oliphant says. In ultrasonic testing, sound wave reflections are used to detect subsurface defects in the steel. Using magnetic-particle testing, inspectors highlight cracks in the surface by dusting it with a brightly colored metallic powder under the influence of a magnetic field. A thorough inspection should also include looking through wire access ports to detect possible internal corrosion, and measuring galvanizing and other protective coatings to ensure suitable thickness. All non-destructive testing should be handled by a certified technician and structural assessments conducted by a licensed professional engineer, preferably one experienced in the design and manufacture of poles.
Poles can be repaired in the field, but replacement should always be considered. "The good thing about steel is that typically you can modify and strengthen it, but a lot depends on whether you have confidence that the original designs were appropriate," Oliphant says. "Perhaps it's just as economical to upgrade to a new lighting system than it is to spend the time and money repairing something that's 15 or 20 years old. Today's light fixtures have become much more energy efficient, and the number of fixtures required to produce appropriate light levels has decreased." (Hays administrators had no choice but to change pole providers, but opted for a different style of light fixture that will lessen the amount of weight affixed to the new masts.)
If new poles are specified, Oliphant recommends making sure warranty language covers fatigue related to code-specified, wind-induced vibration, and that the transaction is well documented. "It's amazing to me as we do inspections how few times anybody can produce any details about the installation of either the poles or the foundations," he says. "Usually they're part of a very big construction project, maybe the whole high school, and while there are very detailed records on buildings, poles are a kind of afterthought, buried deep in some subcontractor's file somewhere."
In April, the U.S. Consumer Product Safety Commission began a months-long investigation of sports-lighting pole failures. By then, Texans were already on alert. In the immediate aftermath of the failure at Hays, Scherff sent a bulletin to the Texas Association of School Business Officials urging members to have their light poles inspected for defects.
Hays CISD personnel will inspect poles annually, according to Scherff, and a local engineer will conduct more thorough inspections every five years. "We had him inspect every pole in the district, including our parking lot poles," Scherff says, adding that the pole that caved in the gym roof was less than seven years old. "When you have poles that you think are going to last 30 to 35 years, formal inspections are not among the things that come urgently to mind. But everybody needs to get out and make sure that the poles they've got standing around their stadiums are in good shape."
"I draw the analogy to electrical utilities," adds Oliphant. "They inspect every electrical transmission pole at least every five to 10 years, and those are poles that are out in the middle of the woods. They're not nearly as critical as poles sitting behind a stadium full of people."