A week before their first regular-season game, the Green Bay Packers broke ground on a 6,600-seat expansion of Lambeau Field.

A week before their first regular-season game, the Green Bay Packers broke ground on a 6,600-seat expansion of Lambeau Field. The added seating will bump capacity to fourth largest in the NFL (from 11th) and cap off a series of other improvements to the stadium, including a new sound system, a scoreboard, entrance gates and a rooftop viewing platform. The $143 million project will be undertaken by Miron Construction of Neenah, Wis., and financed through loans, user fees and a potential stock sale. Upon completion in 2013, the new seats will first be offered to existing season ticket holders before being opened up to fans at the top of the 88,000-person waiting list.
Construction is under way for a new sports arena at the University of Alaska-Anchorage. Replacing a facility built more than 30 years ago with only a single gym for what was then a much smaller campus, the new complex will include a main gym with seating for 5,600, a secondary gym for intramural sports and other events, weight rooms and recreational fitness areas. The roughly $109 million project is being designed by McCool Carlson Green of Anchorage in partnership with St. Louis-based Hastings+Chivetta Architects Inc. and will house 11 of the university's 12 teams. The current Sullivan Arena will continue to be home to the school's hockey program.
In August, Andalusia (Ala.) High School broke ground on a long-awaited athletic facility. The $2.3 million project will feature a 25,174-square-foot physical education facility, which includes a 50-yard indoor practice field, a new boys' P.E. facility and renovations to the existing girls' facility. Architect Joe Donofro of Donofro and Associates Architecture Inc. says the design of the new structure was modeled after Auburn University's indoor practice facility.
First Pitch
Ole Miss has kicked off its Forward Together Rebels campaign, an effort to raise $150 million to renovate and expand the school's football and basketball facilities. Phase 1 is projected to begin in 2013 and will replace the school's outdated C.M. Tad Smith Coliseum with a new, state-of-the art arena. Phase 2 will expand the north end zone of Vaught-Hemingway Stadium to increase capacity to more than 70,000. . .
Not to be outdone, intrastate rival Mississippi State University is also preparing for $150 million in upgrades to its facilities, including $25 million for a new football facility set to break ground later this year and approximately $80 million for expansion of the stadium and renovations of Scott Field. LPK Architects of Meridian, Miss., has undertaken design of the project. . .
In a joint venture with the state's Wildlife Resources Division, Georgia Southern University is ready to move forward with plans for a 15-acre shooting sports facility on its Statesboro campus. The project, budgeted at $4.13 million, will feature a 22,000- to 24,000-square-foot indoor shooting and archery facility, administrative offices and an outdoor archery range. In addition to serving the school, the facility will also provide hunter and gun education to the community and could someday serve as an Olympic training center. The school hopes to break ground next spring and complete the project by fall 2013. . .
In August, the Norfolk, Va., City Council approved $925,000 to spend on a new YMCA and child-development center to fill the void left by the closing of the Boys & Girls Club in the Park Place neighborhood. The Landmark Foundation has already pledged $4 million toward the $8 million project, with the rest expected to be raised through private-sector contributions.
Grand Openings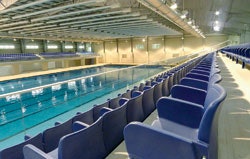 The fourth phase of SPIRE Institute in Geneva, Ohio, is set for completion this month. Since opening in 2009, SPIRE Institute, part of the nonprofit Geneva area Recreational, Educational Athletic Trust (GaREAT), has grown from a 215,000-square-foot multisport facility to more than 1 million square feet of indoor and outdoor training and playing facilities intended to host athletes of every age and level from around the world. Phase 4 of the project, a continuation of the campus designed by TDA Architecture, adds two buildings and will connect the entire complex via indoor walkways. The new buildings contain a 10-lane, 50-meter Olympic-size pool utilizing the most up-to-date technology, a 25-yard recreation and rehabilitation pool, four therapy pools, offices for medical professionals and the Michael Johnson Performance Training Center. The new facilities also house SPIRE Fit Health Club and the SPIRE Fuel health-focused food court. . .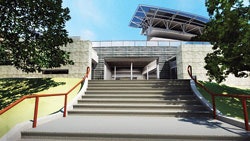 The University of California-Berkeley has completed its $143 million Student-Athlete High Performance Center. The 145,000-square-foot facility, designed by HNTB Architecture and Studios Architecture, features a two-story wing for football operations and a wing for supporting student-athletes in Olympic sports. The space between is occupied by the High Performance Zone, 18,700 square feet of space for strength and conditioning, including a full range of equipment, an indoor synthetic turf area and touch-screen monitors that allow athletes to track and assess performance. Three sports performance labs offer athletes the latest sports assessment technology, warm-water pools allow for aqua therapy, and a multipurpose room provides access to yoga, Pilates and meditation classes. Rounding out the center's offerings are academic, nutritional and medical services. . .
The city of Sarasota, Fla., wrapped up the three-year, $10 million renovation of the Robert L. Taylor Community Complex. The complex has gone from 5,000 to 44,000 square feet, including indoor and outdoor basketball courts, a fitness center, a weight room, an indoor walking track and a multipurpose room with seating for more than 300. Residents can also enjoy the new outdoor amphitheatre, sand volleyball courts, playgrounds, a picnic area and an aquatic center that includes a waterslide, splash pad and lap pool. The project, designed by Ohlson Lavoie Collaborative of Denver, has achieved LEED Silver Certification.