Since it opened in March 1997, Disney's Wide World of Sports has accommodated more than two million athletes representing 60 sports and 70 countries. The facility hosts more than 250 events annually, and is the spring training home of the Atlanta Braves. Quite a track record.
Beginning Feb. 25, WWS will welcome the branding power of ESPN. It will continue to host ESPN The Weekend events and the ESPN Rise Games (competition among top 14- to 17-year-old athletes), as well as open an ESPN Innovation Lab to foster broadcasting creativity.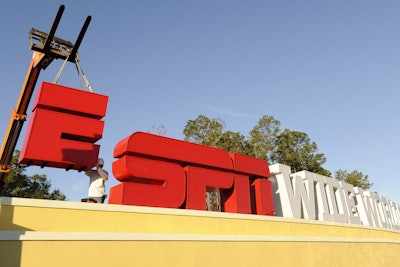 Athletic Business Conference attendees toured the facilities this afternoon, getting an up-close-and-personal look at the complex's current offerings (which include two field houses, 14 baseball fields and nine multipurpose fields) as well as a sneak preview of what's to come. WWS will ultimately double in size to more than 500 acres, all the while adhering to the established goal of creating a professional experience for the amateur athlete. This is currently accomplished, in part, through immaculate grounds keeping. We were told by tour guide Don Erdman, a 10-year veteran of WWS, that fields that have seen peak boys' lacrosse play (competition often runs from 7 a.m. to midnight during one particularly feverish four-week period) are routinely replaced to the tune of $50,000. Indoor facilities are likewise first-class. The Milk Fieldhouse seats 5,000 spectators, with the last row of seats only 35 feet from the court. In combination with the adjacent Joston's Fieldhouse, WWS has managed to accommodate 4,000 volleyball games in eight days.
One of the cooler ESPN tie-ins will take place away from the competition fields and courts. Robotic and hand-held cameras canvassing the grounds will amass highlight footage of each day's activities. Highlights will then be replayed on screens throughout the complex and in WWS hotel rooms for athletes and parents to enjoy, with the intent to make footage of events that draw teams from all over the country (the Pop Warner Super Bowl will be held at WWS next week) available to hometown media.