Peter Gammons made a few headlines last week by declaring Chicago's Wrigley Field "a dump." Really, it was more Twitter-worthy; he was just trying to make the (only half-valid, in my opinion) point that an old ballpark that is undersized for its market and lacks many of the revenue-generating amenities that have become standard in modern stadiums (I prefer the term, "extractors of fans' cash") is a liability for new owner Tom Ricketts.
A local beat writer looking to generate a little controversy went across town to talk to White Sox manager and noted loose cannon Ozzie Guillen about it. Guillen, a longtime critic of Wrigley's back-of-the-house amenities, didn't disappoint, though he was respectful of the ballpark from a fan's perspective.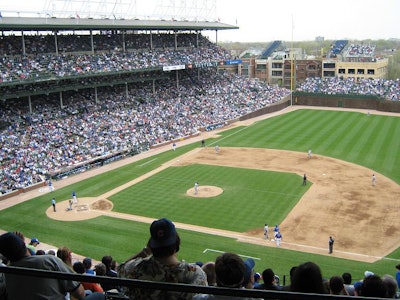 Which makes total sense to me. Wrigley probably has cramped clubhouses and (unless they've been updated since 1918) substandard electricals. It's also one of the "Cathedrals of the Game" (as a 2005 HDTV series labeled a number of old stadia), a category that would include Boston's revered Fenway Park.
Wait, what's that you say? It's a dump, too?
Several fans writing in to The Zo Zone ("Inside the Phillies with MLB.com beat writer Todd Zolecki") described Fenway as a dump in response to a blog feature called "The Best Ballpark Is…" Others nominated Wrigley and Toronto's Rogers Centre, as well as bygone venues such as old Yankee Stadium and the Vet. But, you know, the "dump" epithet is pretty pervasive in the sports world. After Game 6 of the NHL finals, the last of the season to be hosted by Boston's TD Garden, Matthew Sekers of The Globe and Mail in Toronto described that 16-year-old venue as a dump, as well as a "monstrosity" and an "eyesore." Bill Plaschke of the Los Angeles Times used it to describe Dodger Stadium, and Monte Poole of the Contra Costa Times used it to describe Oakland Coliseum. One newspaper reported that recruits called Cal-Berkeley's Memorial Stadium a dump, and another quoted the old saying, attributed to Mets fans, that Shea Stadium was "a dump, but, hey, it's our dump." Mike Vaccaro of The New York Post called the old Miami Arena "a dump's dump."
And all that was just from the past 12 months (thanks, Lexis-Nexis).
Rick Morrissey, lately of the Chicago Sun-Times, really out-dumped all the dumpers Tuesday when he wrote a long column in which he laid claim to originating the description of Wrigley as a dump way back in 2004, when he was with the Chicago Tribune. Back then, he controversially dubbed it "a dump with great views, lots of liquid refreshment and sporadic professional baseball, but it's still a dump.'' His take now? "Wrigley Field is a dump. The baseball played on it is an eyesore. The latter is the real shame."
What's really a shame is professional sportswriters consigning their workplaces to the trash heap, just because the elevators are slow and their beer was thus delivered warm. (Seriously - that was the gist of Sekers' rant against TD Garden.) Wrigley is a great place to watch a game, a step back in time, and its traditionally horrible team sells out for that reason, whatever the park's flaws. Save me a seat in the landfill - and let's play two!