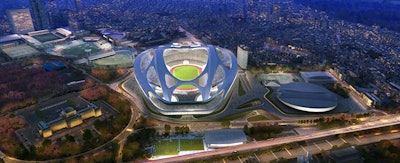 In preparation of the 2020 Olympics, Tokyo has its sights set on building a $1.7 billion Olympic stadium that has been described as a "futuristic bicycle helmet." The venue would replace the city's existing 56-year-old National Stadium.
However, not everyone in Tokyo thinks that's the best idea. According to the Associated Press, about 500 protesters took part in a march around National Stadium on Saturday, in an effort to show their displeasure for the new stadium. The protesters carried signs that read "We want a compact and economical Olympics" and "Reverse the 2020 Tokyo Olympics."
The proposed stadium would seat 80,000 spectators, have four times the floor space of the old stadium and was originally planned to cost $3 billion. British-Iraqi architect Zaha Hadid designed the stadium. (Check out the video below for a more detailed look at the design.)
According to the AP, prominent architects and other opponents are petitioning the government to instead upgrade the existing 48,000-seat stadium that hosted the 1964 Olympics.
The Japan Sports Council, an arm of the central government that owns the existing stadium, has scheduled demolition to begin this month.
"Futuristic bicycle hemet" or not, there is no denying it's an interesting stadium from a design standpoint.