The New York Yankees are synonymous with success at the MLB level, but it was a different scene at Yankee Stadium on Wednesday, as the stadium hosted two of the top international soccer teams -- Manchester City and Liverpool -- in front of a packed house.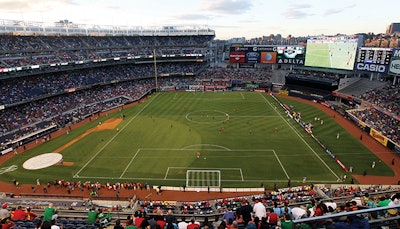 Americans may be divided in their opinions of the sport, but Wednesday's match was a point in favor of those who believe professional soccer has as steady foothold -- or rather, 49,653 points in favor. That was the attendance for Wednesday's game, which boasted more fans in attendance than the highest-attended game the Yankees have played this season. The Yankees' most-attended game saw more than 1,000 extra fans, but the 27-time World Series champion still rank third in the MLB attendance for 2014, sitting behind the Los Angeles Dodgers and St. Louis Cardinals. 
The contest wasn't simply a matchup between two premier teams; it was a trial run of sorts for the Yankees organization and its stadium. The new iconic stadium, constructed in 2009, is set to host New York FC for the 2015 season, which kicks off in March. However, if Wednesday was any indication, New York still has work to do to get the stadium in the best soccer condition possible.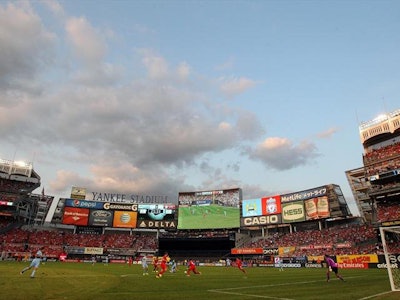 As SB Nation noted, the field was not sporting an appealing look for those watching on television. For starters, the camera angle wasn't wide enough to cover certain passes in addition to a low angle that "was way too low to adequately show soccer." Not to mention, the playing surface didn't seem to be ideal for the players, as the ball took high bounces on the infield. WorldSoccerTalk.com also acknowledged the Jumbotron doesn't serve the same role in soccer, shying away from showing controversial calls for all parties involved to see, but that was thwarted on Wednesday with the stadium showing highlights and replays on high frequency. 
---
Rexford Sheild is an intern with Athletic Business.