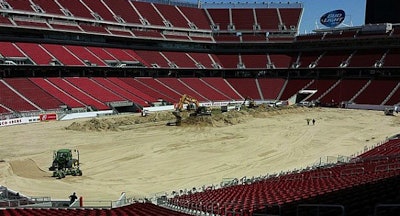 The Bandara Bermuda turf cost a mere $1.4 million of the San Francisco 49ers new $1.2 billion Levi's Stadium, but its absence leaves an astonishingly visible mark.
Last Friday, the stadium's crew began removing the turf, which was coming out in chunks during the team's preseason match up against the Denver Broncos. In its place they implemented a temporary sideline-to-sideline field for the team's game against the San Diego Chargers.
Yet after the game, the 49ers crew tore out the entire field in an attempt to overhaul the entire surface. "While the turf is up we will make some adjustments to the base before re-installing new sod," team spokesperson Bob Lange said.
The 49ers are unsure as to whether they'll replace the original turf with more Bandara Bermuda or with Tifway Bermuda. According to Lange, it depends on which one is "growing better at this time than the other."
Installation of the new turf is set to start this weekend, which leaves the crew with just one week of time before before Levi's Stadium hosts an international soccer match between Mexico and Chile. The 49ers will host the Chicago Bears in its NFL regular season home opener a week later on Sept. 14.
Footage of the Bandara Bermuda chunking out:
---
Andrew Brandt is an intern with Athletic Business.