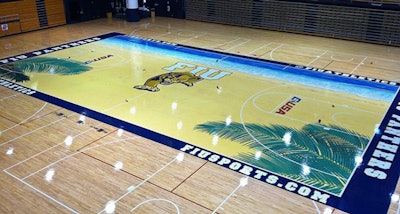 The headline alone is cringe-worthy. The pictures are even worse.
Florida International University's basketball court (which, if you hadn't seen, is awesome) was destroyed last weekend when the arena was rented out for the RAID games, a fitness competition. Despite the tweet below, the RAID Games have no affiliation with CrossFit.
---


250+ Exhibitors & 190 Educational Sessions | abshow.com.
---
The RAID Games are described as "a high performance, strength and endurance competition designed to measure work capacity open to athletes everywhere, challenges the will to win by measuring and exposing one's true work capacity in the sport of fitness."
Court at the #FIU arena destroyed due to last weekend's crossfit event. Gashes all over the court. pic.twitter.com/jKlXVT8o32

— Kyle Pineda (@kylewpineda) September 15, 2014
According to the Miami Herald:
Large dents in the floor, on both sides of midcourt and beyond the west sideline, make the surface manifestly unsafe. From the second level, the floor resembles a face that suffered under the razor of a neophyte.
FIU Arena is home to the school's volleyball and men's and women's basketball teams. According to the Herald, a new floor may not be able to be installed until after the basketball season. In the meantime, a portable floor will be brought in to cover the regular floor. FIU's home volleyball match on Wednesday will be hosted at the school's rec center, which is across the street.
The damage was likely caused by the dropping of heavy weights on the floor without mats.
The FIU Athletic Department issued a statement saying: "As a result of an outside event held at FIU Arena this past weekend, the court was damaged. The event was fully insured. We anticipate repairs being complete over the next couple of weeks."
Editor's Note:
A previous version of this story incorrectly identified the competition at FIU as a "CrossFit event." CrossFit would like to be clear that the RAID Games are in no way affiliated with CrossFit.
"CrossFit is a trademark of CrossFit Inc, and we did not license the RAID Games," CrossFit spokesman Derek Fields said in a statement to AB. "They have no right to use the CrossFit name and are not associated with us in any way. It's inaccurate to describe the event as a CrossFit competition, CrossFit event, or associate it with CrossFit in any way."