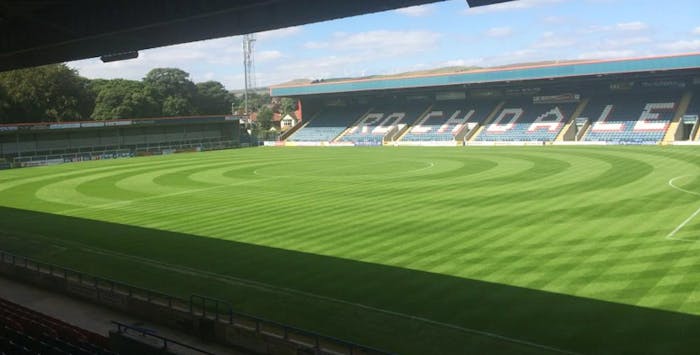 Growing pristine grass in a soccer stadium in Northern England can be a difficult task this time of year. So Rochdale AFC, a soccer club in England's third division, has turned to an unusual solution.
The club's groundskeeper, 24-year-old Oli Makin, has turned to heat lamps, seized by police in drug raids on cannabis farms, to improve the turf conditions in the team's Spotland Stadium. In an area of the world where sunshine is rare and temperatures top out in the 40's in October and November, the heat lamps are a welcome addition. The fact that they were free is even better.
According to the BBC, Makin says the lights were donated by Sgt. Andy Fern of Greater Manchester Police and will save the club about $50,000.
Lighting rig getting there. Waiting on lights tomorrow and we're away!! @officiallydale #rafc #wintergrowth pic.twitter.com/1tmyaIat94

— Oli Makin (@Olimakin) October 14, 2014
Makin told the BBC the lights will make a "massive difference" to the pitch particularly as Spotland Stadium is also home to the Rochdale Hornets rugby league club. He said the lights will come in particularly handy in high-wear areas like the goal mouths.
Makin came up with the idea after learning that Notts County FC had done the same thing in 2013.
"I can't thank the police enough," Makin said. And now he doesn't have to worry about being burned by bad weather.


Can't get your hands on any cannabis lamps? Check out Paul Steinbach's feature on maintaining high-wear areas of grass fields.