This article appeared in the January/February issue of Athletic Business. Athletic Business is a free magazine for professionals in the athletic, fitness and recreation industry. Click here to subscribe.
Elegant precast-concrete elements perform heavy duties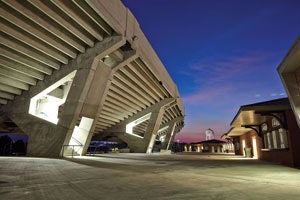 Thirty years after Rosser International built Paulson Stadium for Georgia Southern University, the firm was called upon to add a new deck — one that employs eight innovative support structures that double as stair access to 7,000 additional seats.
Resembling an upturned rocking chair, each structure incorporates six components precast using the same three molds, with identical three-component configurations flanking the stairs. This design allowed the so-called mid-deck renovation and expansion to be entirely self-contained — without incorporating support infrastructure for a future upper deck — and created room in the $8.5 million budget for a new spacious concrete concourse, restroom facilities, a team store and a kitchen-equipped concessions stand. If and when an upper deck is built, its support will take the form of more traditional columns in front and in back of the new amenity buildings along the concourse. "We wanted to make a delicate addition to Paulson Stadium that is at the same time structural and beautiful," says Rosser director of sports Andrew Jacobs, who drew inspiration for the mid-deck supports from never-implemented conceptual sketches by Henry Teague, the firm's former chief architect. "It might be another 30 years before we put in the upper deck, but we'll be ready."
---
This article originally appeared in the January/February 2016 issue of Athletic Business with the title "Design Details"