This article appeared in the September issue of Athletic Business. Athletic Business is a free magazine for professionals in the athletic, fitness and recreation industry. Click here to subscribe.
What if some of the best seats in the house weren't seats at all? What if all it took to bring out the crazy among a team's craziest fans was an 18-by-33-inch stake of concrete with a handrail and a cup holder?
We're not talking about your father's concept of standing room only, with people lined up along concourses jockeying for a craned-neck view to the field, but rather a carefully designed destination within the stadium seating bowl. It's called a safe-standing area — a European-tested design strategy that's finding a receptive audience among Major League Soccer teams here in America.
"It's a really popular location for our 'supporters' groups," says Dave Kaval, president of MLS's San Jose Earthquakes, whose regularly sold-out 18,000-capacity Avaya Stadium opened in March 2015 with what Kaval considers to be North America's first safe-standing area. "We have room for about 600 supporters in a safe-standing area that has a railing between the different levels, so you can't have any people pushed up into anyone else."
The safety risks inherent to traditional pen-like standing areas came into sharp focus in April 1989, when overcrowding at Hillsborough stadium in Sheffield, England, crushed 96 people to death and injured another 766. The disaster and subsequent inquiries led to changes in stadium design in the United Kingdom, with so-called all-seater facilities becoming the norm. FIFA still requires all-seater stadiums for its competitions, but fans have successfully lobbied for standing-only accommodations for domestic matches in continental Europe, most notably in Germany.
"Overseas they do standing fairly frequently," says architect Bruce Miller, whose firm Populous is behind the designs of new MLS stadiums in Orlando, Fla. (to open in 2017), and St. Paul, Minn., (2018) — both of which will incorporate standing. "In the UK, it was banned, and that weighed heavily on our minds in terms of the safety of these areas. But standing has a long history in stadium design. In fact, the word 'stands' comes from just that — standing."


SAFETY MEASURES
The goal is to give certain fans what they want — a place to jump, chant and beat their drums as one — while making the experience as safe as possible. Proponents argue that today's standing sections are actually safer than seating sections, where many fans are wont to stand anyway — but too often precariously on benches, flip-up armchairs or even seat backs.
The 25,500-seat stadium set to open next year for Orlando City SC will accommodate 4,000 standing fans in a section stretching corner to corner along one end line and rising up 30 rows at a rake that exceeds that of surrounding fixed-seating sections. A canopy will top it all. "We envision it as a giant megaphone," Miller says. "We think it will be a very, very loud environment."
Miller also thinks the section will be safe, with rows separated by 36-inch-high railings. "We provide a waist-high railing so that there isn't the domino effect if one person falls or slips or loses his or her balance, it doesn't knock over other people," he says. "They can catch themselves on a railing at the front of every row."
In addition, cup holders will not only give fans a place to set their beer, but also provide ushers and other stadium personnel with a visual cue against overcrowding. Each fan will have 18 inches of elbowroom (same as a typical seating section) and 33 inches of tread depth (also industry standard for fixed seating). "It's a manifested position," Miller says. "It's sold as a specific area on the seating plan, and you can't just sell it as an SRO area and continue to pack people in. Along with the code analysis that we do, there's an operations plan that actually documents for all the life-safety people — the municipalities, the fire department — how to operate the building. There's a manual that calls for one person per cup-holder per space, so that you can't overcrowd the section."
Thirty people will occupy rows between aisles. "By code, we could actually fit more people, but we provided a closer aisle spacing in Orlando — for safety, but also just for convenience of entry and exit," Miller says.
Tread depth could actually be narrowed to 30 inches per code, but Miller doesn't recommend it. Instead, he favors leaving the option open to add seats to standing sections — if only temporarily — a conversion possible with seating technology that mounts to existing riser or railing infrastructure. "These buildings last a long time, and say they want to add seats. One of the FIFA requirements for international events is that everyone have a seat, and so I would always advise an owner to be able to have that seat added," he says.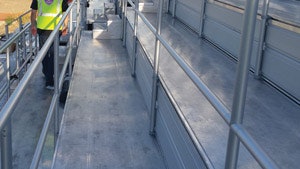 EPICENTER OF EXCITEMENT
Soccer may be in a league of its own in terms of fanaticism, but could standing sections apply to other types of venues? "I could see it working in college sports, where the student sections are very much like a supporters section in soccer," Miller says. "Students stand the entire time, yell and scream, and are really the fanatical part of the crowd."
For these forward-thinking MLS franchises, at least, standing sections are seen as the epicenter of a stadium's energy, feeding surrounding fans in their seats and the players on the field. In San Jose, the standing section's first row is only a few yards from the end line — putting fans paying a $20 admission as close to the action as individuals in midfield premium seats who have invested five times as much. "You are so close to the goal and the goalie. It's a stone's throw, and you've got the guy right there," Kaval says. "It's a great setting, and I think that's another reason people like it. The areas around it are probably the most energetic and loud parts of the stadium, so those surrounding fans feed on the chants and the energy, and it really creates a huge home field advantage."
While Kaval says he wouldn't want the standing section at Avaya Stadium (designed by 360 Architecture, which has since been acquired by HOK) to be much larger, Orlando's safe-standing area will test the bigger-is-better notion beginning next year. "Soccer supporters are very enthusiastic. They really get into the game," Miller says. "What we're trying to do is create a better environment that actually encourages that. Four thousand people really getting excited and really generating the energy in the stadium."
Even fans who don't want to be in a standing section might want to be near it, Miller adds. "They want to be part of that energy," he says. "I think the host gets a great environment for their game, and obviously you're creating a very intimidating environment for the team. The club is providing something, and the fans are providing something back."
These are dynamics that can't be easily duplicated elsewhere. "The product in your home — watching it on television — has gotten so good that you have to have things in the stadium that are unique," says Kaval, adding that guests in his president's suite often want to get close to the standing section, if only to experience it for a few minutes. "You can't just rely on a seat and a hot dog vendor. It's not like it was in 1979. You have to compete with the at-home experience in a way that's different, and I think with the younger millennial-type folks it's these experiences that are shared with friends and family members that can carry the day. And that's really been one of the keys to our success here at Avaya Stadium."
Take a Stand
5 tips for safe-standing success
1. Engage your supporters
Soccer teams often have organized groups of supporters. These are likely to be a team's most enthusiastic safe-standing adopters, and San Jose Earthquakes president Dave Kaval recommends getting them engaged early. "We worked with our supporters groups and got them excited about the design of it and how it would work for them," says Kaval, adding that the team's El Impirico Sismico supporters group, for example, has grown in number since taking its place in the standing section of Avaya Stadium. "This has provided an opportunity to get more people excited about the supporters' culture and the great atmosphere that gets created with an all-standing section."
2. Consult existing facilities
Orlando City SC representatives, who next season will open a safe-standing area more than six times the size of Avaya's, visited San Jose and "took a bunch of notes," according to Kaval. "We're really thrilled that they're getting a new stadium, and obviously imitation is the most sincere form of flattery, so we were very happy to see that," he says.
3. Location, location, location
Standing sections have found a home behind the goal, with proximity to the field a plus. That's not to say that such sections couldn't be safely incorporated elsewhere in the stadium — even in upper decks — but there's a risk of marginalizing a team's most avid supporters. "You can't just create a standing area that's in the nosebleeds and expect people to go there," Kaval says. Moreover, if a standing section is situated in front of seating sections, the design must ensure that those seated can see over not only standing individuals, but the flags and banners that standing fans often wave.
4. Make it unique
The concourse separating Avaya Stadium's field-level standing section from an upper deck includes the popular Beers of the World concessions stand, as well as a display of some 400 scarves representing teams the Earthquakes have played. "That part of the stadium is really unique," Kaval says. "It's its own kind of neighborhood that people can experience. It looks inviting and somewhere you want to go. I really recommend to people who are looking at planning a stadium to evaluate all that type of criteria and not just say it's just standing for standing's sake. It has to have a value proposition."
"Create an experience for a particular segment of your fans," adds Populous architect Bruce Miller, who designed the Orlando City stadium opening next season. "It's not for everyone, but you can add to your event by tailoring the fan experience."
5. Market the visuals
Once the safe-standing area is up and running, "You have to amplify the message of the club and make sure that you're speaking to the right groups of fans and getting them excited about the experience," Kaval says. "There's no substitute for having a stadium full, having the experience there, and then filming that, getting that video out, so people say, 'Wow! That's something that's truly unique. I haven't seen that concept. I want to be part of it.' "
---
This article originally appeared in the September 2016 issue of Athletic Business with the title "Stand and Deliver"