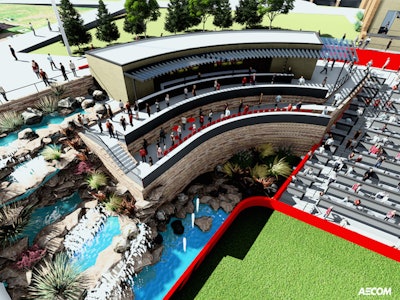 Waterfalls as sports facility amenities is a concept that began making noise when the University of Alabama opened its renovated Mal M. Moore Athletic Facility to much fanfare in 2013. But despite the inclusion of four waterfalls over therapy pools in the Crimson Tide's football operations building, the features are small and for the most part out of public view. Now, one school has decided to bring cascading water to the fan experience.
Arkansas State University has announced plans to incorporate two waterfalls in a renovation of Centennial Bank Stadium. According to renderings released Thursday, the waterfalls will be placed on either side of a north end zone grandstand that will include a premium seating area.
NBC Sports reports that no costs or timelines have been provided, but the project is expected to also include a new weight room, a training/rehabilitation area, a new football locker room, position meeting rooms, a players' lounge, academic rooms and a team-theater meeting area. "This project will allow us to attract the top students in the country and provide first-class services to develop our students on and off the playing surfaces," athletic director Terry Mohajir said in a statement.
But the most eye- and ear-catching features will no doubt be the waterfalls. Adds Mohajir, "Additionally, we've created a unique feature to pay homage to the great state of Arkansas, the Natural State."