On Tuesday, the Detroit Red Wings posted aerial photos to the team Twitter and Facebook pages showing the progress of a 243-foot-tall Little Caesars logo being painted on the roof of the new arena — making it the "largest Little Caesar in the world," according to the post.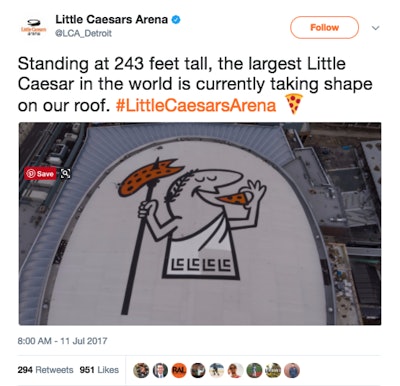 The image has sparked some discontent among fans who are disappointed not to see the design concept of a red roof embellished with the team's logo becoming a reality, as early renderings showed.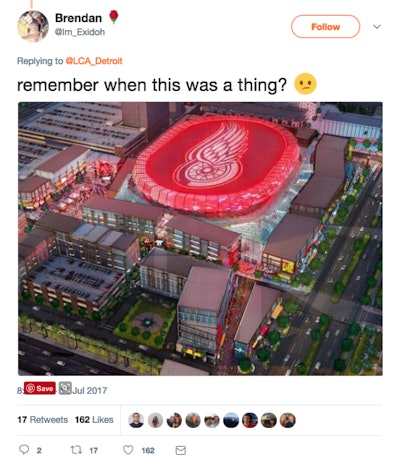 Some fans mourned the historic value of the Red Wings logo on the roof, while others called the series of images a "bait and switch."
"I think it's sad to see that logo on the roof. You have so much history with a team like the Red Wings, so much history was at the Joe, freaking Motown, and not to mention there's only ONE Hockeytown. And that's what graces the roof of the Red Wings new building ... ugh!" one comment read.
Still more voiced their displeasure on Twitter.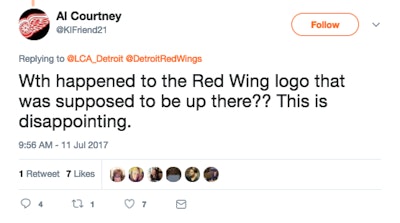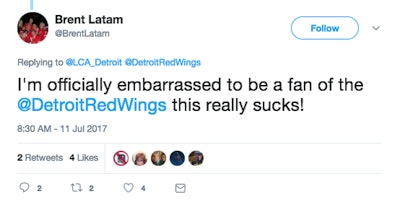 According to the Detroit Free Press, the original rendering of the roof was never meant as a promise, and was shared prior to the sponsorship deal with Little Caesars pizza that gave the arena its name.
The images were also drawn up before the decision was made by the Detroit Pistons to share the facility.
Many other fans bit back at the naysayers, remarking on the inevitability of some form of corporate sponsorship on an arena of that size.
One fan tweeted "Looks great! Silence all the haters! Mr. I is smiling down!" referencing Little Caesars founder and co-owner or the Red Wings and Detroit Tigers Mike Ilitch.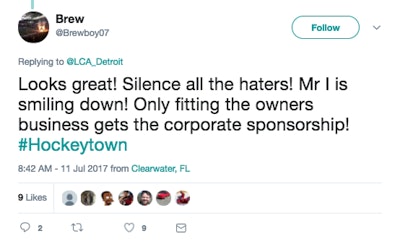 The giant-sized logo is on track to be completed before the arena opens in September.